Geocomputation & Earth Observation
Maynooth University is a leading centre for interdisciplinary work involved in capturing, mapping, displaying and analysing environmental data from a variety of sources. These data provide important information which not only aids the citizen, but informs policy and decision making processes.
On 9th June 2014 in Dublin, the Minister for Jobs, Enterprise and Innovation Richard Bruton TD announced the award of funding of over €1.7 million to support twenty new industry–academia partnerships through the Science Foundation Ireland Industry Fellowship Programme. The programme is funded by the Department of Jobs, Enterprise and Innovation through Science Foundation Ireland. Of the 20 projects obtaining funding, 5 were from the National University of Ireland, Maynooth (making this institution jointly the leader in terms of projects funded). Four of these projects are associated with the Geocomputation and Earth Observation cluster.
To read more information on the projects
Maynooth University is an ideal Host Institution for a Marie Skłodowska Curie Individual Fellowship and this cluster is interested in finding potential applicants. Find a mentor below or contact GeocompEO@mu.ie for more information.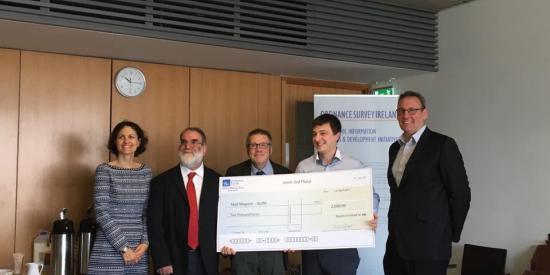 MSC in Geocomputation student has been awarded a prize in this years Ordnance Survey Ireland Research Initiative Masters Awards.
Date: Wednesday, 17 May 2017
Maynooth Researchers working together with INTEL researchers, carrying out field trials recently at Bulmers Apple Orchards, Clonmel.
Date: Monday, 26 September 2016