Vice-President for Research and Innovation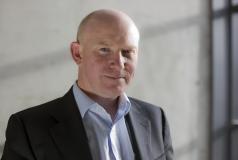 The Vice-President for Research and Innovation directs the formulation and implementation of the
University's Strategic Plan
for research and coordinates the University's contribution to Irish and European research policy. The Vice-President chairs the Research Committee of Academic Council, and oversees central administrative services for research activities.
The Vice-President for Research and Innovation is Prof. Ray O'Neill. A native of Belfast, N. Ireland, he completed a BSc in physics and a PhD in atomic and molecular physics at Queen's University, Belfast, before joining the Department of Experimental Physics at Maynooth as a lecturer and researcher in 1993. His research on electron impact excitation of atoms was published in leading international journals including Physical Review Letters and Journal of Physics B, and included work that contributed to the resolution of a long standing and serious conflict between previous experiments and quantum theory calculations.
Since 2004 he has held various positions at Maynooth including Dean of the Faculty of Science, Dean of Research and Graduate Studies, Vice-President for Research from 2008-13 and, most recently Vice-President for Innovation 2013-16. From 2011-13 he chaired a multi-institutional and agency working group which developed the first national policy on ensuring integrity in research in Ireland, and over the same period was from 2011-13 he was a member of the European Universities Association (EUA) Research Policy Working Group. Since 2016 he has been vice-Chair of the EUA expert group on Regional Innovation Strategies for Smart Specialisation.
In the VP Innovation role he chaired a major review of Maynooth University's undergraduate curriculum, and was co-leader of the implementation programme for the resulting new curriculum which was successfully launched in 2016. He is also a board member of the Innovation Value Institute and several university spin out companies.
Located in the John Hume Building, on the University's North campus, the Office of the Vice-President for Research and Innovation comprises the Research Development Office (RDO) and Commercialisation.
The Research Development Office supports the University's research community by providing guidance on grant applications, proposal preparation, external funding, ethical and compliance issues.
The Commercialisation Office sustains the University's technology transfer activity, supporting the protection of the University's intellectual property, and linking researchers, industry and enterprise.