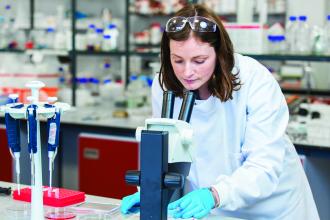 Dr Karen English, Faculty of Science and Engineering, Department of Biology and MU Human Health Research Institute
.
Dr Karen English is an alumna of Maynooth having graduated three times from this university with BSc, MSc and then PhD in 2008. She was subsequently awarded a Marie Curie Fellowship to carry out her postdoctoral training at the University of Oxford (2009–2011) before returning to Maynooth University, first as a Health Research Board Translational Medicine Research Fellow and later as a Science Foundation Ireland Starting Investigator. She was appointed as a Lecturer in the Department of Biology in 2015, and in 2018 is one of just 36 academics in Ireland, across all fields of research, to be awarded an Irish Research Council Laureate Award to progress her work.
Dr English leads the Cellular Immunology Laboratory in the Department of Biology. The major focus of her research is the development of cellular therapy for the treatment of inflammatory diseases. Mesenchymal stromal cells (MSC) are cells from adults found in many tissues including bone marrow, adipose tissue and umbilical cord, and these have potent anti‑inflammatory and potentially reparative properties and for this reason are being developed as a cellular therapy for inflammatory disorders. The mechanisms of action used by mesenchymal stromal cells in protecting against inflammation and promoting repair are not well understood. The overall goal of English's research is to further understand how these cells lead to positive effects and identify their interactions with cells of the immune system to optimise MSC therapy for the treatment of inflammatory disorders.
Dr English has made several significant contributions and is well‑known internationally and highly respected in her chosen field. Over the 3 years 2015‑2017 she has published 10 articles (and 35 in total since 2005) in peer reviewed journals of high international standing including 5 senior author primary papers, 2 middle author primary papers, 2 senior author review articles and 1 senior author book chapter. She graduated six PhDs in that time. Her work has been cited nearly 900 times in the past 3 years. Her most important contribution to date has been to define mechanisms of action by which mesenchymal stem cells influence immune responses. Specifically, her work has demonstrated a role for a particular cell surface protein (called Jagged‑1) and provided the first report of the importance of Jagged‑1 signalling in MSC protection against inflammation in vivo. Other recent work on B cell:MSC interactions has significant clinical implications in the area of chronic lung disease. Dr English has demonstrated that therapeutic efficacy of MSC therapy is
mediated through MSC production of hepatocyte growth factor. In collaboration with the cell therapy company Athersys, Dr English uncovered the mechanism by which clinical‑grade cell therapy can control T cell activation. She has collaborated in research with two existing Irish SME's (Sigmoid Pharma and Avectas) and has brought her expertise to assist their
development.