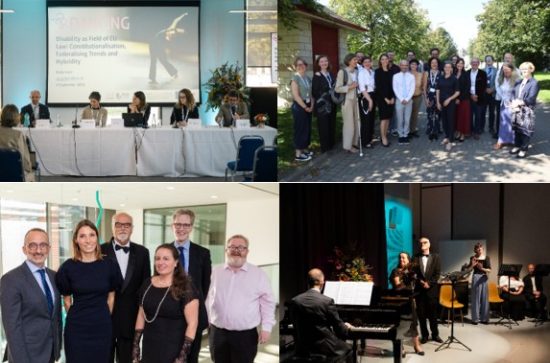 Friday, September 22, 2023 - 09:30
The European Research Council (ERC) funded DANCING research project based at the School of Law and Criminology and ALL Institute under the lead of Principal Investigator Professor Delia Ferri held its DANCING Mid-Term Academic Conference on Monday, 4 September 2023 at Maynooth University.
By marking the halfway point of the five-year project, the DANCING Mid-Term Academic Conference presented the interim findings and preliminary results of the project to academic peers in European Union Law, Disability Law and socio-legal studies. With the aim of situating the on-going research withing larger scholarly debates the conference also served the purpose of gathering feedback, positive criticism and input on the remaining research tasks and activities of the DANCING research team.
DANCING were delighted to welcome a number of renown guests and speakers from abroad and the island of Ireland, such as Prof. Anna Lawson and Prof. Sarah Whatley (both members of the Advisory Borad of DANCING), Prof. Lisa Waddington, Prof. Elise Muir, Prof. Mark Bell, Prof. Giuseppe Martinico and Prof. Dorothy Estrada-Tanck as well as Dr. Juan Jorge Piernas López, that contributed in the form of chairing panels and roundtable discussions, acting as discussants or participants in the roundtables with engaging and thought-provoking interventions. While the morning session was primarily addressing EU law and legal aspects of the project, the afternoon session highlighted, besides presenting initial findings of work packages 1 and 2, the collaboration with Stopgap Dance Company and questions of academic knowledge acquisition through arts-based research methodologies.
Professor Delia Ferri and the DANCING team were honoured to welcome Professor Gráinne de Búrca (New York University/ European University Institute) as closing keynote speaker of the conference. Prof. de Búrca addressed how the disability rights regime, largely built on the UN Convention on the Rights of Persons with Disabilities (CRPD), has transformed international human rights regimes more generally.
After the academic conference, DANCING in gracious collaboration with the Department of Music of Maynooth University, and in particular Dr. Antonio Cascelli (piano), invited all speakers, guests and participants to an accessible evening of music and opera that saw seven pieces performed by Dr. Francesca Placanica (Soprano) and Paolo Grazioli (Tenor). The compositions included pieces written by composers with and without disabilities. The evening was accompanied by audio-description which also included Paolo's experience as artist with disabilities. Irish Sign Language interpretation made the performance accessible to Deaf audience members. The concert was followed an evening reception generously provided by the School of Law and Criminology.
Professor Delia Ferri and the DANCING team were very happy to welcome to the concert Professor Rachel Msetfi (Vice-President Research and Innovation), Professor Patrick McCole (Vice-President International), Rebecca Doolin (Vice-President External Affairs) as well as Professor Peter McNamara (Dean of Social Science), alongside Dr. Fergus Ryan (Head of the School and Criminology).
You may view the full conference programme and the list of all speakers here: DANCING Conference Accessible Brochure
You may view the full concert programme here: DANCING Concert Programme