You are welcome to the website of the ALL Institute.
This newly established and inclusive research institute focuses on the development and application of appropriate technologies, person-centred systems and evidence-based policies and laws in order to empower people across their life course and enhance their quality of life. By thinking through the context and meaning of people's lives, ALL's research promotes a comprehensive and human-rights based approach to social inclusion and participation. We provide an unparalleled interdisciplinary environment. We work across disciplines, sectors and while remaining committed to independent research, we collaborate with civil society, policy makers, industry, intergovernmental organizations, United Nations agencies and most particularly individuals, especially those belonging to different marginalised groups.
People live their lives across many boundaries, and to contribute meaningfully to assisting living and learning we have to traverse these boundaries too!

The members of the ALL Executive are: Mac MacLachlan, Deirdre Desmond, Delia Ferri, Derek Barter, Michael Cooke, Katriona O'Sullivan, Linzi Ryan, Jamie Saris, Delma Byrne and Rudi Villing.
Please feel free to contact directly any of the people mentioned on these pages. For more general enquires please contact the ALL Institute Administrator.
Prof. Deirdre Desmond, Prof.Mac MacLachlan and Prof. Delia Ferri (pictured below)
Keeping up with SHAPES
SHAPES (Smart and Healthy Ageing through People Engaging in supportive Systems) is an Innovation Action funded under Horizon 2020 and the largest ever European funded health research project to be led by an Irish University. SHAPES is a project focused on assisting people in retaining an independent and active life as they age. Pilots within the project are designed around seven main themes with a strong focus on user-led digital technologies and services that centre around the home and community as opposed to the hospital setting.

The project officially kicked off in November 2019 with representatives from all 36 partners within the consortium coming together at Maynooth University for a 3-day event. Little did anyone know that the kick-off event would be the only time any of us would meet face to face over the following months. The impact of the COVID-19 pandemic has meant that all of our planned work would have to adapt to the ongoing public health restrictions. Although the pandemic brought many challenges to the consortium it also highlighted the importance of platforms such as SHAPES and the role it will play in protecting our most vulnerable in any future global healthy crises, whilst simultaneously ensuring the sustainability of our health and care systems.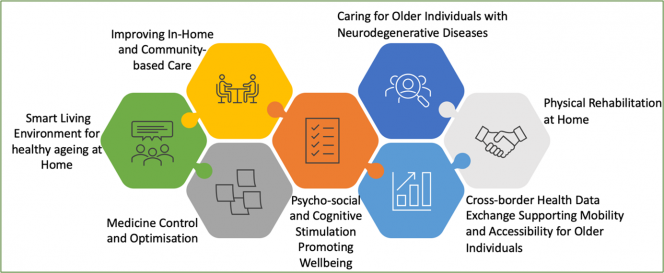 Table 1 The SHAPES Pilots themes
Behind the scenes, the consortium adapted its work program with new and innovative methodologies to ensure work could continue on schedule. Infographic research across our European sites was transformed to a digital methodology to combat the challenge of travel and physical meeting restrictions. Consortium workshops were moved to a virtual setting and designed to be as interactive as possible.

The pilot campaign was delayed slightly until the vaccination program across the EU was rolled out and in person work could begin in compliance with all public health guidelines. To combat this, mockups of the digital technologies were developed and feedback and analysis were carried out virtually.

However, despite the challenges faced, we are now entering a very exciting time in SHAPES. Over the Summer months preparation for the prototype testing and hands on training has begun and before the end of 2021 the first hands on experiments will take place and the small-scale demonstrations will be underway. The consortium has consistently worked together to reach its objectives and milestones, and as a result of this combined effort and enthusiasm the project is continuing to progress with increased momentum.