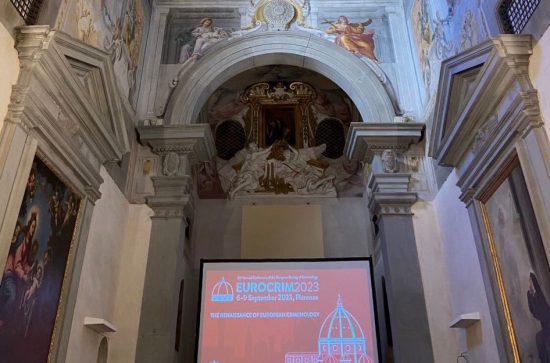 Friday, September 15, 2023 - 09:30
From 6-9 September 2023, a number of our criminology colleagues attended the European Society of Criminology (ESC) annual conference in Florence, Italy. There, they spoke to diverse audiences of researchers, policymakers and practitioners from across Europe and around the world about their ongoing research projects.

Prof. Claire Hamilton spoke twice at the ESC about her work relating to evidence in criminal trials, and specifically the exclusionary rule. She co-chaired two roundtables on this topic, one of which considered how empirical research in several jurisdictions provided insights into the practical operation of exclusionary rules and the factors that affect their application de-facto. The second roundtable critically examined the operation and implementation of rules governing the exclusion of illegally obtained evidence.

Dr. Rhiannon Bandiera presented alongside colleagues from Germany, the UK and the Netherlands, on a critical criminological panel that focused on labour exploitation and related issues. She spoke to the title 'Who needs a Modern Slavery Act? Critical reflections on Australia's modern slavery laws and state-corporate benevolence'. Rhiannon also gave a presentation a week later at a conference in Bologna called Criminologies of the South: "Meridian" Perspectives on the Criminal Question, the International Conference of 'Studi Sulla Questione Criminale'. Her presentation was entitled 'State-Corporate Benevolence or Harm? Inditex (Industria de Diseño Textil, SA) and the continuum of exploitation, from forced labour to labour law violations'.

Back at the European Society of Criminology, Dr. Megan Coghlan delivered a presentation, entitled: 'Continuing with and returning to crime: Gendered experiences of coping through substance misuse and reoffending'. This paper, part of Megan's research on the process of desistance, was delivered within a panel on illicit drug use and offending, alongside researchers from the UK, Taiwan and Brazil.

Dr. Cian Ó Concubhair presented on his ongoing research, funded by the Irish Research Council, pertaining to the policing of housing rights activism in Ireland. Speaking to the title 'Policing housing rights activism in Ireland', he was part of a panel on public order policing with researchers from Wales, England and Sweden.

In her first international conference presentation, Shauna Armstrong, a PhD student in the School of Law and Criminology, discussed 'The birth of the care system: From the Brehon Era to the Children Act 1908' as part of a panel on '"Care" and "control" in juvenile justice'. This is part of a doctoral project, supervised by Dr. Etain Quigley, on the relationship and intersection between State care of young people and their involvement in the youth justice system. Researchers from Poland, England, China and Germany also spoke.

Finally, Dr. Ian D. Marder chaired a panel relating to police interventions and their impact on crime and vulnerable people. As part of this, he presented on his research to the title 'Dialogue can build understanding between the police and young Black adults: findings from a restorative process', alongside researchers from England, Switzerland and the US.