The Foundation for Fiscal Studies Miriam Hederman O'Brien Prize for Outstanding Work on Fiscal Policy
Toggle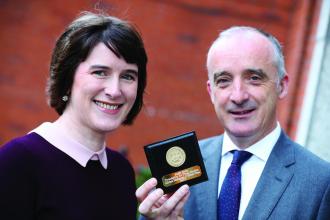 Dr Aedín Doris of the Department of Economics, Finance and Accounting
was awarded the 2017 Miriam Hederman O'Brien Prize. The prize is awarded by the Foundation for Fiscal Studies and recognises outstanding contributors to matters relating to fiscal, economic and social policy.
Dr Doris is a labour economist, whose research focuses on issues related to labour supply, labour market policy evaluation and the economics of education. She received the prize along with her co‑author Dr Bruce Chapman (Australian National University) for their research on Modelling Higher Education Financing Reform in Ireland.
The prize is further recognition of the continued key role played by economists in Maynooth University in shaping social and economic policy in Ireland.