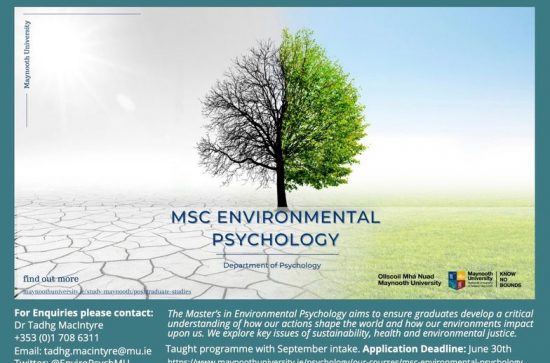 Wednesday, March 1, 2023 - 13:00
The new MSc in Environmental Psychology (PAC code : MHW56) aims to ensure graduates develop a critical understanding of how our actions shape the world and how our environments impact upon us. Environmental psychology is an interdisciplinary field that focuses on the interplay between individuals and their surroundings. In addition to expert contributions from a range of sub-disciplines in psychology (e.g. cognitive, health, clinical, and research) contributions from geography, biology, digital marketing and environmental science are integral to the programme.
The recognition of the challenges of climate change, biodiversity loss and the UN Sustainable Development Goals provide an appropriate global backdrop to this programme. Key topics include social and climate justice, nature-based therapies and mental health, nature-based solutions and sustainability, ecological and personal thriving, and innovation in our assessment of the environment as a facilitator, shaper and consequence of human behaviours. The Masters also 'puts environmental psychology in its place' locally; highlighting the unique Maynooth Green Campus initiative and other natural assets including the Royal Canal Greenway. EU projects SHAPES on health and smart ageing and GoGreenRoutes on urban health are among the interlinked activities that offer opportunities for knowledge-sharing.
Apply now, Closing Date : 30 June 2023.
Programme Director Dr Tadhg MacIntyre
Tel +353 (0)1 708 6311
Email tadhg.macintyre@mu.ie

Note: it is expected that a maximum number of 20 students will be admitted to this programme in 2023-2024