The Department of Psychology at Maynooth University is a unique and dynamic environment for research and it is leading globally in some key areas. Our research is published in some of the world's premier psychology and interdisciplinary journals, and by the world's leading book publishers. We are currently producing around 100 scholarly articles, project reports and policy briefs, each year; presenting at national and international conferences; and participating in major global decision-making bodies.

We collaborate locally, nationally and globally. Our research partners with and impacts on individuals and communities, service users and providers, industry, governments, civil society and United Nations agencies. We have a strong ethos of engaged research; and also value the importance of basic research and theory building.

With some award winning psychologists, we are strong both in core areas of psychology and new hybrid interdisciplinary areas. Our cohort of post-doctoral researchers and PhD scholars reflects a breadth of interests, experiences, methodologies and a work environment characterised by a warm welcoming atmosphere. Our undergraduates engage in research, including research placements within and outside the university, and our final year students attend our regular seminar series of visiting speakers.

Maynooth psychology makes an internationally distinctive and vibrant contribution to research and practice with a focus on four intersecting themes:

Rehabilitation, Disability & Health Psychology – focusing mostly on the psychology of the well-being of individuals and communities and their service provision, in terms of impairments/disability, assistive technologies, coping and empowerment; using quantitative and qualitative methods.

Mental Health, Community & Positive Psychology – focusing mostly on the psychology of mental health and well-being of individuals, families and communities, as well as on service provision and evaluation, particularly (but not exclusively) with a focus on vulnerability, marginalisation, resilience, and personal growth (and based, on mixed methods strategies/approaches).

Neuroscience, Behaviour & Cognition – focusing mostly on the psychology of experimental methods to understand and address fundamental challenges in intelligence, thought processes, neuronal functioning and human and animal behaviour.

Organisations, Systems and Policy – focusing mostly on the psychology of complex systems problems, of inter-relatedness and change; using qualitative, quantitative and policy techniques, working with a broad range of businesses, service providers and international agencies.

Importantly, and unusually, most of our staff are active across more than one of these areas. This is a characteristic that we deliberatively cultivate, allowing for insights and initiatives to flourish beyond narrow research or disciplinary boundaries.

As a university, Maynooth embraces an ethos of Engaged Research; nowhere is this more apparent than in the Department of Psychology, where staff members lead the Centre for Mental Health and Community Research (CMHCR), and the ALL (Assisting Living & Learning) Institute; our staff are also affiliated to other interdisciplinary research institutes, the Maynooth University Social Science Institute and Maynooth Human Health Institute.


Our research is steadily increasing in terms of publications - as measured by peer-reviewed international publications:

Our research has the greatest scholarly impact of any psychology department in Ireland - as measured by field-weighted research citations (how often people in your field of research mention your publications in their own publications):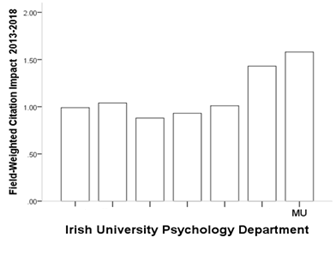 Our research also has the greatest global presence of any psychology department in Ireland – as measured by the global research projects members of our department are engaged in: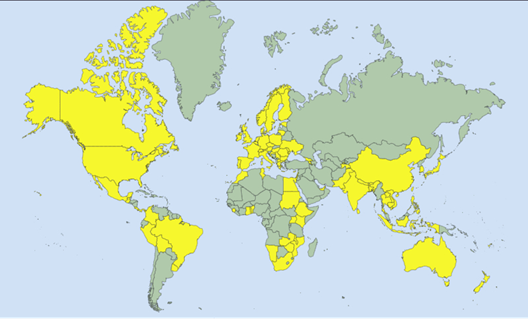 Our award-winning psychologists have been recognised in a diversity of ways, including for commercialisation (MU Commercialisation Office Annual Commercialisation of IP Award); for brain representation (The Brain Art Prize); for Humanitarian work (American Psychological Association International Humanitarian Award); and we have the only psychologist in Ireland to be awarded a Gold Medal for research by the Royal Irish Academy.
Beyond publications, impact, global presence and recognition by awards; each one of us is enthusiastically engaged in research that pushes the frontiers of knowledge and often makes a real difference to how people think, feel or act. Below you can see how our research impacts across our 4 intersecting themes. Clicking on a staff member's name will allow you to find out more about that individual's research programme, associated publications and other activities. Please feel free to contact any of us directly.
Illustrative examples of influence and impact across the four departmental research themes