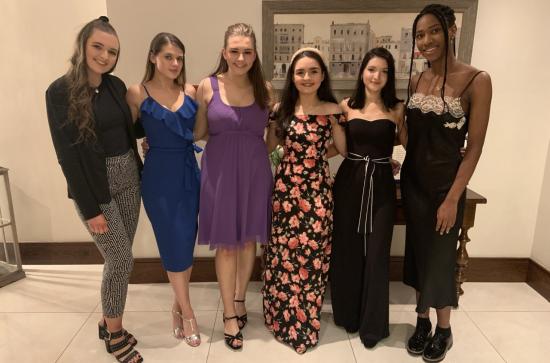 Monday, March 16, 2020 - 11:45
The European Law Students' Association (ELSA) Maynooth International Negotiation Competition was held on the weekend of March 7-8, for the 9th year running.
In a three-round competition contested by 9 teams, 6 from India, including National Law University -Jodhpur, National Law School of India University- Banglore and West Bengal National University OG Jurdical Sciences and teams from Limerick University, Queen's University Belfast, and Université Catholique de Lyon (UCLy). Sadly teams from Georgetown University in Washington DC had to drop out due to a Corona Virus travel ban.
The Semi-Finals saw two of the reams from India National Law University, Jodhpur and National Law School of India University, Banglore contest UCLy and QUB, but in a very narrow contest QUB and UCLy made the Final cut. A close FInal saw UCLy triumph.
A Gala Dinner and Prize Presentation was held at Glen Royal Hotel. Dr Fergus Ryan and Dr David Cowan presented the awards to the winning team Martin Voisin and Timothee Hays from UCLy from Lyon, and the best individual negotiation to Jada White from QUB. Dr Cowan said It was fitting that the best individual negotiator prize went to a woman competitor on International Women's Day (8th March). However, he explained she did not win because of being a woman, she earned plaudits for her skilful management of the negotiation.
The ELSA Committee of Natasha Richardson (President) Aoife Reynolds, Aine Harkin, Izzy McKeon, Isabelle Vincent and Kemka Ogbonda thanked all the judges: Dr Fergus Ryan, Dr David Cowan, Dr. Ollie Bartlett, Anil Ozturk, Ursula Tipp, Aifric O'Reily, Anne-Marie Bohan, Dr Ciara Bracken-Roche and Anne-Marie Blaney. They also thanked Matheson for generously sponsoring the event with Goody Bags that were gratefully received by the teams.