PhD in Sociology or Politics
Work with the best!
The Department of Sociology is a leading national and international centre for research and for postgraduate teaching and learning in Sociology and Politics. We offer both two types of research postgraduate degrees (MLitt and PhD) in the Department of Sociology. Research MLitts take approximately two years and PhDs from 4-5 years.
Click here to hear Patrick Gallagher (who completed his PhD on Denmark and Ireland in 2019) describe his experience as a research postgrad in Maynooth Sociology
Click here for a short (8 minute) video about doing a PhD or MLitt with us (and/or keep reading below)
Read:
We have a frequently asked questions section below. If you have questions about pursuing a postgraduate degree with us in the Sociology Department then please contact Professor Laurence Cox, Graduate Studies Coordinator 2023-24.
Our Research Postgraduate Education Programme
High Quality Supervision System
• Well known international researchers participating in international research projects and networks
• Experienced supervisors, 'second supervisor' system and departmental review of progress ensures quality and fairness
• Work closely with other postgrad students
Courses including:
• Postgrad Thesis Workshop
• University Teaching training
• Research Methods
• Specialised Area Courses
• Credit for International Summer Schools and more
Opportunities for Funding
Postgrads have been successful in receiving
We also offer
• Graduate Teaching Fellowships
• Tutor positions (including paid training and guidance)
• Research Assistant opportunities
We have a frequently asked questions section below​. If you have questions about pursuing a postgraduate degree with us in the Sociology department then please contact the Graduate Studies Coordinator for 2023/24, Professor Laurence Cox.
Applying
Research postgraduates can apply at any time. All applications should be made through the online PAC system.
Learn More about Our Postgrads
The graphic below shows some books that have come directly from Maynooth PhD theses. You can click on the links at the side to find out more about each book.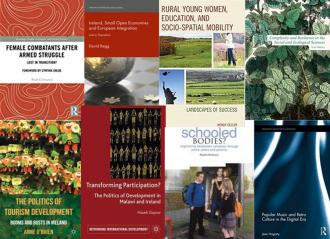 Rural Young Women, Education, and Socio-Spatial Mobility: Landscapes of Success
Wendy Geller
The Politics of Tourism Development: Booms and Busts in Ireland
Anne O'Brien
Popular Music and Retro Culture in the Digital Era
Jean Hogarty

Ireland, Small Open Economies and European Integration: Lost in Transition
David Begg
Transforming Participation? The Politics of Development in Malawi and Ireland
Niamh Gaynor
Schooled Bodies? Negotiating Adolescent Validation Through Press, Peers and Parents
Majella McSharry
Female Combatants after Armed Struggle: Lost in Transition?
Niall Gilmartin
Complexity and Resilience in the Social and Ecological Sciences
Eoin Flaherty
See below for a list of our students' theses and links to the documents themselves.