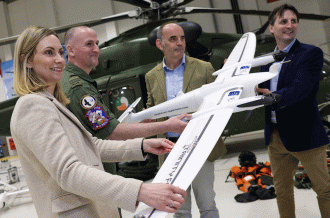 Researchers (pictured) are working with firefighters to develop a prototype system that will help combat highly destructive wildfires, writes Prof Tim McCarthy, Dr John McDonald from the Department of Computer Science, Dr Stephanie Keogh from the National Centre for Geocomputation and Commandant Jay O'Reilly, Irish Air Corps
Winter is not when people typically think about wildfires, but it's probably the best time to review this phenomenon since these events can have very real impacts and consequences on our communities, environments, and daily lives.
Wildfires are on the increase – and indeed expected to increase by 50% by turn of this century due to climate change as well as human activity. We have all noticed these changes in weather patterns ourselves, with hotter summers and more frequent droughts occurring across Europe over the last few years. The scale of destruction caused by wildfires is measured nationally in the thousands of hectares (ha). So far this year, 750,000ha have been destroyed across the EU and the figure in the the US is over 3.1 million ha. Meanwhile over 4,000ha were affected in Ireland in 2019, with the memory of a wildfire causing damage to 2,500 to 3,000 ha in Killarney National Park in April 2021 still fresh in our minds.
Impacts include loss of life, with 102 fatalities in Greece in 2018, as well as the associated disruption and traffic diversions and the associated economic cost of between €1,500 to €2,500 per ha to suppress and replant. Environmental impacts are not confined to long-term damage to biodiversity, valuable habitats and air-quality, but also the estimated five to 30 metric tonnes per ha of carbon-dioxide released into the atmosphere following these events.
The reality is that wildfire events are now likely to affect us all either directly or indirectly. It is against this backdrop that researchers at Maynooth University came together with the Irish Air Corps to address the Science Foundation Ireland–Defence Organisation challenge of fighting wildfires by establishing the CoPilot-AI project.
Our researchers at the Department of Computer Science, and the National Centre for Geocomputation in Maynooth University Social Sciences Institute (MUSSI), worked closely with Commandant Jay O'Reilly's aerial firefighting team and key stakeholders from the Fire Service, National Parks and Wildlife Service and Coillte to design, build and test an intuitive Common Operational Picture (COP) platform to improve how digital data from satellites, aircraft camera and drones can be captured, pooled and shared in real-time between various responder agencies.
Critical to its operation are robust data communications to transfer data from aircraft and drones or in remote areas where mobile phone signal are often very weak. Innovative satellite and sonar sensor technologies have been integrated to help Air Corps crew pin-point suitable lakes to extract water from for water drops, when every minute in the air counts.
Automated Machine Learning workflows were developed to process multiple drone camera feeds, strategically positioned around the wildfire event, capturing geocoded video, in order to aid the rapid detection of vulnerable humans, livestock, vehicles or residential houses that might be in danger. Fireline prediction tools were coded to help forecast the likely trajectory of fire, providing valuable tactical information to the Fire-Chief on the ground.
The end result is a fused, intelligent image-map that enables ground crews to 'see over the hill' and air-crew to understand the order of priorities in tackling various fire-points. This system was put through its paces in Lough Dan in the Dublin Mountains last month. More than 45 multi-agency personnel took part in a live exercise, simulating the breakout of three simultaneous fire-points over scrub-land and forestry plantations located nearby.
This state-of-the-art COP technology demonstrated that providing this fused intelligent, high-level picture to all agencies in real-time provides a common reference base, enabling response-managers to understand the nature of the wildfire, allocate resources, prioritise fire-suppression tasks and keep responders, communities and the wider public safe.
From Óglaigh na hÉireann/Irish Defence Forces, footage of the CoPilot-AI project in action
The net outcome is a prototype system which will be further refined and developed over the coming months, which is intended not only support Irish responder organisation but response teams from other EU Member States and further abroad. CoPilot-AI researchers are also keen to examine how this new technology can be adapted to help respond to other emergencies, such as flooding, storm-damage and landslides.
Wildfires are not going away and are likely to become a more common occurrence. The overall impact of this research is expected to improve our collective effectiveness in responding to these destructive events. It will also increase broader community resilience in how we prepare and subsequently tackle these emergencies in the future.
This research is supported by Science Foundation Ireland under Grant No. 21/FIP/DO/9945
Professor Tim McCarthy is Principal Investigator of the CoPilot-AI project at Maynooth University. Dr John McDonald is Professor at the Department of Computer Science and Co-Principal Investigator of the CoPilot-AI project at Maynooth University. He is also a member of the Maynooth University Hamilton Institute and the Assisted Living and Learning Institute. Dr Stephanie Keogh is Research Project Manager of the CoPilot-AI project at Maynooth University. Commandant Jay O'Reilly is Defence Organisation Liaison Officer with the Irish Air Corps.
This article originally appeared on RTE Brainstorm