Dr Mohammad Javad Khajavi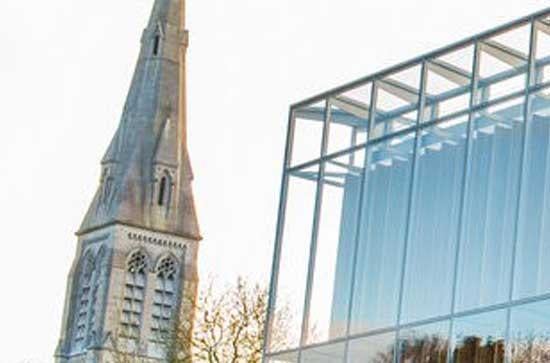 Assistant Professor
Education House
2nd Floor
2.2.5
(01) 708 4506
M Javad Khajavi is a multidisciplinary digital media designer and scholar who works at the intersection of art, design and technology. He is deeply invested in interdisciplinary research approaches that are informed by practice-led research, design thinking, and methods and tools in digital humanities. He is currently an Assistant Professor at the National University of Ireland in Maynooth. He was previously teaching and researching at the Institute of Film and Animation of Volda University College in Norway, where he also served as the area coordinator for the Animation program.

Javad received his PhD from the
School of Art, Design and Media
of
Nanyang Technological University (NTU)
in Singapore. The underlying focus of his research is to investigate issues of representation and perception in animation-based media, Virtual Reality and Game.


Javad is open to discuss supervision possibilities with students who are interested in taking practice-based/practice-led Masters or PhDs on subjects related to Animated arts, Immersive media, Virtual Reality, and Game design and technologies.
Virtual Reality
Issues of perception and representation in animated media
Animated Typography (legibility and readability of dynamic text)
Animation in Information and Data Visualization
Animation and Education (Learning with animation)
Scientific Animation
Video Games
Year
Publication
2019
Arabic Script in Motion: A Theory of Temporal Text-based Art.
M Javad Khajavi (2019) Arabic Script in Motion: A Theory of Temporal Text-based Art. Cham, Switzerland: Palgrave Macmillan. [Details]
 
Year
Publication
2020
'Animating with the Primordial Pen: Mystic and Sufi Inspirations in Calligraphic Animation'
M Javad Khajavi (2020) 'Animating with the Primordial Pen: Mystic and Sufi Inspirations in Calligraphic Animation' In: Animating the Spirited: Journeys and Transformations. Jackson, MS: University Press of Mississippi. [Details]
 
Year
Publication
2018
'Comparing the effects of animated and static logos on viewers' attitudes toward a brand: A pilot study'
Bottini C.;Khajavi M. J.;Gonzalez J. (2018) 'Comparing the effects of animated and static logos on viewers' attitudes toward a brand: A pilot study'. International Journal of Visual Design, 12 (3):1-9 [DOI] [Details]
2018
'Calligraphic Animation as Visual Music: A Genealogy of Islamic Synchronization of Sight and Sound'
Khajavi, M. J. (2018) 'Calligraphic Animation as Visual Music: A Genealogy of Islamic Synchronization of Sight and Sound'. Cinema: Journal of Philosophy and the Moving Image, 9 :45-54 [full-text] [Details]
2011
'Decoding the real: A Multimodal Social Semiotic Analysis of Reality in Animated Documentary'
Khajavi, M. J. (2011) 'Decoding the real: A Multimodal Social Semiotic Analysis of Reality in Animated Documentary'. Animation Studies Journal, (6):46-51 [full-text] [Details]
Year
Publication
2018
From Alhambra to Digital Projection: Designing a Digital Media Cultural Heritage Project Based on the Transformative Qualities of Islamic Calligraphy
Khajavi, MJ (2018) From Alhambra to Digital Projection: Designing a Digital Media Cultural Heritage Project Based on the Transformative Qualities of Islamic Calligraphy FLORENCE HERI-TECH - THE FUTURE OF HERITAGE SCIENCE AND TECHNOLOGIES [DOI] [full-text] [Details]
Year
Publication
2020
The Rise of New Aesthetics: Animating in Virtual Reality Using Quill and AnimVR.
Khajavi, M. J. (2020) The Rise of New Aesthetics: Animating in Virtual Reality Using Quill and AnimVR. [Oral Presentation], 15th International Conference on the Arts in Society, National University of Ireland Galway, Galway, Ireland , 24-JUN-20 - 26-JUN-20 [Details]
2019
Change, Movement, and the Fabric of Reality: Animated Image as a New Mode of Inquiry in Scientific Research.
Khajavi, M. J. (2019) Change, Movement, and the Fabric of Reality: Animated Image as a New Mode of Inquiry in Scientific Research. [Oral Presentation], 31st Annual Conference of the Society for Animation Studies (SAS), Universidade Lusofona, Lisbon, Portugal [Details]
2018
Toward theorizing temporal behaviors of Arabic letterforms for time-based artworks, screen media, and computer programming.
Khajavi, M. J. (2018) Toward theorizing temporal behaviors of Arabic letterforms for time-based artworks, screen media, and computer programming. [Oral Presentation], Twelfth International Conference on Design Principles & Practices, Elisava School of Design and Engineering, Barcelona, Spain [Details]
2016
Fluid Calligraphy: The Multi-faceted Evolution of Islamic Calligraphy in Time-based Media.
Khajavi, M. J. (2016) Fluid Calligraphy: The Multi-faceted Evolution of Islamic Calligraphy in Time-based Media. [Oral Presentation], 'ILM: Science, Religion, and Art in Islam, University of Adelaide, Adelaide, Australia [Details]
2013
The Reflection of Loneliness: An exploration of the aesthetic possibilities of augmented reality for visual poetry.
Khajavi, M. J. (2013) The Reflection of Loneliness: An exploration of the aesthetic possibilities of augmented reality for visual poetry. [Oral Presentation], Re-Defining Animation: the 25th Annual Conference of the Society for Animation Studies (SAS), University of Southern California, Los Angeles, USA [Details]
2011
Codes of Reality, Borders of Illusion: A social semiotic study of reality in animated documentary.
Khajavi, M. J. (2011) Codes of Reality, Borders of Illusion: A social semiotic study of reality in animated documentary. [Oral Presentation], The Rise of The Creative Economy: the 23rd Annual Conference of the Society for Animation Studies (SAS), University of Indianapolis, Athens, Greece [Details]
Year
Publication
2019
Beyond Reality: Painting and Animating in Virtual Reality using Quill.
Khajavi, M. J. (2019) Beyond Reality: Painting and Animating in Virtual Reality using Quill. Volda, Norway: Invited Seminars [Details]
2019
Animation and the 4th Industrial Revolution: Towards a New Educational Paradigm.
Khajavi, M. J. (2019) Animation and the 4th Industrial Revolution: Towards a New Educational Paradigm. Volda, Norway: Invited Seminars [Details]
Year
Publication
2019
Database of Text-based Animated Media Production.
Khajavi, M. J. (2019) Database of Text-based Animated Media Production. Online Database [Details]
Year
Publication
2020
Animated Science and Scientific Animation: How Animated Visualizations Change Our Understanding of Reality.
Khajavi, M. J. (2020) Animated Science and Scientific Animation: How Animated Visualizations Change Our Understanding of Reality. Hong Kong: Presentation [Details]
| | Year | Institution | Qualification | Subject |
| --- | --- | --- | --- | --- |
| | 2017 | Nanyang Technological University (NTU Singapore) | Ph.D. | Media Arts + Design |
| | 2018 | Goldsmiths, University of London | Certificate | Virtual Reality Specialization |
| | 2012 | Tarbiat Modares University (TMU) | M.A. | Animated Media |
| | 2008 | Ferdowsi University of Mashhad (FUM) | B.Sc. | Engineering |
| | Year | Title | Awarding Body |
| --- | --- | --- | --- |
| | 2012 | NTU Research Scholarship | Nanyang Technological University |
| | 2017 | Winner of the Special Prize | CRAFT International Animation Festival |
| | 2019 | Start-up Funding for Research Groups | Research & Development Board, HVO, Norway |
| | 2019 | Book Publication Grant | Research & Development Board, HVO, Norway |
| | 2018 | Operational Grant (Små driftsmidlar) | Research & Development Board, Volda University College, Norway |
| | Committee | Function | From / To |
| --- | --- | --- | --- |
| | Teaching and Learning Committee | Member | 2019 / |
| | Member of the Scientific Committee at the Digital Games Research Conference: Trends, Technologies and Applications | Member and Referee | 2018 / 2018 |
Professional Associations
| | Association | Function | From / To |
| --- | --- | --- | --- |
| | Substantial Motion Research Network | Member | / |
| | Design Principles and Practices Research Network | Member | / |
| | Society for Animation Studies | Member | / |
| | Employer | Position | From / To |
| --- | --- | --- | --- |
| | Maynooth University, Ireland | Assistant Professor | 01-AUG-19 / |
| | Volda University College, Norway | Associate Professor | 01-SEP-17 / 31-JUL-19 |
| | Tertiary InfoTech, Singapore | Instructor | 01-SEP-16 / 01-SEP-17 |