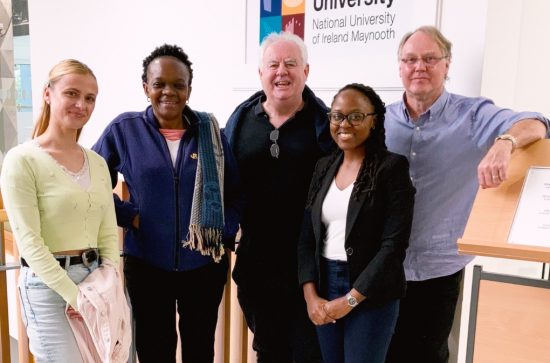 Thursday, September 28, 2023 - 15:30
Maynooth University has been awarded €1 million under the Science Foundation Ireland-Irish Aid Sustainable Development Goals (SDG) Challenge, on the recommendation of a panel of global health experts.

Prof Sean Doyle, Department of Biology and Dr Nicola Mountford, School of Business and ALL Institute, with partner team lead, Dr Peter Waiswa in Makerere University in Uganda, won the first SDG Challenge focusing on SDG 3: Good Health and Well-being, with a new approach to identifying sepsis in newborn babies. The team was supported by the Irish Neonatal Health Alliance as its societal impact champion.

Sepsis causes 17 neonatal deaths per day in Uganda and existing tests can be difficult to use on babies and may not provide results quickly enough. The project, Neosepsis, is developing a new low-resource sepsis test that can be conducted using a small drop of blood from a heel prick.

The SDG Challenge Programme is a partnership between SFI and Irish Aid (Department of Foreign Affairs), whose purpose is to support transformative, sustainable solutions to contribute to addressing development challenges in Irish Aid's partner countries.

Minister for Further and Higher Education, Research, Innovation and Science, Simon Harris TD, and Minister of State for International Development and Diaspora, Sean Fleming TD, announced the winning project.

Minister Harris said: "Significant progress has been made in tackling and reducing child mortality in the past two decades, and the Neosepsis project will contribute in areas where improvements are still urgently needed.

"The team has made rapid progress since being selected for funding only 18 months ago. This progress demonstrates that working together, we can effectively tackle the Sustainable Development Goals and make a real difference on a global scale."

Minister Fleming said: "The winning project is an exciting collaboration between experts in Ireland and Uganda that will have a real-world impact. The project has the potential to transform sepsis testing. Seventeen children die of sepsis each day in Uganda alone.

"I congratulate the researchers on winning the Science Foundation Ireland-Irish Aid Sustainable Development Goals Challenge and hope the additional funding provided will help with this vital research."
"This was a true team effort from Maynooth to Uganda," said Prof Doyle. "In addition to our research teams, and the hundreds of families involved in initial trials, we also thank Accuplex Diagnostics Limited in Maynooth who contributed their expertise and test device prototypes."

The Neosepsis team is adapting an existing technology for the detection of serum amyloid A (SAA), which is a proven biomarker of infection. They will use the additional funding to move towards regulatory approval in Uganda, manufacturing of the tests and further evaluation studies.