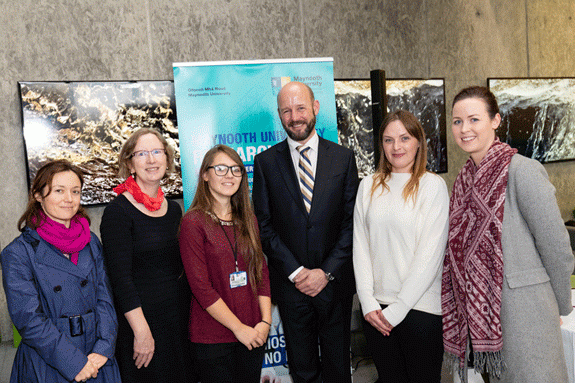 Pictured l-r: Dr. Trinidad Velasco-Torrijos, Dr. Frances Heaney, Karolina Wojtczak, Prof. Philip Nolan, Alicia Kevin, Dr. Rebecca Owens at the closing ceremony of Maynooth University Research week.
Projects in Biology and Chemistry win joint first prize in the 2018 SPUR Undergraduate Research Symposium.
Final year students Alicia Kevin and Karolina Wojtczak were awarded joint first prize within the Faculty of Science and Engineering for their SPUR summer projects in the departments of Biology and Chemistry, respectively. Alicia and Karolina presented their work in a poster session as part of the SPUR Undergraduate Research Symposium held during Research Week in Maynooth University. The SPUR programme, coordinated by Dr. Aisling Flynn, facilitates students to carry out a summer research project, gaining invaluable experience in research design, methodologies and analytical thinking. This experiential learning initiative affords students the opportunity to work closely with faculty mentors on research projects, and students also receive a stipend to support them during their six week project. Alicia Kevin completed a project under the mentorship of Dr. Rebecca Owens in the Department of Biology, investigating a novel anti-microbial agent, and developing techniques for activity-guided isolation of a bioactive molecule. Karolina Wojtczak was mentored by Dr. Trinidad Velasco-Torrijos and Dr. Frances Heaney, completing a project on green synthesis of novel anti-microbial agents in the Department of Chemistry. Maynooth University President, Prof. Philip Nolan, presented both students with their awards at the Research Week closing reception. Both students will have the opportunity to present their research at the British Conference of Undergraduate Research (BCUR) in Cardiff.