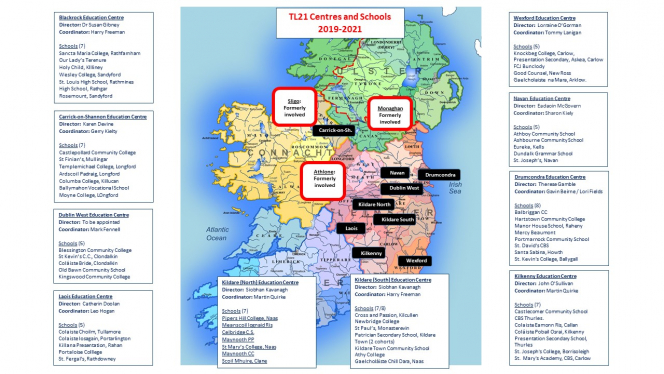 TL21 Map of Centres and Schools
TL21 currently runs in nine regional Education Centres:
Blackrock
Carrick-on-Shannon
Dublin West
Drumcondra
Kildare
Kilkenny
Laois
Navan
Wexford
Please find in the tab below a list of the 70+ schools that are currently participating in the TL21 programme. They represent a diversity of school types and a wide geographical spread. A new cycle of the programme is due to begin in September 2021 and will run in the following Education Centres: Blackrock, Carrick-on-Shannon, Dublin West, Drumcondra, Kildare, Kilkenny, Laois and Wexford.

We are also exited to announce that for the very first time we will also run in:
West Cork Education Centre
Limerick Education Centre
Monaghan and Navan Education Centres (joint programme)
If your school is interested in participating, please read the Get Involved section of our website.