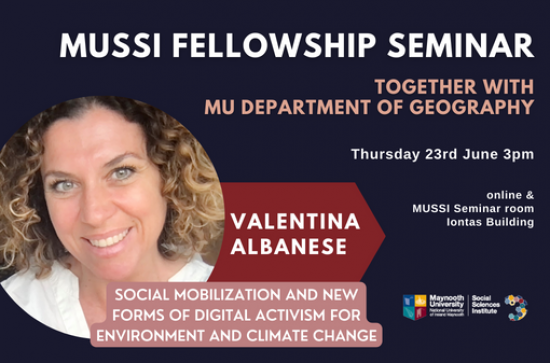 Thursday, June 23, 2022 - 15:00
Online & MUSSI Seminar room Iontas
Abstract:
Social networks are shaping relations and socio-economic processes through the automatic production of space that generates new spatialities called cyberplaces. Digital media and services are becoming increasingly location-based, with more applications providing geographical interfaces and supporting locational data. As geography information technologies and data available to the public increasingly permeate social movements, bottom-up organizations, citizen groups and local society, the understanding of different forms of activisms and civic commitment generated by these new spatial media and the impact produced on affected places are of paramount importance.
The aim of this work is based on the formation of a collective hub of research, theoretical, empirical and methodological debate, with the object of analysing different forms, experiences and practices of digital activism and socio-environmental movements, their relations with territories and their heterogeneous claims and contestations in relation to politics and effects of the environmental crisis and climate change. From a methodological point of view, the examined cyberplaces also called counter-place, have been studied using the discourse analysis and visual methodology. Further, the work investigated the various forms of digital activism and social mobilization related to these topics, especially in Italy, with spots about digital activism for climate change around the world.
Bio
Valentina Albanese, PhD in economic and political geography, past Research Fellow at the University of Parma and University of Pisa, was Assistant Professor at the University of Bologna and visiting researcher at the Technological University of Dublin. She is visiting researcher at Maynooth University and tenure Assistant Professor at the University of Insubria (Como seat). She was member of the committee of the Italian Geography Teachers Association (Emilia-Romagna seat) and is currently member of the committee of the Italian Geographical Society. Currently, she is also PI of the project Representations of Colonial Landscapes in Irish Tourist Attraction and PI of the project Environmental Crisis and Climate Change: an observatory for social mobilisation and new forms of digital activism.
She focused her studies on the relationship between real and virtual space, tourism and social media, in the new virtual relationships point of view. Her main field of research are digital and media geography with a specific focus on territorial identities, including the field of surveillance capitalism and climate change as narrative streams re-shaping the places.
She is author of three books and various national and international papers and book chapters.
The MUSSI Fellowship Scheme began in the 2019/2020 academic year and was designed to enhance the research community of the University by fostering collaboration between Maynooth University Social Sciences Institute Visiting Fellows and academic staff at Maynooth University. Fellowship recipients have the opportunity to engage with a vibrant research culture in the Institute (see www.maynoothuniversity/mussi ) and across the wider university, Dublin city area and the region.
Registration required