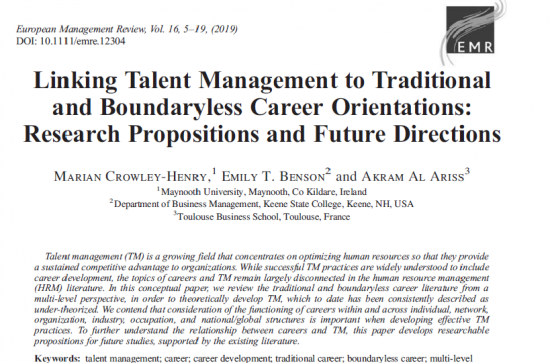 Tuesday, April 30, 2019 - 15:30
School of Business Senior Lecturer, Dr Marian Crowley-Henry's article on 'Linking Talent Management to Traditional and Boundaryless Career Orientations', with international collaborators Emily Benson & Akram Al Ariss, is now available in print in the international peer-reviewed academic journal European Management Review (@EURAM_BLX). The paper discusses how careers are influenced by and across different levels, and how an understanding of this will better inform talent management practices, particularly at the organisational level.

To cite: Crowley-Henry, M., Benson, E. and Al Ariss, A. (2019) Linking talent management to traditional and boundaryless career orientations: Research propositions and future directions. European Management Review, 16, 5-19. Article DOI: 10.1111/emre.12304.