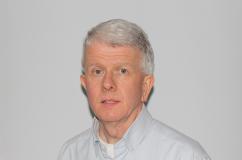 MU scientists have made important findings on a disfiguring fungal disease that affects people in tropical countries, writes
Prof Kevin Kavanagh,
Department of Biology.
Fungal infections affect approximately 1 billion people worldwide and these range from superficial infections to life-threatening systemic infections which these may be acute (short term) or chronic (long term).

Many fungal pathogens (e.g. Aspergillus fumigatus) cause disease in patients with a pre-existing condition (e.g. Cystic Fibrosis). The treatment of fungal infections can be problematic as some fungi are resistant to therapy, some therapies are highly toxic to the patient and the expense of therapy means that many patients in the developing world may not be able to afford therapy. As a result, approximately 1.5 million people will die each year from serious fungal diseases.

Some fungal pathogens do not kill their host, but will establish a chronic infection which has a significant impact on their quality of life and one such disease is eumycetoma (pronounced eu·my·ce·to·ma). This disease primarily affects people who live in tropical and sub-tropical regions in countries in Africa, Asia, and South America.

The disease is frequently seen in farm workers or those who have no foot covering and the disease process begins by implantation into the skin of a splinter containing the fungus responsible for this disease (most commonly; Madurella mycetomatis).

The fungus grows within the tissue and forms a tumour-like mass, known as a grain, and this grain is composed of fungal cells encased within a tough cement-like material. As the fungus and grain expand, irreversible tissue damage and destruction of bone can occur.

In early stages, the disease is difficult to diagnose as the fungus does not induce a strong immune response. As the fungus grows in the skin it causes tissue destruction and the tumor-like masses make walking difficult if the foot or lower leg has been infected.

The infection is very difficult to treat partly because the fungus surrounds itself with a cement-like material in the grains that prevent the entry of the therapy. In addition the expense of treatment means many infected patients cannot afford therapy.

Using the Science Foundation Ireland-funded mass spectrometry facilities in the Department of Biology, a team comprising Dr Gerard Sheehan and and Dr Wendy van der Sande (The Netherlands), Prof Ahmad Fahal (Sudan) and myself, used Galleria mellonella larvae to study grain development as this is an important part of the disease process (published in PLOS Neglected Tropical Diseases 14(4): e0008190).

The immune system of insects is very similar to the innate immune response of mammals and as a result insects may be used in place of mammals to study the in vivo development of pathogens and give equivalent results to those from mammalian studies.

The use of insects has many advantages and they can be used to identify the optimum therapy for a disease before trials in mammals commence. Galleria larvae are widely used and are a good model as they produce results quickly, and generate results which are comparable to those obtained in mammals.

The results generated here indicated that there is an immune response to Madurella infection but the immune response was disproportionally lower in comparison to infection by other fungal pathogens. The fungus may exhibit some behaviours which allow it to go 'under the radar' which could allow it to survive longer in its host, a crucial characteristic for a pathogen which causes chronic disease. In addition grain development was studied and the roles of fungal and host proteins in this process were identified.

Eumycetoma is described as a neglected tropical disease – it is mainly confined to the developing world, affects mostly people living in rural areas and little research into its control has been performed.

The results of this collaborative programme indicate that is it possible to study the development of this chronic, disfiguring disease using an insect model system and this may accelerate the discovery of novel diagnostic markers of infection or new therapeutic strategies.

Using this approach it has proven possible to identify how the fungus 'hides' from the immune response and how it protects itself from antifungal therapy. Future work will examine the possibility of using new biomarkers to allow the rapid diagnosis of the disease in the early stages of development when therapy might be able to reverse the infection process.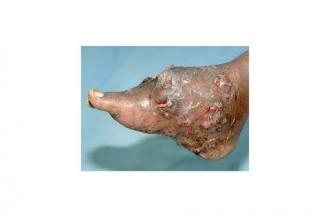 A human foot showing signs of infection with Madurella mycetomatis.