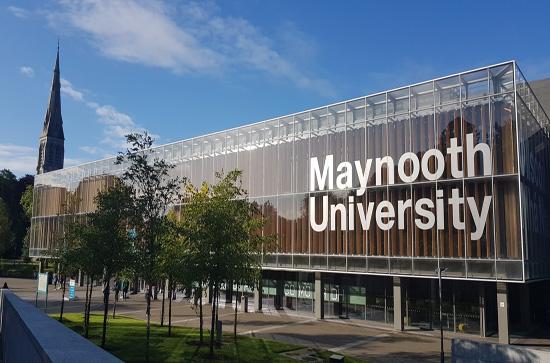 Wednesday, June 6, 2018 - 15:00
Maynooth University has sustained its place in the top 100 global universities under 50 years old, achieving a ranking of #80 in the latest Times Higher Education (THE) Young University Rankings.
The Young University Rankings are based on a range of criteria, including number and quality of scholarly papers and citations, research income achieved, reputation for research and teaching, number of PhDs awarded, and number of international staff and students.
Earlier this year, Maynooth University also was listed amongst the Top 200 institutions worldwide in the QS World University Rankings by Subject for two of its departments: English and Geography, both of which ranked in the 151-200 range.
Maynooth University President, Professor Philip Nolan, commented: "It has been just over 20 years since Maynooth University was established as an independent institution, and to be ranked amongst the Top 100 Young Universities, as well as having two of our departments make it to the Top 200 in the QS World University Rankings by Subject, is a real endorsement of the hard work, research impact, and exceptional teaching of our staff."
Commenting on Maynooth University's ranking, Phil Baty, Times Higher Education World University Rankings Editor, said: "Congratulations to Maynooth University for making the top 100 in the 2018 list of the world's leading young universities."
"The Times Higher Education Young University Rankings use the same exacting and tough 13 performance indicators as the traditional THE World University Rankings, covering teaching, research, knowledge transfer and international outlook, so being in the world top 100 is an exceptional achievement."
Tracing its origins to the foundation of the Royal College of St Patrick in 1795, Maynooth University was formally established as an autonomous university in 1997. Maynooth is one of Ireland's fastest growing university with more than 12,000 students, including almost 1,600 taught postgraduate and professional students and over 400 research students.
An 80ú háit bainte amach ag Ollscoil Mhá Nuad sa rangú ar na hOllscoileanna Óga is fearr ar domhan
6 Meitheamh, 2018: Tá a háit coinnithe ag Ollscoil Mhá Nuad i measc an 100 ollscoil is fearr ar domhan faoi 50 bliain d'aois, agus an t-ochtódú háit bainte amach aici sa rangú is déanaí atá déanta ag Times Higher Education (THE) ar ollscoileanna óga.
Bunaítear Rangú na nOllscoileana Óga ar réimse critéar lena n-áirítear líon agus caighdeán na bpáipéar scolártha agus na ndeismireachtaí ó bhaill foirne, ioncam a bailíodh ó thaighde, an clú atá ar thaighde agus ar theagasc, líon na ndochtúireachtaí a bronnadh, agus líon na mball foirne idirnáisiúnta agus líon na mac léinn idirnáisiúnta.
Níos luaithe i mbliana, d'éirigh le hOllscoil Mhá Nuad áit a bhaint amach ar an liosta de na 200 institiúid is fearr i Ranguithe Ollscoile an Domhain QS de réir Ábhair in dhá roinn: Roinn an Bhéarla agus Roinn na Tíreolaíochta. D'éirigh leis na ranna sin áit a bhaint amach sa rangú sa réimse 151-200.
Dúirt Uachtarán Ollscoil Mhá Nuad, an tOllamh Pilib Ó Nualláin: "Níl ann ach díreach breis agus fiche bliain ó bunaíodh Ollscoil Mhá Nuad mar institiúid neamhspleách faoi Acht na nOllscoileanna, 1997. Táimid ar cheann de na 100 Ollscoil Óg is fearr agus d'éirigh le dhá roinn de chuid na hOllscoile áit a bhaint amach sa chéad 200 ollscoil i Ranguithe Ollscoile an Domhain QS de réir Ábhair. Is moladh mór an t-aitheantas seo don obair dhian, do thionchar an taighde, agus don teagasc den scoth atá déanta ag ár bhfoireann."
Ag labhairt faoin rath atá ar Ollscoil Mhá Nuad sa rangú, dúirt Phil Baty, eagarthóir Rangú Ollscoile Times Higher Education: "Comhghairdeas le hOllscoil Mhá Nuad as áit a bhaint amach sa chéad 100 ollscoil ar liosta 2018 de na hollscoileanna óga is fearr ar domhan."
"Baineann Rangú Ollscoileanna Óga Times Higher Education úsáid as na trí cinn déag chéanna de tháscairí feidhmíochta agus a úsáidtear sa Rangú traidisiúnta ar Ollscoileanna an Domhain THE. Cuirtear teagasc, taighde, aistriú eolais agus dearcadh idirnáisiúnta san áireamh iontu. Mar sin, éacht suntasach atá ann áit a bhaint amach sna chéad 100 ollscoil sa rangú sin."
Téann oidhreacht na hOllscoile siar go dtí bunú Choláiste Ríoga Naomh Pádraig sa bhliain 1795 ach bunaíodh Ollscoil Mhá Nuad go foirmiúil mar ollscoil féinrialaitheach sa bhliain 1997. Is í Ollscoil Mhá Nuad an ollscoil is gasta fás in Éirinn. Tá breis agus 12,000 mac léinn ag freastal uirthi, lena n-áirítear 1,600 mac léinn a bhfuil iarchéim teagaisc ar bun acu nó ar mic léinn proifisiúnta iad, agus breis agus 400 mac léinn taighde.