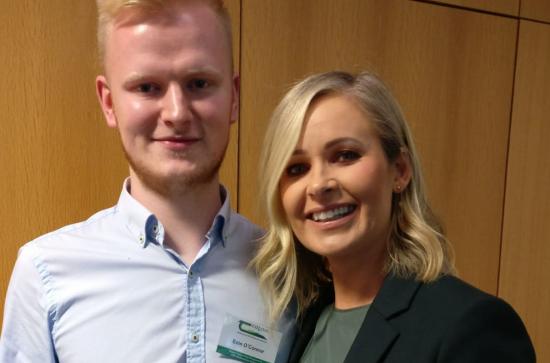 Monday, October 15, 2018 - 15:00
The Teagasc Walsh Fellowships seminar took place in Johnstown Castle, county Wexford, Friday, 5 October. This is the 25th anniversary of the Walsh Fellowships programme through which post graduate students pursue their PhD's and Masters through Teagasc and the universities.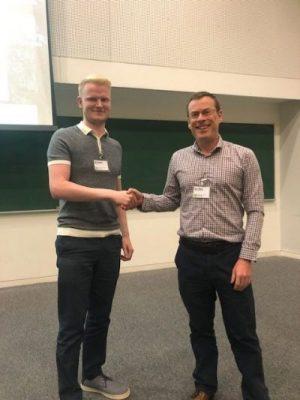 Eoin O'Connor receiving his prize from Professor Gary Moran, president of The Irish Fungal Society.
The overall winner of the Teagasc Walsh Fellowships Medal was Mr. Eoin O'Connor, from the Genome Evolutionary Laboratory in the Department of Biology under the supervision of Dr. David Fitzpatrick (MU) and Helen Grogan (Teagasc). Eoin works with the Horticulture Development Department of Teagasc on a project entitled: "Genomic, transcriptomic and proteomic analyses of A. bisporus strains showing some resistance/tolerance to mushroom virus X."

The title of his award-winning presentation was 'FISH for Fungi: Visualisation of viruses in the mycelium of the commercial mushroom Agaricus bisporus'. He was presented with the medal by Professor Gerry Boyle, Director of Teagasc. This award follows Eoin's success in winning the Journal of Fungi prize for the best oral presentation at the Irish Fungal Society Annual Meeting that was held on the 18th and 19th of June in Maynooth University.