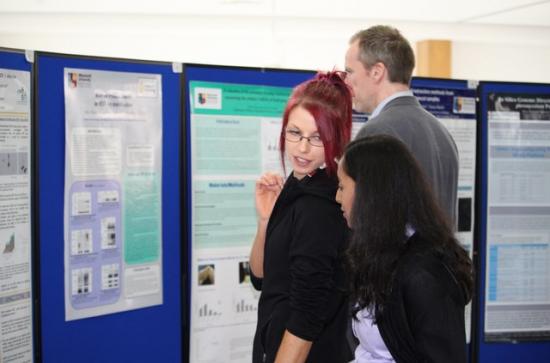 Tuesday, June 14, 2016 - 16:00
The 5th Biology Research Day was held on the 13th of June and provided an opportunity for PhD and MSc students, postdocs and academic staff to present and discuss their research, and to get an overview of the current research activities in the department.

In total, 18 oral presentations were given on the day, including 14 by PhD students and 4 by postdocs, and 18 posters were presented during the lunchtime poster session.
| | |
| --- | --- |
| | Prizes were generously sponsored by Roche Diagnostics and the following PhD students and postdocs were selected for awards: |
Best Talk:
Nicola Moloney, (3rd year PhD student, Biotechnology Lab, SD)
'Exploiting the Secretory Struggle for Iron in Fungal Infection'​
Two Runner-ups:
Charley McCarthy (1st year PhD student, IRC scholar, Genome Evolution Lab, DF)
'Horizontal gene transfer from bacteria into the oomycetes'
Amie Maher (2nd year PhD student, Medical Mycology Lab, KK)
'Development of novel therapies for the treatment of erythema associated with dermal rosacea'

Best poster:
Linan Xu (3rd year PhD student, Yeast Genetics Lab, GJ), 'Deciphering the Regulation of the substrate-binding domain of Hsp70'


Kevin Sheridan accepting prizes for Rose Waldron and Nicola Moloney.


Congratulations and well done to all award winners, and to everybody else who made the judges work very hard to select the winners!