Thursday, May 10, 2018 - 09:45
The annual Critical Skills Poster Symposium took place in the Sports Hall on Monday 30th April. The event saw over 170 posters from 30 different classes displayed throughout the day and students and staff attended to view the posters and chat to the teams behind them.
Dr Alison Hood, Dean of Teaching and Learning, presented the winning teams with their prizes.

1st place winning team - Caspian Hedgberg, Damian Kirwan, Éimear Fennelly and Emer Cahill with Dr Alison Hood and Jonathan Brown, Critical Skills Tutor.
Ist place poster April 2018
This group won first place by demonstrating how information has different values when evaluated under the four-tier system, eg Tier 1: Scholarly Articles. Tier 2: European Union Reports. Tier3: Credible Newspaper Articles. Tier 4: Radical Agenda Driven Media Outlets.
Their focus was the current migration situation in Europe. They demonstrated that by, apprising the value and merit of various information sources reporting on the same issue, different ideologies are evident depending on the tier in which they belong.
2nd place winning team – Saoirse Wilkinson, Brian Dalton, Wiktoria Zagorowicz and Deirdre Frawley with Dr Alison Hood and Dr Eamon Darcy.
2nd Place April 2018
This poster tackles the issue of plagiarism in university and argues that students want to engage in best practice in terms of avoiding plagiarism. The authors recommend that by setting independent research projects for undergraduates, students are more motivated to hone their academic writing and referencing skills. This empowers students meaning they become more confident as undergraduate learners and researchers.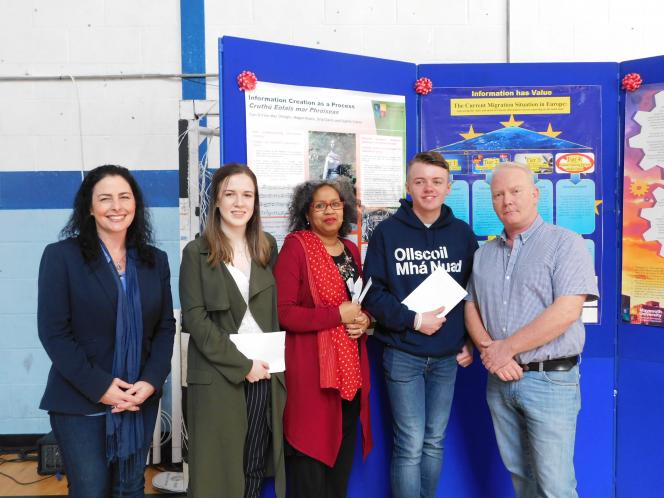 3rd Place winning team - Cian Ó Finn Mac Oistigin, Megan Hore, Orla Clavin and Sophie Clarke with Dr Alison Hood and Jonathan Brown.
3rd Place April 2018
Cruthú Eolais mar Phróiseas
This group won third place with their deconstruction of Pádraig Pearses' adaptation if the song "Óró Sé Do Bheatha bháile". In order to deconstruct the song they researched its historical, social and political context, to identify, how and why it was adapted from a Jacobite song pertaining to the 1700s.