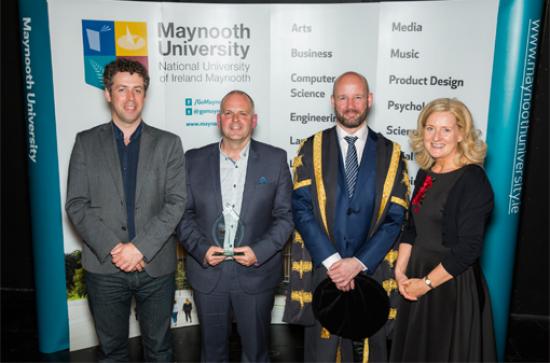 Monday, May 23, 2016 - 17:15
Irish Version
Maynooth University presented awards for exceptional achievement to over 150 second level students and 30 teachers from Kildare, Offaly, West Dublin and Kilkenny. The awards are granted by the Maynooth Access Programme (MAP), which works with second level schools to encourage under-represented groups to enter third level.
The MAP Second Level Awards are given to students who have shown outstanding application, dedication and progress at school, often in the face of challenging circumstances. Third year students are awarded for significant advancement in a school subject area and 6th year winners are nominated by their school. Another group of winners, 6th Year Inspirational Student Award winners, also nominate a teacher or member of their school staff for awards that recognise their extraordinary effort to support and inspire students to achieve their goals.
The MAP Alumni Award was given to Keith Murphy, PhD Candidate in the Maynooth University Department of Adult and Community Education and FETAC tutor with National Learning Network. The MAP Student Achievement Award went to Nicole Chatham, 2nd Year BA Community and Youth Work student and former pupil of St. Mark's Community School, Tallaght. Chatham and Murphy were selected for their personal and academic achievements, their civic engagement and their potential to act as a role models to students.
This year MAP also recognised the outstanding contribution of the Maynooth Students' Union; St. Paul's Secondary School, Monasterevin; and Oaklands Community College, Edenderry; to College Awareness Week. All three winners hosted events to promote the benefits of going to college and were singled out by the College Awareness Week Team as national examples of good practice.
Rose Ryan, Maynooth University Director of Access, said: "Maynooth University places a premium on enhancing educational participation and attainment, and the MAP Special Awards can have a powerful impact at a crucial point in the lives of student participants as well as recognising the important role of teachers in directing students towards third level achievement."
"The MAP Second Level Awards celebrate the accomplishments of 150 amazing young people in 3rd Year and 6th Year from MAP-linked schools. These awards will hopefully be the first of many awards on their path through education," she said.
Tugann an Clár Rochtana aitheantas d'éachtaí atá déanta ag daltaí meánscoile
Bhronn Ollscoil Mhá Nuad gradaim d'éachtaí eisceachtúla ar bhreis agus 150 dalta meánscoile agus ar 30 múinteoir ó Chill Dara, Uíbh Fhailí, Iarthar Bhaile Átha Cliath agus Cill Chainnigh. Cuireann Clár Rochtana Ollscoil Mhá Nuad (CROMN) na gradaim seo ar fáil. Oibríonn lucht an chláir le meánscoileanna le spreagadh a thabhairt do ghrúpaí atá faoi ghannionadaíocht a bheith rannpháirteach san ardoideachas.
Bronntar na Gradaim CROMN do Dhaltaí Meánscoile ar dhaltaí a bhfuil dúthracht, tiomantas, agus dul chun cinn den scoth léirithe acu ar scoil, tréithe atá léirithe acu in imthosca dúshlánacha go minic. Tugtar aitheantas do dhaltaí na tríú bliana don dul chun cinn atá déanta acu i réimse ábhair ar scoil. Ainmníonn na scoileanna féin buaiteoirí na séú bliana. Ainmníonn grúpa buaiteoirí, buaiteoirí an ghradaim Dalta Spreagthach na Séú Bliana, múinteoir nó ball d'fhoireann na scoile do ghradam. Tugann na gradaim seo aitheantas don iarracht ollmhór a dhéanann siad tacaíocht agus spreagadh a thabhairt do dhaltaí a spriocanna a bhaint amach.
Bronnadh Gradam Alumni CROMN ar Keith Murphy, iarrthóir PhD sa Roinn Oideachais Aosaigh agus Pobail Ollscoil Mhá Nuad agus teagascóir FETAC leis an Líonra Náisiúnta Foghlama. Bronnadh Gradam Gaisce na Mac Léinn CROMN ar Nicole Chatham, mac léinn na dara bliana ar an BA in Obair don Phobal agus don Ógra agus iarscoláire Phobalscoil Naomh Marcas, Tamhlacht. Roghnaíodh Chatham agus Murphy mar thoradh ar a n-éachtaí acadúla, a gcomhpháirteachas poiblí agus a gcumas spreagadh a thabhairt do dhaltaí.
I mbliana, tugadh aitheantas don obair iontach atá déanta ag Aontas na Mac Léinn Ollscoil Mhá Nuad, ag Meánscoil Naomh Pól, Mainistir Eimhín, agus ag Pobalscoil na bhFeá, Éadan Doire, do Sheachtain Feasachta ar Choláiste. Reáchtáil na buaiteoirí ócáidí chun na buntáistí a bhaineann le freastail ar an gcoláiste a chur chun cinn. Thug an fhoireann atá ag plé leis an Seachtain Feasachta aitheantas ar leith dóibh mar eiseamláirí náisiúnta an dea-chleachtais.
Dúirt Rose Ryan, Stiúrthóir Rochtana Ollscoil Mhá Nuad: "Cuireann Ollscoil Mhá Nuad béim ar leith ar rannpháirtíocht agus ar oilteacht oideachais. Is féidir leis na Gradaim Speisialta CROMN tionchar ar leith a bheith acu ar na rannpháirtithe ag tréimhse ríthábhachtach ina saol. Tugann na gradaim aitheantas don ról atá ag múinteoirí daltaí a stiúradh i dtreo éachtaí oideachais."
"Déanann na Gradaim Mheánscoile CROMN ceiliúradh ar na héachtaí atá déanta ag 150 duine óg ar leith sa tríú bliain agus sa séú bliain ó scoileanna a bhfuil nasc acu leis an gClár Rochtana. Táim dóchasach go mbronnfar tuilleadh gradam orthu amach anseo agus iad ar an mbealach trí oideachas," a dúirt sí.