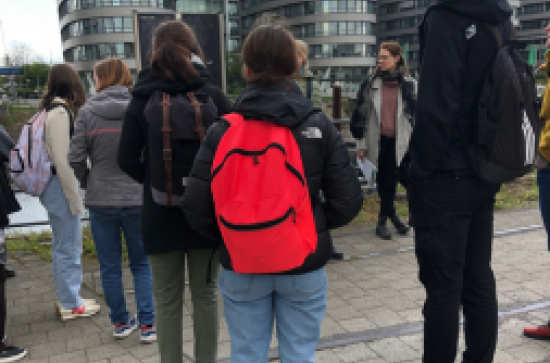 Tuesday, May 9, 2023 - 09:30
Welcome Back to out students!
Nine students from Maynooth University travelled to Duisburg, Germany from April 24 to 28, to participate in the University of Duisburg-Essen programme on the topic of "World Society, World Culture and World Politics" accompanied by Dr. Brian Conway as part of the Erasmus+ Blended Intensive Programme (BIP) with the University of Duisburg-Essen (Germany) and Paris Lodron University of Salzburg (Austria) for the academic year 2022-23. The program involved a mix of lectures, a field trip and a volunteer social event. As can be seen in the picture, local tour guides led the students on a tour of Duisburg city centre, describing the city's post-war evolution from a heavily bombed city – due to its centrality to the war's industrial base – to the modern one of today.