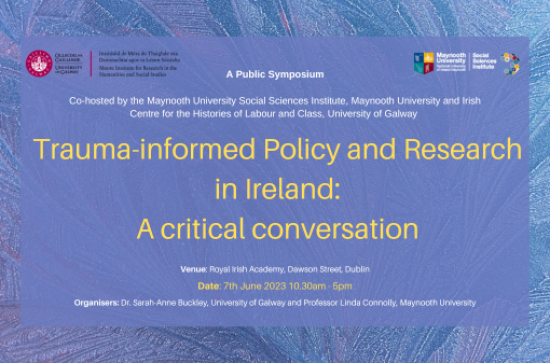 Wednesday, June 7, 2023 -

11:00

to

17:00
Royal Irish Academy, Dawson Street, Dublin

A Public Symposium

Co-hosted by the Maynooth University Social Sciences Institute, Maynooth University and Irish Centre for the Histories of Labour and Class, University of Galway

Trauma-informed Policy and Research in Ireland:A critical conversation
Organisers: Dr. Sarah-Anne Buckley, University of Galway and Professor Linda Connolly, Maynooth University
In recent decades, Ireland has struggled to come to terms with a harrowing legacy of abuse, failings and injustices uncovered in a number of different institutions, organisations and contexts. Profound trauma persists in the present and continues to affect survivors. The aim of this symposium is to bring together researchers, survivors/those directly affected and policy-makers who have addressed 'historical' and contemporary institutional abuse or failings in relation to religious and state-run institutions (including residential institutions and Magdalen Laundries); education and schools; health; sexual and gender-based violence; and reproductive injustice. A number of panellists - policy-makers, academics, survivors - will engage in a critical conversation about trauma-informed research and policies in the Irish context. The question of how historical research and survivor experience has been used to-date in research and public policy making, and what lessons can be learned, will be addressed. A panel of cross-party policy-makers will also discuss the role trauma-informed research and policies might have in further addressing or reconciling the harms caused by human rights abuses in Ireland, in the past, present and future.

Background

A large number of government reports and inquiries into institutional abuses (such as, the Final Report of the Commission on Mother and Baby Homes 2021 and the McAleese Report 2013); sexual violence (such as, the Ferns Report 2005, the Cloyne Report 2011, the Northern Ireland Historical Institutional Abuse Inquiry 2016, the Report of the Commission to Inquiry into Child Abuse (the Ryan Report) 2009, the St John Ambulance Review 2023); and other 'scandals' (for instance, in relation to women's healthcare and reproductive rights and justice, the Surgical Symphysiotomy Ex Gratia Payment Scheme/Harding Clark Report 2016, the Inquiry into Peripartum Hysterectomy at Our Lady of Lourdes Hospital Drogheda, 2006, the Tribunal of Inquiry into the Blood Transfusion Service anti-D scandal 1996, the HSE review group report into the death of Savita Halappanavar 2013 and the Scally Report/Scoping Inquiry into the Cervical Scheck Screening Programme 2018) have been produced by 'experts' and researchers for the State in recent decades. The findings of these reports have all documented and addressed profound trauma and failings. In all these contexts, survivor and advocacy groups' perspectives have been incorporated or included as 'evidence' in different ways, with different outcomes and recommendations arising (such as the parameters of redress schemes and State apologies).

Different ways of recording, re-telling and representing trauma can be identified in these reports. Sociologists, historians, legal scholars, amongst others in recent years, are also increasingly extracting trauma data in their research projects and writing about it. Trauma-informed public projects, such as documentaries, that prioritise survivor's voice/s and first-person accounts including, for example, in relation to the trauma of sexual or physical abuse experienced in Irish religious institutions (Stolen, Margo Harkin, 2023), the army (Women of Honour, RTE Radio Documentary, Katie Hannan, 2022) and Irish schools (Blackrock College, RTE Documentary on One, 2022) have also been produced.

Several methodological questions arise in this field, which have implications for policy-making, redress and survivor outcomes. Both the examination of written sources of evidence and survivors' own testimonies or interviews with survivors have been employed as research methods. A number of academic studies of human rights abuses in the humanities and social sciences include the life histories and testimonies of participants who have experienced trauma (the Tuam Oral History Project, for instance). Trauma is extensively documented in both open and closed written archives and documents. Sources that record past harms and trauma caused, for instance, by war and violence (such as compensation claims, military services pension applications, and other schemes for redress) have been released online in Ireland in recent years. In Northern Ireland, a debate about how to use currently closed archives to manage and tell the "official" violent history of the Troubles has recently emerged. How to interpret and explain the difference between historical events and experiences as they occurred at the time and later traumatic accounts or memories of such events and human rights abuses arises in all these contexts. In some State inquiries, contemporary oral accounts by survivors of past abuses have been deprioritised or negated over documents as 'reliable' evidence. In contrast, however, oral evidence or information is fully integrated in trauma-informed research. In the absence of access to written records, oral testimony can also be the main or only source of evidence available.

Several ethical questions arise in this field. Research, including for reports and inquiries, can pose a risk of re-traumatising survivors of past trauma by excluding or downplaying their voice and lived experience. Not being believed can also cause other long-term harm. Re-telling abuse has risks including the potential to generate more trauma. Research that opts to protect the systems of oppression or violence that caused this trauma by not adequately questioning or investigating them can likewise retraumatise survivors. The role that disbelief or dismissal can play in furthering the cycles of trauma is well documented. When a victim of sexual or other abuse shares their experience with a person in a position of trust and the response is to disbelieve, reject, or downplay, then that response can constitute its own trauma. The dismissal can be a worse trauma. Silence can be the preferred choice of survivors to prevent more harm.

All these examples of a turn to trauma in contemporary Ireland demonstrate the importance of developing ethical frameworks for researching, interpreting, writing and speaking about traumas of the past that also continue and sustain in the present. This symposium will address a number of questions. How is trauma 'data' being gathered, extracted, defined, and used, in different contexts, in contemporary Ireland? What is the impact of this work on the survivors of trauma and their inter-generational families? And what is the relationship between trauma-informed research, data and public policy in Ireland, in the context of inquiries, redress, historical accuracy, accountability, and truth and justice?


Programme
10.30
Registration
11.00
Opening Remarks
11.30
Panel 1 – 'Historical' abuse and Ireland's institutions

Chair: Catríona Crowe

Speakers: James Gallen, Laura McAtackney, Sarah-Anne Buckley, Rosemary Adaser
1.00
Lunch
2.00
Panel 2 – Sexual Violence and Reproductive Justice

Chair: Linda Connolly

Speakers: Lorraine Grimes, Sinead Ring, Tom Clonan, Lavinia Kerwick
3.00
Panel 3 - Bridging the gap between trauma-informed research and policy: a cross-party discussion

Chair: Sarah-Anne Buckley

Speakers: Catherine Connolly (Independent TD), Kathleen Funchion (Sinn Féin TD), Cllr Hazel De Nortúin (People Before Profit), Gary Gannon TD (Social Democrats), Aodhán Ó Riordáin TD (Labour).
4.00
Closing Reception

Poetry readings by Elaine Feeney and Eleanor Hooker

Introduced by John Cunningham
Contributors:

Rosemary Adaser is founder of the Association of Mixed Race Irish. Rosemary is one of about 70 mixed-race people who have come together as Mixed Race Irish, a campaign and support group. They believe they were taken into care because they were mixed race, that there was a different unspoken "policy" for them and that they suffered an "extra layer of abuse" because of their racial identity. The group have advocated for an understanding of racism as endemic, systemic and systematic, in the care system and in Irish society.
Sarah-Anne Buckley is an Associate Professor at the University of Galway and works in the fields of Irish gender history and the history of childhood and child welfare. Her 2013 monograph with Manchester University Press, The Cruelty Man: Child Welfare, the NSPCC and the State in Ireland, 1889-1956 has advanced the history of child welfare, poverty, gender and class in modern Ireland. She has conducted research in the cognate areas of gender, sexuality, the history of childhood, youth, and institutions. Sarah-Anne's research has had an impact in traditional academic and non-traditional contexts, including through her role as a public historian and contributor to public policies. Her research has been cited in the New York Times and she has been interviewed by a range of media outlets internationally, including CNN, contributions to BBC Women's Hour and other international media outlets. Her recent research is on the mother and baby homes in Ireland and particularly the 'Tuam Oral History Project'. Sarah-Anne is a Senior Research Fellow in the Institute for Lifecourse and Society and co-director of the Irish Centre for the Histories of Labour and Class at the University of Galway.
Linda Connolly is Professor of Sociology and Director, of the Maynooth University Social Sciences Institute. She was a University of Cambridge Centre for Gender Studies Visiting Scholar in 2022. Her research interests include feminism, gender, historiography, family, conflict related violence, war, migration, and Irish studies. Since 2016, she has authored many academic publications and articles including in the Irish Times on the gender-based and sexual violence women experienced in the Irish Revolution (1919-23). She led the Irish Research Council funded 'Women and the Irish Revolution' project. She has published a number of widely cited books, The Irish Women's Movement: From Revolution to Devolution (London and New York: Palgrave/Macmillan, 2003), Documenting Irish Feminisms: the Second Wave (with Tina O'Toole, republished in 2020, Galway: Arlen Press), Social Movements and Ireland (with Niamh Hourigan, Manchester: Manchester University Press, 2006), The Irish Family (London: Routledge, 2014), and Women and the Irish Revolution: Feminism, Activism, Violence (Dublin: Irish Academic Press, 2020). Linda was also academic consultant on the documentary Cogar na mhná and contributed her research findings.
Tom Clonan was elected to Seanad Éireann in March 2022 as an Independent Senator. He graduated from Trinity College in 1987. For over 25 years, Tom has been a tireless political campaigner for human rights – including as an Army whistleblower on gender-based violence and as a parent campaigning for the rights of disabled children, adults and the elderly. Tom completed a PhD at DCU entitled "The Status and Roles Assigned to Female Personnel in the Permanent Defence Forces". The findings revealed a catalogue of discrimination, bullying, sexual harassment and assault within the Irish Defence Forces against female soldiers. His PhD led to an Independent Government Enquiry, which resulted in an overhaul in the workplace policies of the DF and the implementation of recommendations arising from the inquiry to protect equality within the Irish Defence Forces.
Catherine Connolly is an Independent Teachta Dála for Galway West/South Mayo, elected for the first time in 2016. Catherine is the Leas-Cheann Comhairle of Dáil Éireann and a member of the Committee on the Irish Language, the Gaeltacht and the Islands. Prior to her election to Dáil Éireann in 2016, Catherine was a City Councillor for 17 years having been first elected to Galway City Council in the West local electoral area in June 1999 and subsequently re-elected in the South local electoral area in 2004. In that same year Catherine was elected Mayor of the City.
Catríona Crowe is former Head of Special Projects at the National Archives of Ireland. She was Manager of the Census Online Project, which released the Irish 1901 and 1911 censuses online. She was the editor of Dublin 1911, published by the Royal Irish Academy in late 2011. She was an editor of Documents on Irish Foreign Policy (RIA) from 2000 to 2016 and presented the RTE documentaries, Ireland before the Rising, shown in February 2016, and Life After the Rising, shown in January 2019. Catríona is also the author of the long essay, The Commission and the Survivors, on the subject of the recent Commission of Investigation into Mother and Baby Homes in 20th century Ireland, published in the Dublin Review in June 2021 and subsequently in national media. She is a former President of the Women's History Association of Ireland, and an Honorary Vice-President of the Irish Labour History Society. She is in receipt of four honorary doctorates, from the University of Limerick, Maynooth University, Trinity College, Dublin, and University College. Dublin, and is a member of the Royal Irish Academy.
Gary Gannon is a Social Democrats TD for Dublin Central and is the party's spokesperson for Education, Higher Education, Arts, Social Protection & Foreign Affairs & Defence. He won his seat in the 2020 General Election. He has been particularly vocal on Leaving Cert reform. In 2014 Gary was elected to Dublin City Council representing the North Inner City local electoral area before joining the Social Democrats in 2015.
Hazel de Nortúin is a People Before Profit Councillor for the Ballyfermot/Drimnagh ward. She is Chairperson of Teanga Beo, a not-for-profit naíonra, and founder of Café Glic.
Elaine Feeney writes poetry, fiction, and non-fiction. She has published three poetry collections including The Radio was Gospel & Rise. Her debut novel As You Were won Dalkey Book Festival's Emerging Writer Prize, Kate O' Brien Prize and McKitterick Prize, and was shortlisted for Novel of the Year and the Rathbones-Folio Prize. Feeney has been published in The Art of The Glimpse: 100 Irish Short Stories, The Paris Review, The Stinging Fly, The Moth, Poetry Review and The Guardian. She lectures in University of Galway where she is a founding member of the Tuam Oral History Project. Her second novel How to Build a Boat was published in 2023 (Harvill Secker) and her poetry collection, All the Good Things You Deserve (Harvill Secker) is forthcoming in 2024.
Kathleen Funchion is an Irish Sinn Féin politician who has been a Teachta Dála (TD) for the Carlow–Kilkenny constituency since the 2016 general election. She was appointed Chair of the Committee on Children, Disability, Equality and Integration in September 2020. She previously served as Chair of the Committee on the Implementation of the Good Friday Agreement from 2016 to 2020. She is the Sinn Féin Spokesperson on Children, Disabilities, Integration and Equality.
James Gallen is an Associate Professor in the School of Law and Government at Dublin City University. His research interests include human rights, international law and legal and transitional justice. His present research agenda and recent publications concern a transitional justice approach to historical abuse in consolidated democracies and in Christian churches. His monograph Transitional Justice and the Historical Abuses of Church and State was published by Cambridge University Press in 2023.
Lorraine Grimes has a PhD from the National University of Ireland Galway. Her thesis 'Migration and Assistance: Irish Unmarried Mothers in Britain 1926-1973', examined the institutionalisation of Irish unmarried mothers in Mother and Baby Home institutions in Britain, and explores issues of maternity care, adoption, socio-economic class, unmarried fathers and advocacy for unmarried mothers in the 1970s. Lorraine has worked on a number of projects including the World Health Organisation funded project; 'Reproductive Health: The Implementation of Abortion Policy in Ireland' which developed policy recommendations to the Department of Health, HSE and other key bodies on developing women's access to abortion in Ireland. She has also co-authored an NUI Galway report on 'Galway Medical School and the Medical Examination of Infant Remains' and has a number of forthcoming publications focusing on unmarried motherhood, maternity care and stillbirth in Britain and Ireland. She is currently a Postdoctoral Researcher at Maynooth University Social Sciences Institute on the project 'Digital Preservation of Reproductive Health Resources: Archiving the 8th'.
Eleanor Hooker is a poet and writer. She lives in North Tipperary. Of Ochre and Ash, her third poetry collection with the Dedalus Press, was launched October 8 2021 by author Donal Ryan. It was selected by poets/authors Kerry Hardie and Peter Sirr as winner of the Michael Hartnett Award 2022. Legion, her limited edition chapbook was published by Bonnefant Press, July 2021. Eleanor is a recipient of a Markievicz Award 2021. Her chapbook for this award, Where Memory Lies, will be published by Bonnefant Press in 2023. Eleanor's second poetry collection, A Tug of Blue (Dedalus Press) was published October 2016. In 2013 her debut, The Shadow Owner's Companion (Dedalus Press) was shortlisted for the Strong/Shine Award for Best First Irish collection. Eleanor is currently a PhD candidate at the University of Limerick.
Lavinia Kerwick from Kilkenny is a long-standing advocate for all survivors of sexual violence. After her attacker was given a suspended sentence, Lavinia gave up her anonymity as a survivor of sexual violence when her sister rang The Gerry Ryan Show in 1993. She went on to appear on the show to tell her story, and became the first Irish rape victim to go public. As a result of what Lavinia did, two new critically important pieces of legislation were introduced within a year - victim impact statements and appealing a lenient sentence. At a public gathering in the Dublin Rape Crisis Centre in 2018, Lavinia said: "Listen to the voices of survivors and victims - we have a fountain of knowledge."
Laura McAtackney is originally from Belfast and has a PhD in Historical Archaeology, and is Professor of Archaeology in UCC. She completed postdoctoral fellowships at the Pitt Rivers Museum, Oxford (2008-9), University College Dublin (2010-12 and 2012-14; including funded by IRC). She was appointed as Professor in Radical Humanities Laboratory and Archaeology in October 2022. Previously, she was Associate Professor in Sustainable Heritage Management at Aarhus University in Denmark and will maintain a 20% contract until October 2024 as Professor in Heritage Studies. Her areas of interest are contemporary archaeology, especially of conflict, institutions, colonialism and gender, and various facets of heritage, especially related to difficult or 'dark' pasts. She has completed work on the Northern Irish conflict and peace process, gendered experiences of imprisonment and lived experiences of Magdalene Laundries and other gendered institutions in Ireland.
Aodhán Ó Riordáin TD (Labour )
Sinéad Ring is a lecturer in Law at Maynooth University and a graduate of University College Cork. Her doctoral studies were funded by the Irish Research Council. Her research explores legal and institutional responses to sexual violence. Sinéad is the author of numerous peer-reviewed journal articles and is lead author (with Kate Gleeson and Kim Stevenson) of Child Sexual Abuse Reported by Adult Survivors: Legal Responses in England and Wales, Ireland and Australia (Routledge, 2022). She is also a member of the editorial board of Social and Legal Studies. In 2020 Sinéad was appointed by the Minister for Justice for a statutory five-year term to the Judicial Council's Sentencing Guidelines and Information Committee. In 2019 she co-authored the Framework for Consent in Irish Higher Education Institutions. https://www.gov.ie/en/publication/678fee-framework-for-consent-in-higher-education-institutions-safe which sets out a new vision of how Irish HEIs can combat sexual violence and harassment against students. She continues this work with the Higher Education Authority and at Maynooth University where she chairs the University's Consent Framework Implementation Group.