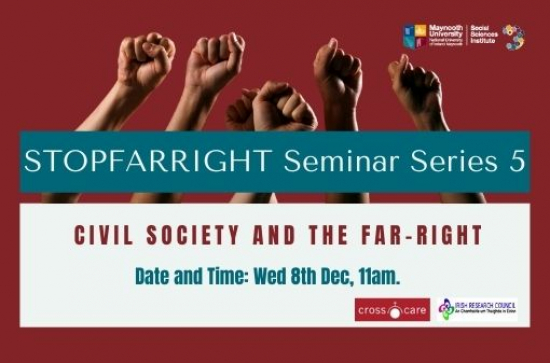 Wednesday, December 8, 2021 -

11:00

to

12:30
Online
This seminar will examine the impact of the far-right on civil society and how local communities and civil voluntary groups can strategise against the growing influence of the far-right in Irish communities. Speakers include: Mark Malone from the Far Right Observatory; Theresa O'Donohoe, an activist and advocate for refugee solidarity and Sarah Clancy from the Clare Public Participation Network. The seminar will be moderated by Shane O'Curry, the director of the Irish Network Against Racism (INAR).
STOPFARRIGHT is an Irish Research Council funded project, led by Barry Cannon of the Department of Sociology at Maynooth University, in association with Crosscare. The project aims to promote discussion and debate between academics and civil society groups on how best to counter-strategise against the growth of the far right in Ireland.
Speakers
Shane O'Curry : Shane O'Curry is the director of the Irish Network Against Racism (INAR). INAR brings together networks and coalitions across cultural, geographical, professional and institutional boundaries to bring about positive change in the fight against racism at a local, regional, national and European level. Shane is a long-time activist and anti-racist who has years of community and grassroot experience of challenging hate and discrimination.
https://inar.ie/
Mark Malone: Mark has been active within social movements for social, economic and ecological justice over the last two decades. This has included work in community education, anti-racism, tax and debt justice and the intersection of international development and development education. More recently this work has focused on understanding reactionary right-wing movements and the ways and means by with communities and civil society might better equip itself.
Theresa O'Donohoe: Theresa lives in Lisdoonvarna, Co Clare, where she first came to the attention of the far right in her role facilitating the community response to a proposed Direct Provision centre. It emerged that the village had links with the extreme far right who were leading a call to "save Lisdoonvarna" from "the Great replacement". Theresa and other volunteers were targeted for their work coordinating a welcome for asylum seekers. She has written an insight into the tactics of the far right in Lisdoonvarna and what she has observed since then. Her book is in the final stages of publishing and should be available in the spring of 2022.
https://orpenpress.com/books/ireland-at-the-intersection/
Sarah Clancy: Sarah is a poet, activist and community worker from Galway city although she now lives and works in County Clare where she is the Coordinator of Clare Public Participation Network. She has been involved in many campaigns over the years including campaigns for environmental justice, bodily autonomy, marriage equality, and most recently the ongoing campaign to end direct provision. With her colleague Vicky Donnelly she coordinated the design and delivery of the campaign strategies module which is part of the MA in Public Advocacy and Activism in NUIG.