Tuesday, November 26, 2019 -

17:00

to

19:00
MUSSI Seminar Room 2nd Floor Iontas Building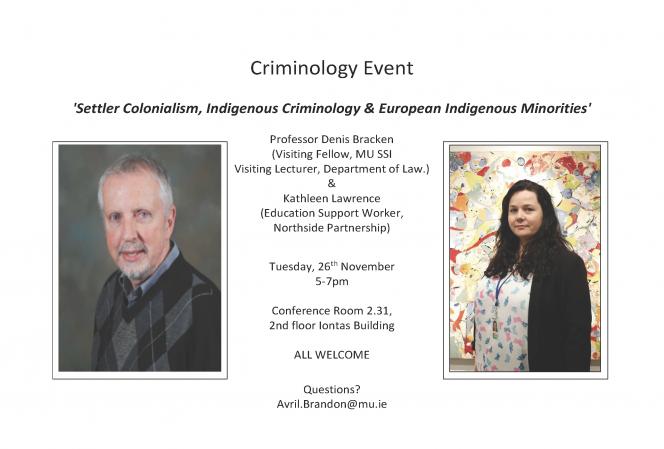 The development of Indigenous Criminology has provided a framework for analysing the significant over-representation of Indigenous peoples in criminal justice systems in the USA, Canada, Australia and New Zealand. Criminological studies informed by Indigenous Criminology in those countries have begun to recognize the importance of the settler colonial contexts to the study of Indigenous peoples and crime. European countries, although not settler societies in the sense applied to North America, Australia and New Zealand, also have indigenous minorities that have been subjected to similar processes of cultural and linguistic suppression, criminalization of ways of life and attempts at forced assimilation. This presentation will explore the experience of Irish Travellers, with some reference also to the Romani and the Sami of Scandinavia, with the criminal justice system as it relates to the framework offered by Indigenous Criminology.
Bio on Professor Bracken
Denis Bracken is Professor Emeritus in the Faculty of Social Work at the University of Manitoba. He has held several administrative positions at the University, including most recently the Associate Dean for Undergraduate Programs and Distance Education, and before that the Rector of St. Paul's College. Currently he is a visiting fellow at MUSSI and visiting lecturer in the Law Department at NUI Maynooth.