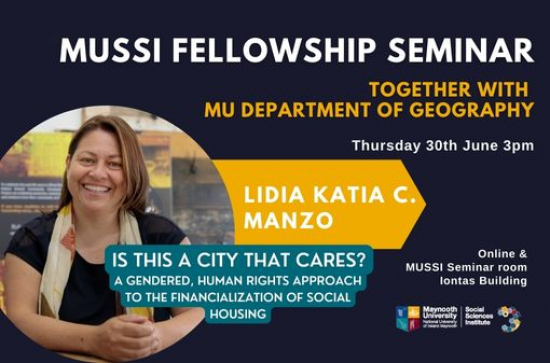 Thursday, June 30, 2022 -

15:00

to

16:00
MUSSI Seminar room & online
This seminar places care at the heart of the debate on our current housing crisis. Guided by critical approaches to the financialization of housing and theories of social capital in vulnerable areas, the seminar calls for an ambitious reframing of housing as a sociomaterial infrastructure of care. It thus explores how care circulates in a gendered, embodied way through social housing and offers a new agenda for reform based on this view. Extended ethnography conducted in Dublin's inner-city Oliver Bond flats illustrates the active role women play in developing self-help schemes and survival strategies. Through these actions, women fight the uncertainty of living under the threat of gentrification.


Lidia Katia C. Manzo has been recently awarded with the Marie Sklodowska Curie EU Individual Fellowship (2020-2022) to develop the project CITY-OF-CARE at the Department of Social and Political Sciences of Milan University in partnership with the Department of Geography at Maynooth University to investigate the financialization of social housing in European cities across different socio-political context and welfare regimes. Her scientific production lies on shifting social-spatial urban inequalities, the construction of difference in everyday life and ethnographic, participatory approaches for more democratic urbanization. A complete list of her research portfolio and publications can be found here: lidiakcmanzo.com

The MUSSI Fellowship Scheme began in the 2019/2020 academic year and was designed to enhance the research community of the University by fostering collaboration between Maynooth University Social Sciences Institute Visiting Fellows and academic staff at Maynooth University. Fellowship recipients have the opportunity to engage with a vibrant research culture in the Institute (see www.maynoothuniversity/mussi ) and across the wider university, Dublin city area and the region.