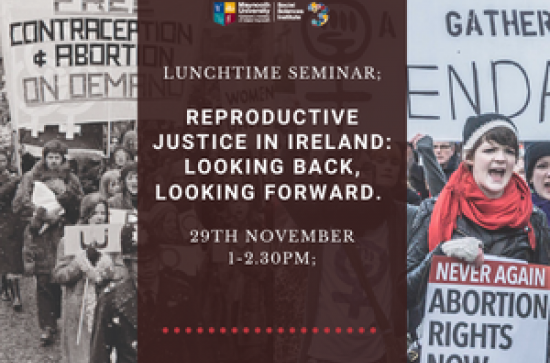 Monday, November 29, 2021 -

13:00

to

14:30
Online
In 2018, Ireland voted by a 3:1 majority to repeal the eighth amendment paving the way for the introduction of legislation on abortion outside of very limited parameters. This victory was the culmination of a 35-year long reproductive rights movement and an inspiring example of grassroots activism. But the struggle for reproductive justice is far from over. Some people are still forced to travel because of restrictions in our law and services are yet to be commissioned in Northern Ireland.
This lunchtime seminar looks back at the 'repeal movement' in the context of wider reproductive oppressions and looks forward towards the continued need for reform, all of which will be discussed through the lens of reproductive justice a concept that moves the pendulum on reproductive rights far beyond the singular issue of abortion.
Register for this event here: Note - registration is required
Speakers:
Dr Camilla Fitzsimons, Department of Adult and Community Education, Maynooth University.
Camilla has a long history of social activism and has researched and published extensively on the role of critical education in social movements. She is the author of Community Education and Neoliberalism, Philosophies, Policies and Practices in Ireland (2017) and Repealed; Ireland's Unfinished Fight for Reproductive Rights (2021)
Dr Sinead Kennedy, Department of English, Maynooth University.
Sinéad is a Marxist-Feminist activist. She has a long history of activism in the struggle for reproductive justice in Ireland. She was the co-founder with Ailbhe Smyth of the Coalition to Repeal the Eighth Amendment and a member of executive of Together for Yes and the head of research for the campaign. She is co-editor of The Abortion Papers Volume 2 (Cork University Press, 2015).
Dr Maeve O'Brien,
Archiving the Eighth, School of Art History and Cultural Policy, University College Dublin.
In 2021, Maeve was the research co-ordinator for the Archiving the 8th project, funded by the Wellcome Trust. A member of Alliance for Choice, her research interests include reproductive justice, narrative medicine and healthcare communication. Recent publications include 'Women, Community Development and Northern Ireland' (Fingerpost, 2021); 'Abortion Reform in Northern Ireland: What Does It Mean for Healthcare Providers?' (FSRH, 2021); and her co-edited collection, The Bloomsbury Handbook to Sylvia Plath is due in early 2022.

Attendees will be able to purchase copies of:
Repealed: Ireland's Unfinished Fight for Reproductive Rights by Camilla Fitzsimons with Sinead Kennedy.