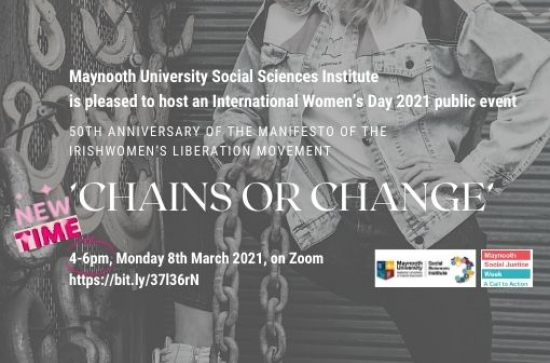 Monday, March 8, 2021 -

16:00

to

18:00
https://us02web.zoom.us/webinar/register/WN_Rj5PhSYWSF2ZcseBoAT3_Q
Maynooth University Social Sciences Institute is pleased to host an International Women's Day 2021 public event to mark the 50th Anniversary of the manifesto of the Irishwomen's Liberation Movement 'Chains or Change' 4-6 pm, Monday 8th March 2021, on Zoom
————
In 1970 the Irish Women's Liberation Movement (IWLM) was launched.
The group's manifesto, Chains or Change (which is available here https://institute-genderequality.org/frames-on-gender/countries/ireland/chains-or-change/ ) was delivered to the people of Ireland 50 years ago on the 'Late Late Show' of 6 March 1971. It contained five demands: equal pay, equality before the law, equal education, contraception and justice for deserted wives, unmarried mothers and widows. It sent shock waves through Irish society.


The Contraceptive Train
On 22 May 1971 members of the Irish Women's Liberation Movement subsequently travelled to Belfast by train to buy contraceptives in protest against the law prohibiting the importation and sale of contraceptives in the Republic of Ireland. It was a landmark moment in the Irish women's movement and in the history of contraception and reproductive rights in Ireland.
This RTÉ News report
https://www.rte.ie/archives/exhibitions/1666-women-and-society/370226-contraceptive-train/
shows the women buying contraceptives over the counter in Belfast and the protest when they returned to Connolly Station, Dublin.
Register here - https://us02web.zoom.us/webinar/register/WN_Rj5PhSYWSF2ZcseBoAT3_Q
Program
Professor Linda Connolly - "The Irishwomen's Liberation Movement: what it did and what it achieved" (author of 'The Irish Women's Movement: from Revolution' and coauthor with Tina O'Toole of 'Documenting Irish Feminisms: the Second Wave')
Reflecting on 'Chains or Change': Panel discussion with IWLM members Máirín deBurca and Rosita Sweetman
Follow up views of Ailbhe Smyth and Bríd Connolly (who was part of the Contraception Train)
Audience Q&A