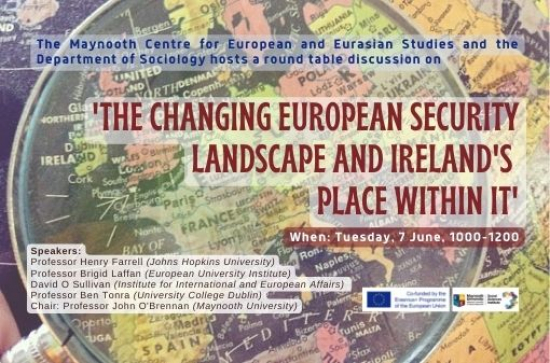 Tuesday, June 7, 2022 -

10:00

to

12:00
Arts and Humanities Seminar Room (1.33), Iontas Building
The Maynooth Centre for European and Eurasian Studies, MU Social Sciences Institute and the Department of Sociology invite you to a round table discussion on 'The Changing European Security Landscape and Ireland's Place within it'.
Speakers:
Professor Henry Farrell (Johns Hopkins University)
Professor Brigid Laffan (European University Institute)
David O Sullivan (Institute for International and European Affairs)
Professor Ben Tonra (University College Dublin)
Raili Lahnalampi (Ambassador of Finland to Ireland)
Chair: Professor John O'Brennan (Maynooth University)
*Note this is an "in Person" event
Description
Russia's brutal assault on Ukraine has already produced the most important changes in geopolitics in Europe since the year of 'peaceful revolutions' in 1989. Those revolutions led to the fall of the Berlin Wall and the demise of the Soviet Union. More than three decades on from those events of epochal importance, the war in Ukraine has set in motion changes which scarcely seemed possible prior to 24 February.

This event will explore the changing security and defence landscape in Europe and how the war in Ukraine is influencing these changes. It will evaluate the nature of the EU and NATO response to the crisis created by the Russian invasion, the different reactions to Ukraine's pleas for help, the positions taken by France, Germany and Poland toward Ukraine, and the unilateral decisions of Finland and Sweden to seek membership of NATO.

It will seek to locate these events within a wider global theatre of geopolitical change and ask how, if at all, Europe might finally be taking on a consequential role in international defence and security.

It will also examine Ireland's place within the European security architecture and whether the war in Ukraine has shifted the dial on greater Irish engagement with European security norms.

We are delighted to welcome some of Europe's foremost experts on security and international affairs to discuss these issues at a critically important time.

Register