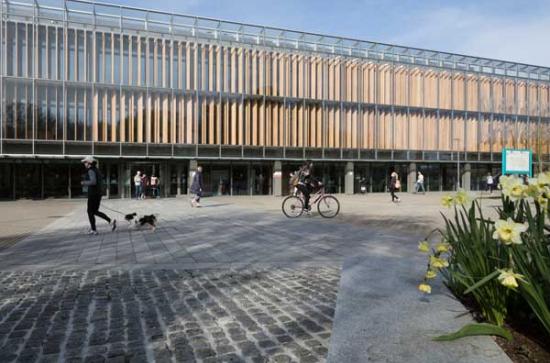 Thursday, October 5, 2017 - 11:30
New article by Dr Olga Ryazanova (Maynooth University School of Business), Professor Peter McNamara (Maynooth University School of Business), and Dr Herman Aguinis (George Washington University School of Business) on research performance as a quality signal in international labour markets reveals the Global Research Performance of 3,352 business schools.
There are thousands of universities around the world that are producing high-quality business and management research. Unfortunately outside their local area, few people know about them. This is because popular press rankings typically focus on an arbitrary top 100. A research team from Maynooth University (Ireland) and George Washington University (US) have published a paper measuring the research performance of 3,352 business schools from 127 countries worldwide. It casts light on a fascinating world where institutions from all continents are contributing to our understanding of business and management. We are making this raw data publicly available so that readers worldwide can explore the research performance of these institutions, be they from your local area or further afield.

Many of these universities are local household names, but may be less well known internationally. Combined these institutions likely have hundreds of thousands of students in classes as we write and millions of alumni. Our study enables readers to compare institutions within their local area, regions and internationally. It demonstrates that high quality research led education is very widely distributed throughout the world. Current rankings contribute to a public underestimation of the quality of excellent local institutions that fall outside an arbitrary top 100, whilst overestimating the exceptionality of those that fall within it.

By browsing the data, we can see that there are institutions that are just inside an arbitrary top 100, but are not really different from others that are outside it, being separated by a single journal publication. Equally we can see that there are outstanding local universities for example in Ireland, that are not in the arbitrary top 100, but are comparable in performance to excellent universities from the USA, across the EU, South America, Asia and Africa. This ought to be a cause of hope, pride and confidence for students, alumni and businesses. Students worldwide are educated by faculty whose ideas and research are published in the best of international journals.

Our data enables readers to see the richness and diversity of business and management research in universities worldwide. We can see that thousands of local universities have the capacity to deliver high quality research led education insights to their students and support their local business communities with relevant research insights. They also contribute to the global conversation on the development of business and management. Excellence is not confined to one country, region, continent or a narrow number of institutions in popular rankings. This we believe is good news for students, businesses and society.

Where to get the dataset:
The dataset, known as GRP 2017 (Global Research performance) can be downloaded from:
Maynooth University School of Business website.
Or from http://hermanaguinis.com/pubs.html.

Looking for the full paper?
Ryazanova, O., McNamara, P., & Aguinis, H., 'Research performance as a quality signal in international labor markets: Visibility of business schools worldwide through a global research performance system' Journal of World Business (2017). Also available from: http://hermanaguinis.com/pubs.html.

Abstract
Attracting talent with international capabilities is critical for the internationalization of business schools and other knowledge-intensive service-industry organizations. However, limited coverage beyond the top cohort of business schools in existing research-based rankings does not allow the majority of institutions to use these rankings as global signaling systems of their research performance. This is particularly detrimental to the development of younger research fields, such as International Business (IB). Our Global Research Performance (GRP) system affords visibility to 1,029 institutions that publish in seven prominent IB journals and to a broader cohort of 3,352 institutions that publish in 149 high-impact business and management journals. GRP empowers IB and other scholars to demonstrate their contribution to their organizations' legitimacy and promotes a data-driven approach to international talent recruitment.

We hope you will find the GRP system useful and we look forward to ongoing conversations about the meaning and measurement of scholarly impact.