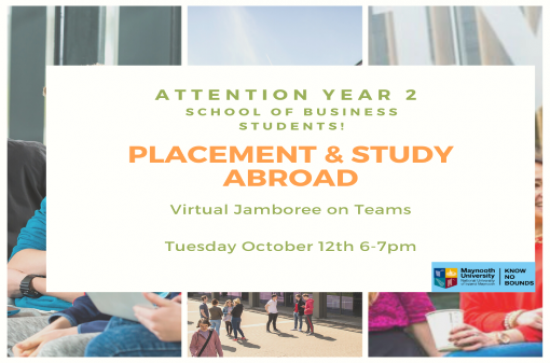 Tuesday, October 12, 2021 -

18:00

to

19:00
MS Teams
Attention Year 2 School of Business students! Do you want to give yourself that differential advantage in a competitive job market and have a fantastic experience at the same time?
You can extend your three-year degree to four years and devote your third year to a work placement. Or you could study abroad for one year, at one of Maynooth University's partner universities. With the deadlines approaching, it is now time to choose!
To assist you in making your decision, the School of Business is running a Virtual Placement and Study Abroad Jamboree on the 12th of October 2021. Join us online to virtually meet your peers who have completed placements or studied abroad. Learn about how they successfully availed of either the work placement or the opportunity to study abroad, what were the most exciting aspects of their year 'out', and how they feel it has enhanced their learning experiences and employment opportunities. Hear from members of the Placement Office and International Office about the work placement process and the many partner universities available to students who wish to study abroad for the third year of their degree.