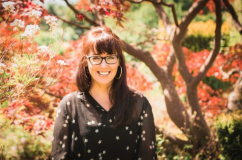 Will social media influencers take a stand about climate change?

It's time for public figures and influencers to place themselves in the climate change conversation for the good of their communities, writes Dr Máire Nic an Bhaird and Laoise Ní Chléirigh from the Froebel Department of Primary and Early Childhood Education.
What do Tinder, Bumble, Match, Ok Cupid, Hinge and Plenty of Fish have in common? Love and community members. Social media may have pitfalls, but one of the more positive aspects is the spread of love and positive proactive connection through communities and influence.
The HSE identified an untapped potential here when they collaborated with dating apps to encourage vaccine take-up amongst those looking for love. Not only are dating apps potentially finding the one true love for their members, but they're sharing vaccine information and enabling people to literally get closer to their one and only without the worry of Covid-19. Perhaps there really is some truth in amor vincit omnia after all?
In the United States, Joe Biden and his staff also harnessed the power of the online influencer for good. Teenage singer-songwriter Olivia Rodrigo eagerly encouraged her 28 million social media followers from the White House press briefing room, to reach out for what is 'Good 4 U' and get vaccinated.
If popular public figures and influencers can appeal to their communities to achieve herd immunity, can they place themselves in the climate change conversation for the greater good too? A key finding from this week's Intergovernmental Panel on Climate Change report states that no corner of the earth is unaffected by climate change now. While we may believe we are sitting pretty out on our own and not ravaged by fires just yet, it is only a matter of time if we stay seated in the carriage of capitalism on the world train to destination disaster.
Social media platforms facilitate the promotion of fast fashion, balloon arches, artificial grass, multiple cosmetics lines and more, all coming to us in a sea of plastic packaging. As we languish in a worsening climate crisis, social media continues to develop communities of influencers working together, increasing their following and gaining financially.
Prominent public figures in communities of influence in Ireland, followed by hundreds of thousands of followers daily, are watched promoting big name supermarket brands churning out the goods wrapped in plastic. Influencers profess how they 'can't get through the day' without using the latest wet wipes, cosmetics in their countless plastic bottles or wearing fast fashion brands. Princely sums are paid to simply post a photo and message of how they 'swear by this' product and how they are 'so excited' to share this with us. It is clearly working, as the community is growing, and this is just in an Irish context. Sales increase, and the revenue of influencers goes up. And up. And up.
The irony is that this community won't be there to exploit if they have no planet to live on. In a recent Brainstorm piece, Peter Thorne reminds us that Ireland is now a full degree warmer than it was in the late 19th century. The hotter it is, the more problems arise. It won't simply bring the joyful heatwave fun we enjoyed and shared on social media this year. Melting 99s and sand in our shoes will be the least of our worries. Will social media posts of funky mosquito nets for your staycation gain as much attention or excitement here? #ad #sp #excited!
As we are easily influenced, isn't it time for public figures and communities of influence here to dedicate at least some of their posts to tackling climate change so we might have an emerald isle on which to live ? If love, passion and community are the ingredients to lasting impact, could we follow the HSE's example turning our love apps green and our social media platforms environmentally positive? We see Greta Thunberg, an influencer we seriously need, urging the world to stand up and fight the patriarchal structures destroying Mother Earth. What if we put down our individual weapons of capital gain online and spread love for the planet instead? If you love something you nurture it, you adore it, you protect it. Love is what Mother Earth needs - as Lennon and McCartney tell us 'all you need is love'.
What about the creation of a community agreement that every third post at the very least by 'influencers' was for biodiversity promotion and planetary protection? Imagine an influencer who promotes with integrity. One who rewilds with gardens of wildflower meadows surrounding the new builds they're proudly posting, instead of artificial grass company adverts.
Imagine an influencer emphasising biodiversity protection instead of ostentatious balloon arches for birthday parties and gender reveals. We now know that there is no 'away' when those balloons go up, up and away. Imagine a community of influencers, applying the concept of community-based learning and activism to their channels of influence, as Dolly Parton and Olivia Rodrigo have both done in the quest for herd immunity for their community.
The big question is who is the influencer who will start the ball rolling in their community, without tokenistic greenwashing or pledges of faux sustainability? They're certainly the community we want to follow and need to belong to, as the climate crisis goes into overdrive and the planet heats up around us. We cannot wait for government. We must realise our individual choices will make a difference, but our community choices are even more impactful. Now… who will step up?
(Front photo by Li-An Lim on Unsplash)