The exquisite handiwork of Borris Lacemakers is helping to revive the traditional craft of Irish lacemaking in Co Carlow, writes Helen Doyle, PhD candidate, Department of History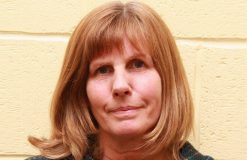 One of the traditions that makes us who we are as a nation is our long and impressive history of producing beautiful handmade Irish lace. The history of Irish lacemaking dates to the early 19th-century, when some of our best-known laces, such as
Carrickmacross
,
Limerick
and
Kenmare
were founded. Yet of equal importance and significance are examples of our less known laces, such as
Borris lace
, that was established in 1846 in south Co Carlow by
Lady Harriet McMurrough Kavanagh
, mistress of Borris House.
She founded Borris Lace in response to the economic hardship being experienced by the women of the village and surrounding areas during the Famine. Although Carlow was not one of the counties hardest hit by the Famine, great poverty was experienced in certain parts of the county, particularly in the south of the county around Borris and St Mullins. Borris lace was established as a cottage industry that gave local women the opportunity of earning an income from their own homes, while still being able to continue with their domestic duties and childcare roles virtually unhindered.
Borris Lace was not the first example of lacemaking on an organised scale in Ireland as Carrickmacross, and Limerick lace had already been established in the 1820s. These were closely followed in the mid-19th century by Youghal, Kenmare, New Ross and Killarney laces. All were established by religious orders to give employment to women and young girls and were the earliest examples of true Irish needlepoint lace.
The earliest pieces of Borris lace were known as Borris Point, with the latter more standard type of lace made in Borris being known as Tape-Guipure. The technique used to make Borris lace involved tape being tacked onto a pattern that has been outlined on parchment paper. The spaces between the tape were then infilled with different types of ornamental and decorative stitches to complete the piece.
The traditional designs used in the making of Borris lace are continuous and flowing, with motifs based on nature, such as shamrocks, flowers, fir trees, and pomegranates. The original designs were hand drawn by Lady Harriet, who had been inspired by the lace that she saw on her travels in Greece and Italy.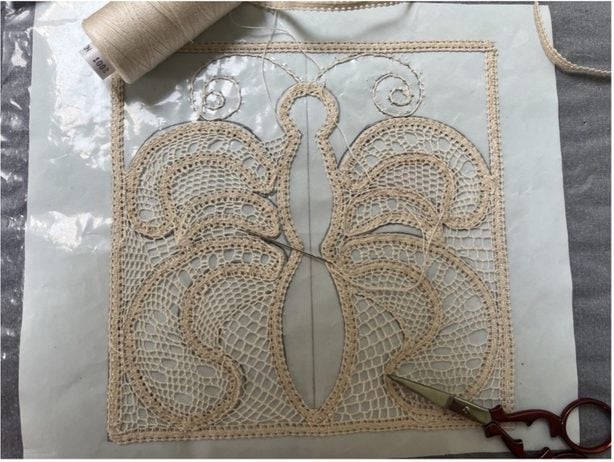 It was from samples that she brought home to Ireland that she created the patterns for the early Borris lace pieces. In its heyday, Borris Lace was so successful that a sample of the lace was presented to Queen Victoria, and later many members of the Royal Family wore pieces of Borris Lace. There were also large orders from America and Europe for items such as pillow covers, sheet edges, collars, table sets, tablecloths, blouses, and nightdress bodices.
The decline of Borris lace began with the First World War. The lace industry in Ireland, as elsewhere, was seriously affected by the rising cost of materials, short supply of labour and higher wages for other occupations making lacemaking less attractive. These disadvantages, coupled with competition from cheaply made mass produced lace, presented too great a challenge for Borris lace to survive on an economic basis.
The decline of the tradition is noted in the School's Folklore Collection, where it was recorded that 'Lacemaking is still a cottage industry in Borris. About 20 women and girls are employed at it. Less than 20 years ago there was great demand for Borris Lace – Irish, English and Scotch society ladies wore it. Then 40 or 50 people in this district were kept busy supplying orders. Today there is but little demand for Borris lace as machine made lace is very pretty and very cheap compared with the hand-made lace.'
Over time, the tradition of lacemaking in Borris all but died out, with only a small number of local women continuing the craft in their homes. In the 1980s and 1990s, classes were organised by the Carlow Federation of the ICA in an attempt to revive the craft, but these attempts proved unsuccessful and the craft again went into decline.
It was not until 2016 that the most successful and enduring revival of Borris lace was to take place. At this time Marie Laurie, an Australia lacemaker, who had over time been cataloguing the lace collection in Borris House, offered a number of workshops to anyone interested in learning how to make Borris lace. These workshops proved to be extremely popular, and Borris Lacemakers were formed.

The headpiece is a collaboration between Borris lacemaker Helena McAteer and milliner Ailish McElroy
Over the past seven years, the group has gone from strength to strength, creating both exquisite pieces from traditional designs and new designs and patterns that give Borris lace a modern twist, making it as popular today as it was in the past. Borris lace is an extremely important example of Irish lacemaking as it remains today unique in its stitching techniques and is the only known surviving Irish tape lace.
This article originally appeared on RTÉ Brainstorm