Wednesday, June 14, 2017 - 10:00
Awardees to participate in prestigious US international exchange programme
Four Maynooth University post-graduate students and faculty members have been awarded scholarships to participate in the largest international US exchange program in the world, the prestigious Fulbright Program. Each year, the program awards grants to Irish and EU postgraduate students, scholars, and professionals to study, research, and lecture in the United States.
This year the Fulbright Program celebrates 60 years of educational and cultural exchange between Ireland and the US. Since 1957, the Program has provided Irish and European citizens with the opportunity to study, research, or lecture in America, and supported US citizens to do the same in Ireland.

Maynooth University Social Sciences Department are proud to announce that one of our own Phd Candidates working on the Programmable City project is an Awardee for 2017-18 :
Ms Aoife Delaney is a PhD candidate on 'The Programmable City' project at Maynooth University, Ireland. As a Fulbright-NUI Student Awardee based at the University of Massachusetts, Boston, she will research the transformative potential of smart technology for emergency management systems.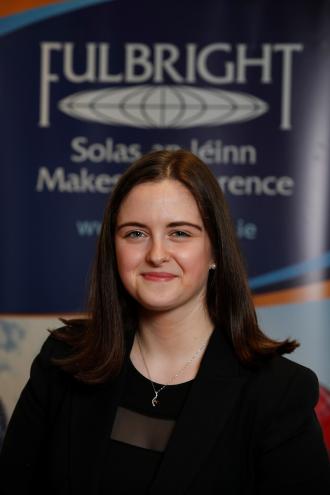 Commenting on the announcement, Minister for Foreign Affairs and Trade, Charles Flanagan TD said: "I am delighted to extend my warmest congratulations to the Irish Fulbright Awardees for 2017 – 18. The Fulbright Commission plays an important role in providing reciprocal opportunities for Irish and US scholars and academics to study, work and experience life in each other's countries.
This year's 38 Irish awardees come from varying academic and professional disciplines, from the liberal arts – including Irish language studies – to science, technology, engineering and maths. These awards underline the breadth and depth of the Fulbright Commission's work, covering 34 institutions in 18 states and Washington, DC. I wish this year's awardees every success for their time in the US."