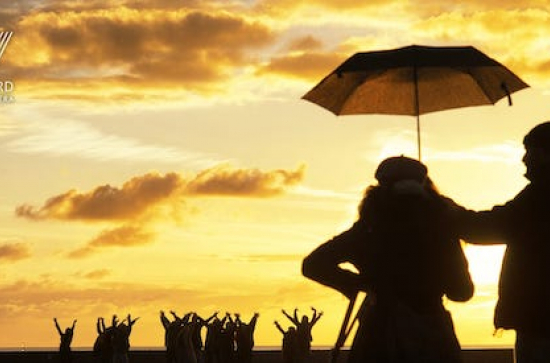 Thursday, February 4, 2021 - 09:45
In collaboration with Maynooth University Department of Music, an exciting new education project from Wexford Festival Opera has been shortlisted for the internationally renowned FEDORA prize.
SYNAPSES: If we are not allowed to go to theatres then opera will come to us. These 360° performances will eliminate all boundaries. Synapses is the impulse between different languages, the transmission of pure electricity, the fusion of creation and performance. It is the point of contact.

This first stage of the process invites audiences to vote online – via fedora-platform.com until February 26th for their favourite project. The project with the most votes from the audience in each category will get the chance to fundraise alongside the project nominated by the jury and move to the next stage of the process. The winners will be announced in June.
Please take two minutes to vote for us and for SYNAPSES, Wexford Festival Opera via this link: https://www.fedora-platform.com/discover/shortlist/synapses-the-point-of-contact/343
A European network, FEDORA encourages innovation and creativity in opera and ballet through an international Prizes competition initiated in 2014. Wexford Festival Opera is collaborating with the Rossini Opera Festival, Maynooth University and Wexford County Council on their nominated project entitled SYNAPSES. Over the past year the importance of contact, of connecting, has become ever more central to our lives. Synapses is an exciting new project which will celebrate connections, both between generations and between artists and art. Synapses is the impulsebetween different languages, the transmission of pure electricity, the fusion of creation and performance. It is the point of contact.
Synapses will celebrate that wealth of knowledge and new talent, strengthening those connections.

In this strange time when audiences cannot gather in traditional ways, we have a responsibility to bring art to them, to present work that audiences can enjoy in whatever location they choose, to continue to create that magical point of contact. Digital presentation has been the primary way of doing this, but while it opens doors for so many it also brings with it challenges for some audience members who may not be used to interacting with art and opera in this way. Synapses will bring together young local students and senior generations to experience opera together. The artists will create new work which will be showcased online, with 360° performances which will overthrow all boundaries.

The artists will also spend time with both the younger and older generations of opera lovers in Wexford. Both generations will share skills, such as how to access all the new online platforms available, knowledge of the history of opera in Wexford, and swap stories and dreams. They will connect and create new points of contact through experiencing art together, which we hope will flourish long after this project is over.

On 1st February, FEDORA announced 34 shortlisted projects (9 opera, 9 ballet, 10 education and 6 digital projects), from 20 countries including 110 cultural organisations and partners and involving over 200 artists for the 7th edition of the FEDORA Prizes. For more see fedora-platform.com.
Photograph © 2021 Padraig Grant