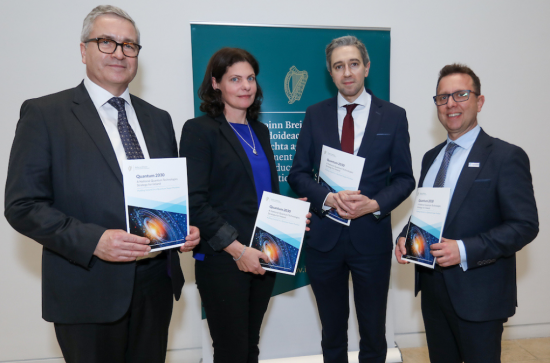 Friday, November 17, 2023 - 16:30
Ireland's first national strategy for quantum technologies, Quantum 2030, was launched by Minister for Further and Higher Education, Research, Innovation and Science Simon Harris earlier this week.
Quantum 2030, to which Maynooth University researchers have made a significant contribution, focuses the efforts of Ireland's quantum technologies community on areas of emerging growth in quantum technologies where Ireland can achieve a competitive advantage.
Quantum computing is an area of computer science that uses the principles of quantum theory, which explains the behaviour of energy and material on the atomic and subatomic levels.
Researchers including Professor of Theoretical Physics at Maynooth University, Jiri Vala, who contributed to the strategy, have recognised the potential of Quantum technologies, for innovation and competitiveness.
Quantum computing application development activities in Ireland, both in academia and enterprise organisations, have been growing exponentially over the past three years.
There has been a significant increase in the development of quantum computing applications that are important to enterprise end-users, public sector organisations and researchers.
Consequently, organisations in Ireland across different sectors are investing in or seeking collaborative development of quantum computing solutions for their research or business services and solutions.
This activity ranges from the development of key enabling technologies for quantum computer engineering to the actual realisation of quantum computing hardware and software, and transfer to applications.
The publication of Quantum 2023 marks the adoption of a whole-of-Government policy goal, Minister Harris said.
"The strategy sets out a path for Ireland to be an internationally competitive hub for quantum technologies by 2030."
Minister Harris added: "Ireland has a strategically important position in the technology sector as a competitive global hub.
"We appreciate the synergy between the quantum training programmes offered by industry partners and those run through our universities.
"We believe Ireland can build on our existing successes in information and communication technologies to become a global leader in research, development and innovation that underpins the quantum revolution and to become the hub for realising and exploiting the new opportunities in quantum technologies, in particular in quantum computing and communications."