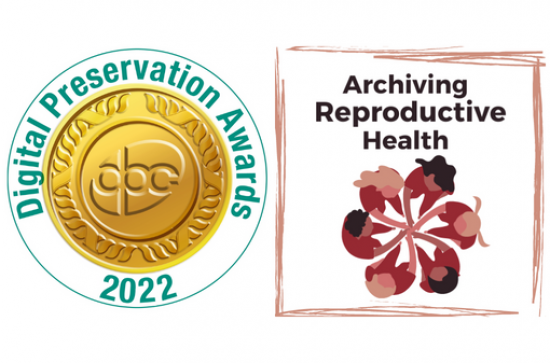 Tuesday, September 13, 2022 - 12:45
The awards celebrate the work of our welcoming and inclusive global community which works together to bring about a sustainable future for our digital assets. The awards are held every two years. Organized by the Digital Preservation Coalition (DPC) every two years, the prestigious Digital Preservation Awards is the most prominent celebration of achievement for those people and organisations who have made significant contributions towards a sustainable future for our digital assets.
Marking 20 years since its foundation in 2022, this year the DPC offers a special award for the most substantial and impactful digital preservation initiative since the start of 2002, and the exciting process culminated in a presentation at the iPres 2022 Conference on Monday 12th September.
The winner of the winner of the Award for Safeguarding the Digital Legacy is our very own Digital Repository of Ireland for their project "Archiving Reproductive Health", which includes our colleagues Dr Aileen O'Carroll and Dr Lorraine Grimes.
Working with key stakeholders, including activist organisations like Abortion Rights Campaign, Together for Yes, Terminations for Medical Reasons, Coalition to Repeal the Eighth, and many others, Archiving Reproductive Health is gathering and preserving a selection of digital objects and research data, including social media, that tells part of the story of this historic campaign.
A great deal of digital content was generated over the course of the referendum campaign (and before), but its long-term stability is as tenuous as is all web content. Websites and social media platforms containing links or copies of images, graphics and documents are vulnerable due to hosting costs, web or social media platforms going out of business, and proprietary software paywalls. Gathering and preserving this material in open-source format on a trusted digital repository such as DRI is essential to ensuring access into the future.
In March 2022, ARH published collections of design and publicity material from activist groups, as well as a sequence of stories from the popular Facebook page 'In Her Shoes', with more to follow. 'In Her Shoes' is a page where people anonymously shared stories of their experiences of being unable to access abortion in Ireland. Research data collections in the form of oral history interviews with medics, campaigners, and women's rights activists were also published. These provide important records of the lived experiences of activists and people affected by issues of reproductive inequality in Ireland.
To read more about the awards and the project you can see it here - https://www.dpconline.org/events/digital-preservation-awards/dpa2022-archiving-reproductive-health