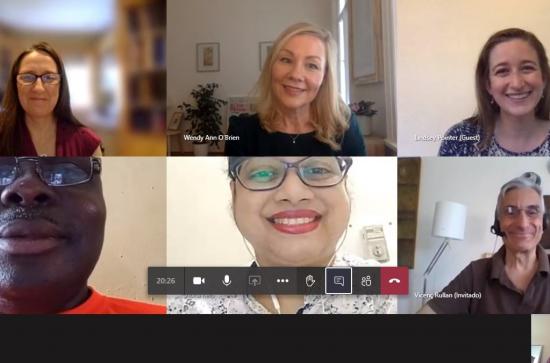 Monday, July 20, 2020 - 10:30
On July 15th 2020, Dr. Ian Marder (Maynooth University Department of Law) and Dr. Wendy O'Brien (UNODC Education for Justice Initiative) organised a webinar exploring restorative approaches to building trust and relationships in criminal justice classrooms. As part of the UNODC's Justice Education Dialogue series, speakers from Austria, Spain, USA, India, Canada and Nigeria addressed over 90 participants on the importance of class climate in criminology and criminal justice teaching, and the role of restorative values and methods in helping academics to reflect on their practice and build a positive learning environment.

The idea for the session emerged from a series of roundtables that Ian and Wendy organised in May, in which participants discussed the teaching of restorative justice in universities. One of these roundtables focused on the role of restorative principles and practices in higher education classrooms, and participants spoke of the need to bring these ideas to all those who teach in universities. This seemed to be particularly important now, given that many courses will be delivered online in the upcoming semester.

Criminologists may be familiar with restorative justice as a philosophy and process of responding to crime, but less aware of the broader concept of restorative practices, or the restorative principles that represent a framework for human interaction. This framework asks those in a position of authority to be proactive in building relationships and human connection. Using restorative principles and practices in our teaching – or 'restorative pedagogy' – is about recognising the central role of relationships and trust in building a sense of community and a class climate that is conducive to participatory learning and respectful and open dialogue. This is of particular value in criminology, as the current generation of students will play a crucial role in leading justice reform efforts, and as the study of criminology touches on a range of sensitive and emotive subjects, requiring students to feel comfortable in the group in order to participate.

The session began with Dr. Wendy O'Brien and Dr. Vibha Hetu (LNJN National Institute of Criminology and Forensic Sciences, India) talking about their experiences of teaching gender-based violence. They spoke about the importance of hearing student experiences and creating an atmosphere in which students feel comfortable speaking openly and listening respectfully. Next, Prof. Don John Omale (Federal University Wukari, Nigeria) spoke about his experience of teaching victimology in different countries, describing the different dynamics and types of conflict that emerge in higher education classrooms in different cultures.

Moving onto the theory and practice of building and maintaining trust and relationships, Vicenç Rul-Ilan (Restorative Practices Association of the Balearic Islands, Spain) spoke about relational pedagogy, and the need for teachers and trainers of all kinds to deliver their content in a manner that simultaneously builds a sense of community. While the task of content delivery, he argued, occupies much of our preparation and teaching time, it is equally necessary to build a level of group cohesion that, in turn, creates the right class climate for learning. Prof. Jennifer Llewellyn (Dalhousie University, Canada) built on this, introducing participants to relational theory as a different way of thinking about the delivery of human services, not least education and criminal justice. She described a range of local examples from Nova Scotia – including the Restorative Inquiry on the Home for Colored Children and the restorative process at her institution's Faculty of Dentistry – to illustrate the importance of using restorative principles as a lens through which to determine the most appropriate practices and responses to social challenges.

Finally, the group heard from Dr. Lindsey Pointer (Boise State University and Longmont Community Justice Partnership, USA). Drawing on her recent book, Lindsey tied the session together by providing examples of games and activities that can be done in criminology classrooms to help build relationships and support active participation in learning. Some of these games can be found here.

If you are interested in restorative approaches to education and restorative practices in universities, the 'little book' series provides a wealth of accessible resources (for example, books on restorative justice in education, restorative teaching tools, restorative justice in universities, or circle processes). There are also many journal articles on the subject, including here, here, here, here and here. Although some of these articles and books focus on school contexts, much of what they say is equally applicable to universities.

Biographies of each speaker can be found here, and the short- and long-form fliers for the event can be found here and here, respectively.