Monday, January 7, 2013 - 00:00
Dr. Bryan Roche recently pitched his company product to hundreds of potential investors at the Big Ideas convention, hosted by Enterprise Ireland at the Aviva Stadium in Dublin. The yearly Big Ideas event showcases the latest investment opportunities in the third level sector and focuses on securing investment and identifying business partners that will bring budding technologies to the next stage of commercialisation.

Watch a pitch summary
here
.
Dr. Roche's product is known as SMART training, an online intelligence training product that has developed across two decades of research. SMART stands for Strengthening Mental Abilities with Relational Training, and it represents a breakthrough training method that makes users expert in a range of skills that underlie intelligence. Research has shown impressive IQ gains among users of SMART, and numerous users have also reported improvements in scholastic performance. The product and more information is available at RaiseYourIQ.com.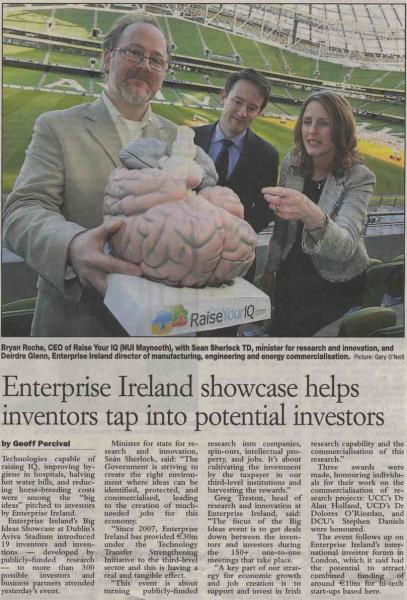 ​