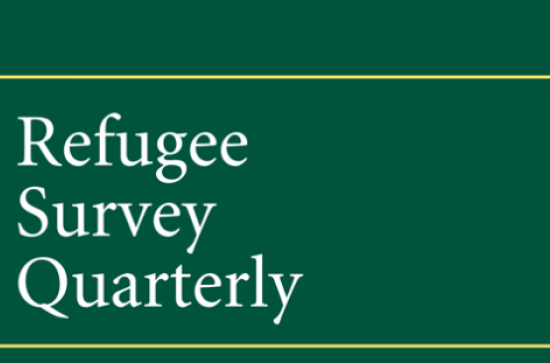 Friday, January 15, 2021 - 09:15
Dr Bríd Ní Ghráinne's research was recently published in the Refugee Survey Quarterly, a leading peer-reviewed interdisciplinary journal in the field of migration studies. Dr Ní Ghráinne's article (co-authored with Dr Ben Hudson, University of Exeter) is part of an open-access Special Issue on 'Improving Attention to Internal Displacement Globally.' Guest-edited by the UN Secretary-General's High-Level Panel on Internal Displacement (HLP) Secretariat, and with over 20 original peer-reviewed articles by researchers, practitioners and policy-makers, the new Special Issue promotes renewed debate on challenges and solutions for the protracted crisis of internal displacement affecting tens of millions of people worldwide. The Special Issue will be launched at 3pm GMT on Thursday 21 January. You can register for the event here.

Dr Ní Ghráinne and Dr Hudson's article explores the potential of global platforms to facilitate inter-state dialogue on internal displacement. It firstly examines the extent to which pertinent political fora concerned with human rights function as appropriate platforms. Secondly, given the close relationship between internal displacement and refugee issues, it explores the scope of existing refugee fora as sites or models for the discussion of internal displacement. Finally, it assesses the prospects for a dedicated global forum on internal displacement, based on incipient processes that currently exist to facilitate peer-to-peer dialogue and exchange among States on IDP issues. It argues that the design and/or mandate of established global fora mean they offer limited prospects for effective State-to-State dialogue on IDP issues. The article concludes by issuing an urgent call to institute a truly global inter-State forum with the explicit purpose of addressing internal displacement, which is without doubt one of the most pressing and seemingly intractable issues of our time.

Dr Ní Ghráinne and Dr Hudson's research stems from a report they provided to the UN-Secretary-General's High-Level Panel on Internal Displacement in late 2020. You can read more about Dr Ní Ghráinne and Dr Hudson's UN research here.

Dr Bríd Ní Ghráinne teaches International Human Rights law and International Humanitarian Law at Maynooth University Department of Law. She welcomes potential research students, collaborations, and media enquiries pertaining to any of her research areas.