Monday, October 6, 2014 - 00:00
The UCD School of Social Justice held a conference this past Saturday, 4 October 2014, entitled: Challenging Injustice in Ireland: Learning from the Past, Actions for the Future. Key note speakers at the conference included Professor Kathleen Lynch, Professor Colin Scott, Minister Aodhán Ó Riordáin, Vincent Browne, and Professor John Baker.

Three of our students presented papers at the conference:
Latifat Olagoke, Master of Legal Science – Professional candidate, presented a short paper on the topic of the regulation of abortion in Ireland.

Katrina Morrison, LLB candidate, also presented a short paper, which explored the correlation between domestic violence and female homicide.

Suzanne Scott, LLM (Global Legal Studies) candidate, presented a long paper, which dealt with the issue of prison suicide and the caution with which the state ought to discharge its duty to prevent self-inflicted death in prisons, in light of the French experience.
The full conference programme can also be viewed online.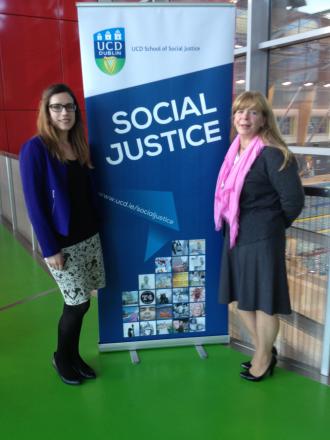 Pictured: Suzanne Scott and Katrina Morrison