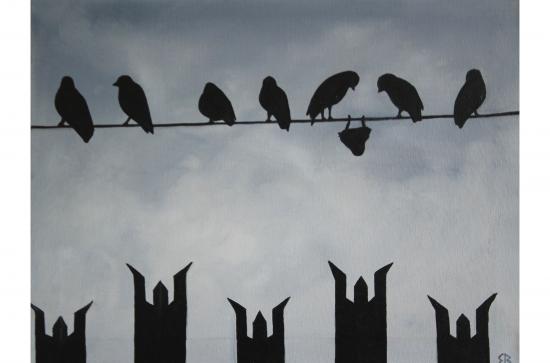 Friday, February 13, 2015 - 00:00
The artwork of former prisoner Eric Boylan will adorn the cover of a new Handbook of Irish Criminology, co-edited by Dr Claire Hamilton, Senior Lecturer at Maynooth University Department of Law.
The image, 'Fallen Bird', gave its name to an exhibition of prisoner art recently launched by the Minister for Justice, Frances Fitzgerald, in Dublin's City Hall on 15 January 2015.
The event was also attended by Love/Hate star, Peter Coonan. For coverage of the event see:
http://www.irishtimes.com/culture/art-and-design/exhibition-shows-prison-art-loosens-shackles-on-creativity-1.2068402
http://www.independent.ie/entertainment/books-arts/stunning-artworks-by-convicted-criminals-and-exprisoners-go-on-exhibition-30911925.html
The image is meant to symbolise the attitude of society to 'fallen birds' or offenders. The row of spiky heads underneath the blackbirds denotes both the community and the fence outside the prison. The book will be published by Routledge in October 2015. It is co-edited by Dr Deirdre Healy, UCD; Dr Yvonne Daly, DCU; and Dr Michelle Butler, QUB and is the first edited collection of its kind in Ireland.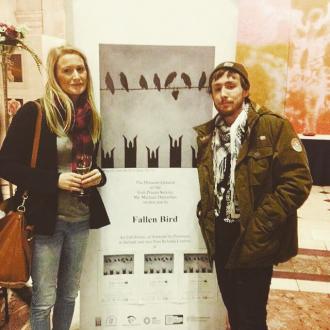 Pictured: Dr Claire Hamilton and Eric Boylan