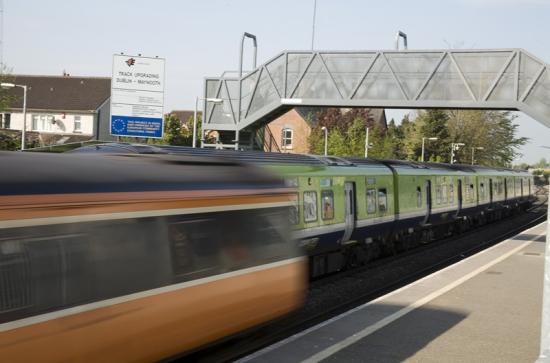 Tuesday, September 17, 2013 - 00:00
Waistline critical indicator for Type 2 diabetes risk
A novel way to reach the estimated 30,000 Irish people with undiagnosed diabetes, and the many thousands more at risk of developing diabetes was launched today at IKEA's Dublin store by the 3U Partnership comprising academics from Maynooth University, Dublin City University (DCU) and Royal College of Surgeons in Ireland (RCSI).
From this week, on varying days, the free IKEA tape measures that customers pick up to help with their purchasing will also carry the critical waistline markers – 32 inches for women and 37 inches for men – that are the globally recognised indicators of risk for Type 2 diabetes.
The initiative comes from a research consortium established under the 3U Partnership in early 2012. Led by Dr Donal O'Gorman, 3U Diabetes is a multi-disciplinary approach to understanding and tackling the growing diabetes crisis in Ireland, including in-depth biological research and the development of practical community-based measures for awareness and prevention.
Diabetes is one the most serious and fast-growing chronic diseases affecting public health and morbidity in Ireland. Along with obesity, incidence of diabetes rose fast during the Celtic Tiger and Ireland's diabetes problem now mirrors that of other Western nations. In 2012 the International Diabetes Federation estimated that there are about 190,000 people in Ireland with diabetes (both types), of which about 30,000 cases are undiagnosed. Total numbers are predicted to be over 270,000 by 2030. A recent report from Diabetes UK suggests that obesity accounts for between 80-85% of the risk of developing Type 2 diabetes.
Dr Jan Rigby said the idea to approach IKEA came about during the consortium's study over the past year: "What we found time and again was that often people in Ireland were completely unaware of what their waist sizes were. And I think that's partially linked to another modern phenomenon. The tape measure in the sewing box was once commonly available to keep track of family heights and waistlines so we wanted to bring the tape measure back into people's lives and were delighted that IKEA decided to come on board". She added that customers could take the tape measures home and use them for a handy reference guide in the future.
IKEA Dublin Sustainability Specialist Mark Finnegan said that IKEA Dublin was pleased to support an important public health initiative. "The work of the 3U team at Maynooth University and DCU is casting a light on one of the most important issues of our time. We are looking forward to help raise awareness of diabetes in store during the summer", said Mr Finnegan.
Dr Jan Rigby and Dr Sheelagh Wickham of 3U Diabetes will also hold pop-up information days periodically throughout the summer at IKEA for any customers who have concerns about diabetes and obesity in their families. Further information will be made available in the store and people can also consult www.diabetes.ie or www.diabetes.org.uk Anyone with specific concerns in relation to diabetes or obesity should contact their GP.
The 3U Partnership between Maynooth University, DCU and RCSI was established in 2011 to harness the complementary strengths of the three distinct, world-class institutions. It has led to significant collaborations across multiple areas of research and the 3U Diabetes is a leading example of this.