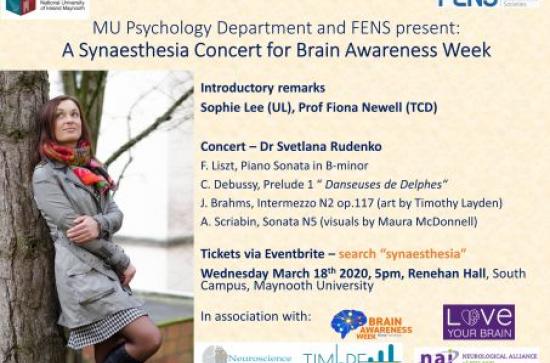 Wednesday, March 18, 2020 -

17:00

to

19:00
Renehan Hall, Maynooth.
As part of Brain Awareness Week 2020, we will be hosting a Synaesthesia Concert on Wednesday March 18th at 5pm in Renehan Hall.

The event, which is part of Neuroscience Ireland's BAW2020 programme, will open with a short introduction to the neuroscience of synaesthesia by Prof Fiona Newell (TCIN & School of Psychology), a leading researcher in the area of synaesthesia, and from Sophie Lee (UL), of The Irish Music and Brain Research Group (TIMBRE). Following this, internationally-renowned concert pianist and synaesthete Dr Svetlana Rudenko – who experiences music visually as colours - will play a selection of pieces and improvisations on a grand piano. As she performs, high-resolution images of previously painted pieces by synaesthete-artists including Jane Mackay and Timothy Leyden will be displayed via the projector to create a multisensory experience for the audience.

More details and tickets (€15 or €10 for PGs/students) can be found here:
https://www.eventbrite.ie/e/a-synaesthesia-concert-for-brain-awareness-week-tickets-96413987833

The event is supported by FENS and the Department of Psychology.