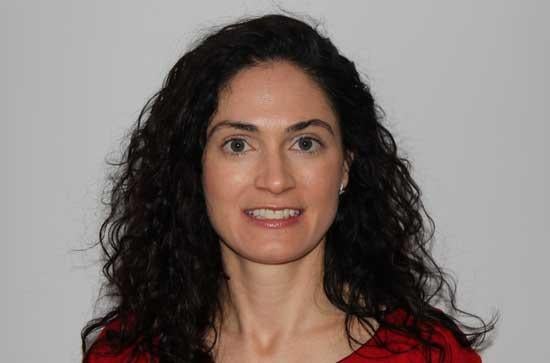 Biography
Tríona Stokes worked as both a primary teacher and drama practitioner in schools before joining the former Froebel College of Education as the lecturer in Drama in 2007.

She served as a member of the Bachelor of Education Review Committee and acted as rapporteur, culminating in the introduction of the revised Bachelor of Education programme in 2011-'12. She co-designed and has co-taught modules in the Personal and Professional Skills for Teaching and Learning since this time.

Tríona was coordinator of the inaugural Arts Council residency in Dance from 2013-2016, which marked the transition from College of Education to university department at Maynooth.

In 2016, Tríona graduated with an Education Doctorate from Queen's University, Belfast. Her doctoral thesis investigated the perceptions of young children in school-based pretend play.

From 2008-2018, Tríona served as founding committee member on the Froebel HOPE Teacher Education Partnership, which contributes to the education work of the HOPE Foundation in supporting teachers in Kolkata in play facilitation and promoting Froebelian active learning methods.

Tríona is chairperson of the departmental Development and Intercultural Education (DICE) committee and School Placement Engagement Officer: Arts in Schools. She is currently acting secretary to the Froebel Department of Primary and Early Childhood Education Research Committee. Tríona has served in a variety of roles for the Association of Drama Education in Ireland (ADEI) since 2012, most recently as vice-chairperson from 2017-2020. She continues to serve as secretary to the ADEI Sub-committee for Curriculum Matters.
Research Interests
Play and Pretend Play
Children's Rights-Based Research
Social Justice and the Arts
Drama and Dance in Education



Research Projects
| | | | | | | |
| --- | --- | --- | --- | --- | --- | --- |
| | Froebelian Principles in the 21st Century: Play environments and play opportunities for young children experiencing stress | Lead researcher, MU | This is a critical, participatory investigation of play environments and play opportunities afforded for young children experiencing stressful situations in Irish ECEC, home and community contexts. Underpinned and informed by an ethos of Froebelian principles, their critical relevance in society in the 21st century, and the right to play as enshrined in the UNCRC, our project addresses the question 'How is and can play be supported in ECEC settings, at home and in the community for children experiencing disadvantage and stress in their life situations?' The premise for the study is that many children in present-day Ireland are experiencing high levels of disadvantage for multiple reasons, including homelessness, poverty and migration. Currently one in five children in Ireland experience growing up in poverty (Social Justice Ireland, 2019) and numbers of children growing up in emergency homeless accommodation are consistently high (Focus Ireland, 2019; Simon, 2019). In addition to persistent, endemic poverty of significant parts of the population, forced migration into Ireland has added to the stress factors young children experience, often depriving them of social reference points (Turner, 1996) and supportive social (peer, family) networks. It is well understood that play is a means for children to understand, find their place, manage and make meaning of their worlds. Consequently, play is a valuable resource for children, a potential counter measure to trauma and stress. However, conditions for early childhood educators and families coming together to create supportive play environments in contexts of deprivation are critically under-researched in the Irish context. Our study adopts a highly innovative participatory approach combining principles of participatory action research with the 'future workshop' methodology (Jungk) that will empower participants to take concrete steps towards change. The project has the potential to impact policy and practice across the Irish ECEC system from a dedicated Froebelian perspective. | 03/02/2020 | 31/01/2022 | 31590 |
| | Creative Ireland Deskbound Study | PI | Creative Youth is a plan to facilitate the creative potential of every child and young person in Ireland 'by securing an opportunity for [them] to become creative citizens' (2017:1). A key proposition of the associated Creative Ireland Programme is that individual, community and national well-being is promoted through engagement in cultural and creative activity. The Creative Ireland Programme (2017-2022) has eighteen actions in its Creative Youth Plan, which include furnishing an initial research report to plan for undertaking future actions. Research findings will inform the programme design of a continuous professional development (CPD) input planned for implementation in 2020 with key stakeholders in early years' provision. The CPD programme aims to offer support to early childhood practitioners, artists, carers and parents in the facilitation of quality arts experiences for the main stakeholders, the children. This desk-bound research project aims to develop knowledge and insight into the cultural participation of children aged 0-3 in receipt of non-parental care, further to the many benefits of their arts and cultural participation, as outlined in the Growing up in Ireland Study (Arts Council/ ESRI, 2016). There is a dearth of Irish research about the arts participation of very young children, despite the recognition of the significant opportunity universal preschool education presents for a wide of arts experiences across dance, drama, painting and music (Arts in Education Charter, 2013). The research outputs will take a number of distinct forms. These will include a roundtable discussion informing key stakeholders of the main findings of the written report and its glossary. It will also articulate the key principles underpinning creativity, and play and arts aspects of early childhood care with reference to the three related policy publications (Síolta, 2006; Aistear, 2009; The First Strategy, 2018). It is planned to deliver the research targets through a dedicated review of pertinent literature, followed by an identification both of quality features in arts practice engagement in early childhood care and education, and examples of excellence engagement therein. An associated glossary of terms will be collated as the research process unfolds. | 04/12/2019 | 31/12/2019 | 3354 |
Book Chapter
| | Year | Publication |
| --- | --- | --- |
| | 2018 | Dr Triona Stokes and Dr Ruth Forrest (2018) 'Reviewing Peer-Placement in Initial Teacher Education: Cleamhnas, Pre-Nuptial Agreements, and the seven-year itch' In: Education Matters Yearbook 2017-2018. Castleisland, Co. Kerry : Education Matters/ Walsh Colour Print. [Link] |
| | 2017 | Susan Marron and Dr Triona Stokes (2017) 'Partnership as key: cultivating Facilitator-Artist Relationships in Teacher Education in Arts Council Dance Residencies' In: Education Matters Yearbook 2016-2017. Castleisland, Co. Kerry : Education Matters/ Walsh Colour Print. |
| | 2016 | Triona Stokes (2016) 'Dancing to Life: Reflections on the Experience of the Dance Artist-in-Residence at Maynooth University' In: Education Matters Yearbook 2015-2016. Castleisland, Co. Kerry : Education Matters/ Walsh Colour Print. |
| | 2007 | Triona Stokes (2007) 'Drama' In: Voice and Choice Curriculum Framework. Limerick : Mary Immaculate College and Limerick City Childcare. |
Peer Reviewed Journal
| | Year | Publication |
| --- | --- | --- |
| | 2019 | Stokes, T (2019) 'Using participatory methods with young children; reflections on emergent 'ethically important moments' in school-based research'. Irish Educational Studies, . [DOI] [Full-Text] |
Other Journal
| | Year | Publication |
| --- | --- | --- |
| | 2018 | Dr Triona Stokes (2018) 'Ameliorating free-flow play for young children through increased access to school play spaces indoors and out: Reflections on an Irish context' Textbook of Maritime Medicine (2nd Ed.), 6 (2) :20-24. [Link] [Full-Text] |
Conference Publication
| | Year | Publication |
| --- | --- | --- |
| | 2017 | Dr Triona Stokes (2017) Exploring the Literacy Landscape: Celebrating 40 Years of Research and Practice . In: Culligan, B. and Mehigan, G eds. 'You get dead!' Examining narrative structures and endings through children's agentic pretend play scripts |
| | 2009 | Triona Stokes (2009) Consultative Conference on Education Irish National Teachers' Organisation Creativity and the Arts in the Primary School: Drama |
| | 2008 | Triona Stokes (2008) 6th International Drama and Theatre Conference . In: Hellenic Theatre Network eds. Re-imagining Identity through Drama Education Greece, |
| | 2014 | Triona Stokes (2014) Language, Literacy and Literature: Re-Imagining Teaching and Learning, 37th Literacy Association of Ireland Conference O Reason not the Need!' Examining Opportunities a Reciprocal Relationship for Drama and English through the use of a movie stimulus for Oral Language Development |
Conference Contribution
| | Year | Publication |
| --- | --- | --- |
| | 2018 | Dr Triona Stokes (2018) EDUlearn Conference/IATED 10th International Conference on Education and New Learning The Superhero Play Continuum: Reflections from an Irish Schools' Perspective Palma de Mallorca, . |
| | 2017 | Dr Triona Stokes (2017) Global Development Conference Investigating the case for Teacher Facilitation of Children's Superhero Fantasy Play in Schools in the Irish Context: A playful outlet or a precarious pursuit? Lisbon, . |
| | 2016 | Triona Stokes andLisa Cahill (2016) 1st National Arts Day Workshop and Oral Presentation IMMA, Dublin, 23/04/2016-. |
| | 2015 | Dr Triona Stokes (2015) 7th International Froebel Society Conference Froebel and Pretend Play: Autotelic Interpretations Frankfurt, . |
| | 2015 | Triona Stokes (2015) ESAI Educational Studies of Ireland Annual Conference Becoming 'The Magnet Woman': Researching with young children about pretend play using participatory methods Maynooth, Co. Kildare, . |
| | 2015 | Triona Stokes (2015) Literacy Association of Ireland Annual Conference Literacy's Seamless Integration into the Pretend Worlds of Infant Classrooms- Child's Play? Marino Institute of Education, Dublin, . |
| | 2015 | Triona Stokes (2015) Doctoral Conference Questions of Rigour and Reliability in Research with Young Children using a Participatory Approach University College Dublin, . |
| | 2014 | Triona Stokes (2014) Advancing Children's Rights Conference Play for Play's sake? Examining Implications for the provision of pretend play arising from General Comment 17 on Article 31 of the UN Rights of the Child Queen's University Belfast, . |
| | 2012 | Triona Stokes and Ruth Forrest (2012) 7th International Drama and Theatre Conference Workshop title: The Other in Me - an exploration of empathy in practice Athens, . |
Article
| | Year | Publication |
| --- | --- | --- |
| | 2013 | Triona Stokes (2013) 'Now, who's an ugly duckling?': Using Traditional Stories to Examine Drama in Education as a Medium to Explore Diversity and Difference in the Irish Primary Classroom. ARTCL [Link] |
Electronic Publication
| | Year | Publication |
| --- | --- | --- |
| | 2019 | Dr Triona Stokes (2019) 'Water Come to Me!' A Development Education Resource for infant classes. ELECP [Link] |
Video recording / TV
| | Year | Publication |
| --- | --- | --- |
| | 2016 | Dr Triona Stokes; Lisa Cahill (2016) Reflecting on a University-based Dance Residency in Kildare. Kildare: VID [Link] |
Certain data included herein are derived from the © Web of Science (2023) of Clarivate. All rights reserved.
Professional Associations
| | | | |
| --- | --- | --- | --- |
| | Subcommittee on Curriculum Matters of ADEI( Association of Drama Education in Ireland) | Secretary | 05/09/2016 - |
| | Association of Drama Education in Ireland (Vice-chairperson) | National Drama Education support for teachers and drama practitioners | 03/05/2008 - 20/01/2021 |
Committees
| | | | |
| --- | --- | --- | --- |
| | School Placement Committee Froebel Department | School Placement Engagement Officer: Arts in Schools | 10/10/2012 - |
| | Doctoral Working Group | Secretary | 07/10/2019 - |
| | Storyteller in Residence Interdepartmental Committee Membership | Member | 01/09/2016 - |
| | Arts in Education Research Repository | Committee Member | 20/10/2017 - |
| | Development and Intercultural Education National Management Committee | Management Committee member | 01/03/2018 - |
| | Development and Intercultural Education Steering Committee | Chairperson | 06/01/2013 - |
| | Froebel Department Research Committee | Secretary (acting) | 01/09/2019 - |
Other Activities
| | |
| --- | --- |
| | With the support of a departmental Artist in Residence Committee, I coordinated the inaugural dance residency of dance artist, Lisa Cahill. This involved weekly planning meetings, liaison with local schools, performance organisation and annual reporting to the Arts Council. |
Outreach Activities
| | |
| --- | --- |
| | Nominated as a community representative to St. Mary's BNS Maynooth Board of Management [Link] |
| | 2014-2019 organiser of annual public workshop or lecture facilitated by the Arts Council Artist-in-Residence for Culture Night Kildare. [Link] |
| | A founding member of the three-person committee who established over ten years a professional teaching partnership with the HOPE Foundation, assisting with their Education programmes to support the work of Indian teachers in state schools and HOPE-run education centres through a sustained programme of Continuing Professional Development and a volunteer sending programme for graduating teachers from Maynooth to co-teach in Kolkata annually for five weeks. |
Teaching Interests
Tríona teaches drama across the Bachelor of Education and Professional Master of Education degree programmes, as part of the Curriculum, Methodology and Assessment modules. Through predominantly workshop-style engagement, students are facilitated to learn through and about the art form of drama. A dialogic teaching approach is modelled in drama, which shares a thematic focus with all other curricular areas in the modules. Workshop content is drawn from a variety of sources, using rich narratives and reflecting topical issues affecting the primary school classroom and beyond.

Tríona is coordinator of Personal and Professional Skills for Teaching and Learning across Years 1-3 of the Bachelor of Education modules, EDF133, EDF234 and EDF337. Student-teacher personal and professional development is the focus of the Bachelor of Education modules on which Tríona teaches, Personal and Professional Skills for Teaching and Learning 1 and 2. The content includes communication and presentation skills, group dynamics, teaching values, academic writing and Harvard referencing skills, each of which are introduced through a mixture of workshops , lectures and seminar-style discussion groups. Course reading equips students to collaborate on school-based case studies.

Tríona has designed and taught a number of curriculum elective modules in arts education within the Froebel Department of Primary and Early Childhood Education. These include Dance Education, Integrating Dance and Drama and Storytelling Theatre for the Classroom.