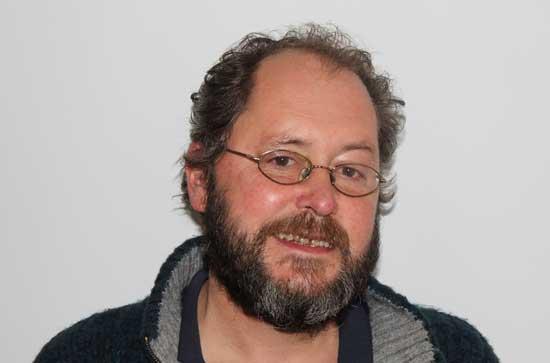 On leave
Lecturer / Assistant Professor
Arts Building
8
(01) 708 3720
Gordon was born in Bembridge, Isle of Wight. Here is the beach near where he was born.
Forelands Beach, Bembridge, Isle of Wight.
He was educated at the University of Wales, Lampeter, and did his doctoral thesis at Jesus College, Oxford, where he was supervised first by the late Don Fowler and then by Dirk Obbink.
He works on philosophical poetry (in particular Lucretius and Empedocles), Hellenistic and Presocratic philosophy, the Renaissance reception of Lucretius (especially in Piero di Cosimo, Botticelli, and Michael Marullus), animals in the ancient world, and ancient cosmology and anthropology. He has published two monographs and an edited book:Lucretius on Creation and Evolution (OUP, 2003), Strange Creatures: Anthropology in Antiquity (Duckworth, 2006), and the Oxford Handbook of Animals in Classical Thought and Life (ed. OUP, 2014). His recent work includes papers on Lucretius and Botticelli's Venus and Mars, and on Lucretius and the early Christian writer Lactantius. He has recently begun working on his next project, 'Lucretius on the Origins of Music: Epicurean Song and Dance'.
Bembridge Harbour
Year
Publication
2014
The Oxford Handbook of Animals in Classical Thought and Life.
Dr Gordon L Campbell (ed.) (2014) The Oxford Handbook of Animals in Classical Thought and Life. : Oxford University Press. [Details]
2006
Strange Creatures: Anthropology in Antiquity.
Dr Gordon L Campbell (2006) Strange Creatures: Anthropology in Antiquity. : Duckworth. [Details]
2003
Lucretius on Creation and Evolution: A Commentary on De rerum natura 5.772-1104.
Gordon Campbell (2003) Lucretius on Creation and Evolution: A Commentary on De rerum natura 5.772-1104. : Oxford University Press. [Details]
 
Year
Publication
2008
''And bright was the flame of their friendship' (Empedocles B130): humans, animals, justice, and friendship, in Lucretius and Empedocles'
Campbell, G. (2008) ''And bright was the flame of their friendship' (Empedocles B130): humans, animals, justice, and friendship, in Lucretius and Empedocles'. LEEDS INTERNATIONAL CLASSICAL STUDIES, 7 [IR Link] [Details]
2002
'Lucretius and the Memes of Prehistory'
Campbell, G. (2002) 'Lucretius and the Memes of Prehistory'. LEEDS INTERNATIONAL CLASSICAL STUDIES, Discussion Paper 1 [IR Link] [Details]
2002
'Lucretius 5.1011-27: the origins of justice and the Prisoner's Dilemma'
Campbell, G. (2002) 'Lucretius 5.1011-27: the origins of justice and the Prisoner's Dilemma'. LEEDS INTERNATIONAL CLASSICAL STUDIES, 1 [IR Link] [Details]
 
Year
Publication
2019
''Lucretius' (updated 2019)'
Gordon Campbell (2019) ''Lucretius' (updated 2019)' In: Oxford Bibliographies in Classics. Ed. Ruth Scodel. New York: Oxford University Press. Oxford: Oxford University Press. [Details]
2019
''The Hopewell Hand', Ohio Hopewell Culture; 'Coldstream Burial Stone', South Africa; 'Nabulwinjbulwinj', by Nayombolmi ('Barramundi Charlie'), Kakadu National Park, Australia; 'Hand of Colossal Statue of Constantine', Rome; 'Female Acrobat', by the Foundling Painter, Campanian ware vase; 'Ani's Judgment', Egyptian Book of the Dead; Anatomical chart from the Blue Beryl, Tibetan, c.1705, by Sangye Gyatso; Votive Tongue and Tonsils, Roman, terracotta, 400 BC-200 AD; Diseases and organs treated by a vodun practitioner, Benin, painted wall panels, c. 2010; Al-Bīrūnī, Caesarian Section, Al-Athār al-Bāqiyah `an al-Qurūn al-Khāliyah (The Remaining Signs of Past Centuries), by Al-Bīrūnī, Persian, AD 1000; Treatment for luxation of the vertebrae, illustration from Serafeddin Cerrahiyetü'l Haniyye (Imperial Surgery), Turkey, 1465'
Gordon Campbell (2019) ''The Hopewell Hand', Ohio Hopewell Culture; 'Coldstream Burial Stone', South Africa; 'Nabulwinjbulwinj', by Nayombolmi ('Barramundi Charlie'), Kakadu National Park, Australia; 'Hand of Colossal Statue of Constantine', Rome; 'Female Acrobat', by the Foundling Painter, Campanian ware vase; 'Ani's Judgment', Egyptian Book of the Dead; Anatomical chart from the Blue Beryl, Tibetan, c.1705, by Sangye Gyatso; Votive Tongue and Tonsils, Roman, terracotta, 400 BC-200 AD; Diseases and organs treated by a vodun practitioner, Benin, painted wall panels, c. 2010; Al-Bīrūnī, Caesarian Section, Al-Athār al-Bāqiyah `an al-Qurūn al-Khāliyah (The Remaining Signs of Past Centuries), by Al-Bīrūnī, Persian, AD 1000; Treatment for luxation of the vertebrae, illustration from Serafeddin Cerrahiyetü'l Haniyye (Imperial Surgery), Turkey, 1465' In: Anatomy: Exploring the Human Body, Phaidon Press, London, 2019. London: Phaidon Press. [Details]
2018
'Anon., The Uffington White Horse; Anon., Dragon from the Ishtar Gate, Babylon; Anon., Lion, Leopard and Hare, from Tractatus de Herbis c. 1440; Beatus of Liébana, Noah's Ark, from Beatus Super Apocalypsim; Ogawa Haritsu (Ritsuō), Bird; Al-Jahiz, Giraffe, from Kitāb al-Hayawān; Anon., 'White Horse of Uffington'; Sebastian Münster, 'Monstra marina & terrestria, quae passim in partibus aquilonis inueniuntur'; Anon., Capitoline She-Wolf; Piero di Cosimo, The Forest Fire, The Hunt, and Return from the Hunt; Kawanabe Kyosai, Fox Catching a Bird; Anon., The Ram in the Thicket, Ur; Phidias, Horse Head from the Parthenon Sculptures; Anon., Magerius Mosaic; Kleitias, Calydonian Boar Hunt, from the Francois Vase; Wenceslaus Hollar, A Griffin; Anon., Blue Monkeys Fresco, Akrotiri; Anon., Monkey, Nazca Lines, Peru; Anon., Orpheus Taming Wild Animals, fresco, Edessa; Anon., Cernunnos, Panel A from the Gundestrup Cauldron'
Gordon Campbell (2018) 'Anon., The Uffington White Horse; Anon., Dragon from the Ishtar Gate, Babylon; Anon., Lion, Leopard and Hare, from Tractatus de Herbis c. 1440; Beatus of Liébana, Noah's Ark, from Beatus Super Apocalypsim; Ogawa Haritsu (Ritsuō), Bird; Al-Jahiz, Giraffe, from Kitāb al-Hayawān; Anon., 'White Horse of Uffington'; Sebastian Münster, 'Monstra marina & terrestria, quae passim in partibus aquilonis inueniuntur'; Anon., Capitoline She-Wolf; Piero di Cosimo, The Forest Fire, The Hunt, and Return from the Hunt; Kawanabe Kyosai, Fox Catching a Bird; Anon., The Ram in the Thicket, Ur; Phidias, Horse Head from the Parthenon Sculptures; Anon., Magerius Mosaic; Kleitias, Calydonian Boar Hunt, from the Francois Vase; Wenceslaus Hollar, A Griffin; Anon., Blue Monkeys Fresco, Akrotiri; Anon., Monkey, Nazca Lines, Peru; Anon., Orpheus Taming Wild Animals, fresco, Edessa; Anon., Cernunnos, Panel A from the Gundestrup Cauldron' In: Animal: Exploring the Zoological World, Phaidon Press, London, 2018. London: Phaidon Press. [Details]
2016
''Anthropology: Knowledge of Man''
Gordon Campbell (2016) ''Anthropology: Knowledge of Man'' In: Irby, G (eds). The Blackwell Companion to Ancient Science, Medicine and Technology. Oxford: Blackwell. [Details]
2015
''Oracular Cosmology in Lucretius''
Dr Gordon L Campbell (2015) ''Oracular Cosmology in Lucretius'' In: Fondation Hardt Entretiens 61. Geneva: Fondation Hardt. [IR Link] [Details]
2014
''Lucretius, Empedocles, and Cleanthes''
Dr Gordon L Campbell (2014) ''Lucretius, Empedocles, and Cleanthes'' In: The Philosophising Muse: the Influence of Greek Philosophy on Roman Poetry. Cambridge Scholars Press. [IR Link] [Details]
2012
''Lucretius''
Dr Gordon L Campbell (2012) ''Lucretius'' In: The Encyclopedia of Ancient History. Oxford: Wiley-Blackwell. [Details]
2012
''Anthropology''
Dr Gordon L Campbell (2012) ''Anthropology'' In: The Encyclopedia of Ancient History. Oxford: Wiley-Blackwell. [Details]
2012
''Atomism''
Dr Gordon L Campbell (2012) ''Atomism'' In: The Encyclopedia of Ancient History. Oxford: Wiley-Blackwell. [Details]
2012
''Philosophy, Roman''
Dr Gordon L Campbell (2012) ''Philosophy, Roman'' In: The Encyclopedia of Ancient History. Oxford: Wiley-Blackwell. [Details]
2010
'Bicycles, Centaurs, and Man-faced Ox-creatures: Ontological Instability in Lucretius'
Campbell G. (2010) 'Bicycles, Centaurs, and Man-faced Ox-creatures: Ontological Instability in Lucretius' In: Classical Constructions: Papers in Memory of Don Fowler, Classicist and Epicurean. [DOI] [Details]
2010
'Epicurus, the Garden, and the Golden Age'
Campbell G. (2010) 'Epicurus, the Garden, and the Golden Age' In: Gardening - Philosophy for Everyone: Cultivating Wisdom. [DOI] [Details]
2009
'Evolution and Progress'
Campbell, G.L. (2009) 'Evolution and Progress' In: The Oxford Encyclopedia of Ancient Greece and Rome. Oxford: Oxford University Press. [Details]
2006
''Vegetarianism''
Dr Gordon Campbell (2006) ''Vegetarianism'' In: The Cambridge Dictionary of Classical Civilization. Cambridge University Press. [Details]
2006
''Protagoras''
Dr Gordon Campbell (2006) ''Protagoras'' In: The Cambridge Dictionary of Classical Civilization. Cambridge University Press. [Details]
2006
''Pythagoras and Pythagoreanism''
Dr Gordon Campbell (2006) ''Pythagoras and Pythagoreanism'' In: The Cambridge Dictionary of Classical Civilization. Cambridge University Press. [Details]
2006
''Cosmology''
Dr Gordon Campbell (2006) ''Cosmology'' In: The Cambridge Dictionary of Classical Civilization. Cambridge University Press. [Details]
2006
''Philosophy (Roman)''
Dr Gordon Campbell (2006) ''Philosophy (Roman)'' In: The Cambridge Dictionary of Classical Civilization. Cambridge University Press. [Details]
2006
''Utopias''
Dr Gordon Campbell (2006) ''Utopias'' In: The Cambridge Dictionary of Classical Civilization. Cambridge University Press. [Details]
2006
''Progress''
Dr Gordon Campbell (2006) ''Progress'' In: The Cambridge Dictionary of Classical Civilization. Cambridge University Press. [Details]
2001
'Zeno of Citium'
(2001) 'Zeno of Citium' In: From Polis to Empire - The Ancient World c. 800 B.C. - A.D. 500: A Biographical Dictionary. Greenwood Press. [Details]
2001
'Democritus'
(2001) 'Democritus' In: From Polis to Empire - The Ancient World c. 800 B.C. - A.D. 500: A Biographical Dictionary. Greenwood Press. [Details]
2001
'Epicurus'
(2001) 'Epicurus' In: From Polis to Empire - The Ancient World c. 800 B.C. - A.D. 500: A Biographical Dictionary. Greenwood Press. [Details]
2001
'Lucretius'
(2001) 'Lucretius' In: From Polis to Empire - The Ancient World c. 800 B.C. - A.D. 500: A Biographical Dictionary. Greenwood Press. [Details]
2001
'Panaetius'
(2001) 'Panaetius' In: From Polis to Empire - The Ancient World c. 800 B.C. - A.D. 500: A Biographical Dictionary. Greenwood Press. [Details]
2001
'Posidonius'
(2001) 'Posidonius' In: From Polis to Empire - The Ancient World c. 800 B.C. - A.D. 500: A Biographical Dictionary. Greenwood Press. [Details]
2001
'Philodemus'
(2001) 'Philodemus' In: From Polis to Empire - The Ancient World c. 800 B.C. - A.D. 500: A Biographical Dictionary. Greenwood Press. [Details]
2000
'Zoogony and Evolution in Plato's Timaeus: The Prescoratics, Lucretius and Darwin'
Gordon Campbell (2000) 'Zoogony and Evolution in Plato's Timaeus: The Prescoratics, Lucretius and Darwin' In: Reason and Necessity: Essays on Plato's Timaeus. [IR Link] [Details]
Year
Publication
2004
''Empedocles''
Gordon Campbell (2004) ''Empedocles'' Internet Encyclopedia of Philosophy, . [Details]
Year
Publication
2019
Animals and Us: Human-Animal Relationships in the Ancient World.
Gordon Campbell (2019) Animals and Us: Human-Animal Relationships in the Ancient World. [Oral Presentation], Ideas of Human-Animal Communication in Pythagoras and Empedocles, Trinity College Dublin , 23-FEB-19 - 23-FEB-19 [Details]
2019
Society for Classical Studies Annual Meeting 2019.
Gordon Campbell (2019) Society for Classical Studies Annual Meeting 2019. [Oral Presentation], Summoning Forth the Gods in Lucretius: An Idealist Interpretation of Venus and Mars, San Diego, California, USA , 04-JAN-19 - 04-JAN-19 [Details]
2018
Lucretian Receptions in Prose.
Gordon Campbell (2018) Lucretian Receptions in Prose. [Invited Lecture], 'Lucretius' Influence on Lactantius in the Divine Institutes', University of Patras, Greece , 16-JUN-18 - 17-JUN-18 [Details]
2018
'Botticelli, Lucretius, and Empedocles on Love and Strife'.
Gordon Campbell (2018) 'Botticelli, Lucretius, and Empedocles on Love and Strife'. [Invited Lecture], Material World: The Intersection of Art, Science and Nature in Ancient Literature and its Renaissance Reception, Istituto Universitario Olandese di Storia dell'Arte, Florence , 20-APR-18 - 21-APR-18 [Details]
2017
First Dublin Graduate Conference in Ancient Philosophy.
Gordon Campbell (2017) First Dublin Graduate Conference in Ancient Philosophy. [Oral Presentation], Response to Leon Wash, 'One Learned to Grow from Many: On Nature, the Soul, and Vegetal Metaphors in Empedocles', NUI Headquarters, 49 Merrion Square, Dublin [Details]
2017
The Idea, History and Institutional Foundations of Science.
Gordon Campbell (2017) The Idea, History and Institutional Foundations of Science. [Invited Lecture], 'Just 'A Likely Story'? The Status of Scientific Enquiry in Plato's Timaeus and the Atomists', Maynooth University , 09-DEC-17 - 09-DEC-17 [Details]
2014
Royal Irish Academy Colloquium, City and Countryside in the Ancient World.
Gordon Campbell (2014) Royal Irish Academy Colloquium, City and Countryside in the Ancient World. [Invited Lecture], Horace and Virgil on rus vs. urbs, RIA Dublin [Details]
2014
Entretiens sur l'Antiquité Classique de la Fondation Hardt.
Gordon Campbell (2014) Entretiens sur l'Antiquité Classique de la Fondation Hardt. [Oral Presentation], 'Oracular Cosmology in Lucretius', Fondation Hardt, Geneva [IR Link] [Details]
2013
Lucretius in Theory: literary-critical approaches to the De rerum natura.
Gordon Campbell (2013) Lucretius in Theory: literary-critical approaches to the De rerum natura. [Oral Presentation], 'Lucretius and Stoic Poetic Theory and Practice', University of Edinburgh [Details]
2012
NUIM Philosophical Seminar.
Gordon Campbell (2012) NUIM Philosophical Seminar. [Oral Presentation], Response to Dr Yossef Liebersohn, Bahr-Ilan University, 'Epicurus' "Kinetic" and "Katastematic" pleasures – a reappraisal', Maynooth [Details]
2011
Empedocles, Lucretius and Cleanthes on Piety.
Gordon Campbell (2011) Empedocles, Lucretius and Cleanthes on Piety. [Invited Lecture], Empedocles: a Poet and his Reception, Fondation Hardt, Vandoeuvres, Geneva [Details]
2010
University of Galway Classical Society.
Gordon Campbell (2010) University of Galway Classical Society. [Oral Presentation], 'Ancient Theories of the Origin of Species', Galway [Details]
2010
NUIM Philosophical Seminar.
Gordon Campbell (2010) NUIM Philosophical Seminar. [Oral Presentation], 'Empedocles, the Cosmic Cycle and the Journey of the Soul', Maynooth [Details]
2009
Adult Education Talk.
(2009) Adult Education Talk. [Oral Presentation], Roman Anthropology, Hunt Museum, Limerick [Details]
2009
RIA Greek and Latin Studies Colloquium.
Gordon Campbell (2009) RIA Greek and Latin Studies Colloquium. [Oral Presentation], Caesar among the Gauls, Germans and Britons, Royal Irish Academy [Details]
2009
Travels and Encounters: Journeys to the Known and the Unknown in Greco-Roman Antiquity, Royal Irish Academy Greek and Latin Studies Colloquium.
Gordon Campbell (2009) Travels and Encounters: Journeys to the Known and the Unknown in Greco-Roman Antiquity, Royal Irish Academy Greek and Latin Studies Colloquium. [Invited Lecture], Caesar among the Gauls, Germans and Britons: at the ends of the Earth, and beyond, Royal Irish Academy, Dublin [Details]
2008
What is Masculinity? How Useful is it as a Historical Category?.
Gordon Campbell (2008) What is Masculinity? How Useful is it as a Historical Category?. [Invited Lecture], The Hard and the Soft in Roman Views of Cultural Evolution, Birkbeck College, University of London [Details]
2008
Hibernian Hellenists Annual Conference.
Gordon Campbell (2008) Hibernian Hellenists Annual Conference. [Invited Lecture], Lucretius: Myth, Magic and Prophecy, Maynooth [Details]
2008
Hibernian Hellenists Annual Conference, NUI Maynooth.
Gordon Campbell (2008) Hibernian Hellenists Annual Conference, NUI Maynooth. [Oral Presentation], 'Lucretius: Myth, Magic and Prophecy', Maynooth [Details]
2008
Leeds International Classics Seminar, University of Leeds.
Gordon Campbell (2008) Leeds International Classics Seminar, University of Leeds. [Oral Presentation], '"And Bright was the Flame of their Friendship" (Empedocles B130): Humans, Animals, Justice and Friendship in Lucretius and Empedocles', Leeds [IR Link] [Details]
2008
Classical Association of England and Wales Annual Conference, University of Liverpool.
Gordon Campbell (2008) Classical Association of England and Wales Annual Conference, University of Liverpool. [Oral Presentation], 'Lucretius as Prophet, Mystic, and Magician: DRN 5.91-125', Liverpool [Details]
2008
'What is Masculinity? How Useful is it as a Historical Category?', Birkbeck College, University of London.
Gordon Campbell (2008) 'What is Masculinity? How Useful is it as a Historical Category?', Birkbeck College, University of London. [Oral Presentation], 'The Hard and the Soft in Roman Views of Cultural Evolution', Birkbeck, London [Details]
2007
Classics Research Discussion Group, NUI Maynooth.
Gordon Campbell (2007) Classics Research Discussion Group, NUI Maynooth. [Oral Presentation], 'Lucretius as Prophet, Mystic, and Magician: DRN 5.91-125', Maynooth [Details]
2007
Classical Association of Ireland.
Gordon Campbell (2007) Classical Association of Ireland. [Invited Lecture], "Where Ocean Breezes Blow Around the Island of the Blessed": Ancient and Medieval Island Paradises, University College Dublin [Details]
2007
Classical Association of Ireland, University College Dublin.
Gordon Campbell (2007) Classical Association of Ireland, University College Dublin. [Oral Presentation], '"Where Ocean Breezes Blow Around the Island of the Blessed": Ancient and Medieval Island Paradises', UCD [Details]
2006
Maynooth Medieval Forum, NUI Maynooth.
Gordon Campbell (2006) Maynooth Medieval Forum, NUI Maynooth. [Oral Presentation], '"Where Ocean Breezes Blow Around the Island of the Blessed": Ancient and Medieval Island Paradises', Maynooth [Details]
2005
University College Dublin Classical Society.
Gordon Campbell (2005) University College Dublin Classical Society. [Oral Presentation], 'A Cosmic Mistake? Ancient Greek Arguments on Intelligent Design', UCD [Details]
2005
University College Dublin Classical Society.
Gordon Campbell (2005) University College Dublin Classical Society. [Invited Lecture], A Cosmic Mistake? Ancient Greek Arguments on Intelligent Design, University College Dublin [Details]
2005
Trinity College Dublin Classical Society.
Gordon Campbell (2005) Trinity College Dublin Classical Society. [Oral Presentation], 'Hopeful Monsters: Ancient Theories of the Origin of Species', TCD [Details]
2004
Classical Association Conference, University of Leeds.
Gordon Campbell (2004) Classical Association Conference, University of Leeds. [Oral Presentation], 'Ea quae ad effeminandos animos pertinent: Roman views of the role of feminisation in cultural evolution', Leeds [Details]
2004
University of London School of Advanced Study, Institute of Classical Studies.
Gordon campbell (2004) University of London School of Advanced Study, Institute of Classical Studies. [Oral Presentation], 'Lucretius', Posthellenistic Philosophy, London [Details]
2004
Posthellenistic Philosophy.
Gordon Campbell (2004) Posthellenistic Philosophy. [Invited Lecture], Lucretius, University of London School of Advanced Study, Institute of Classical Studies [Details]
2003
Dublin Classics Seminar, University College Dublin.
Gordon Campbell (2003) Dublin Classics Seminar, University College Dublin. [Oral Presentation], 'Man-faced Ox-creatures in the Twenty-first Century: New Interpretations of Empedocles' Zoogony', UCD [Details]
2003
Epic Proportions, Schools Classics Conference 2003, Queens University Belfast.
Gordon Campbell (2003) Epic Proportions, Schools Classics Conference 2003, Queens University Belfast. [Oral Presentation], 'Rewriting the Book of Nature: Reality and Representation in Roman Epic', QUB [Details]
2003
Dublin Classics Seminar, University College Dublin.
Gordon Campbell (2003) Dublin Classics Seminar, University College Dublin. [Invited Lecture], Man-faced Ox-creatures in the Twenty-first Century: New Interpretations of Empedocles' Zoogony, University College Dublin [Details]
2002
'Fragments and the Ruin of Time'.
Gordon Campbell (2002) 'Fragments and the Ruin of Time'. [Invited Lecture], Don Fowler Memorial Lecture, Jesus College, University of Oxford , 25-APR-02 - 25-APR-02 [Details]
2001
Leeds International Latin Seminar.
(2001) Leeds International Latin Seminar. University of Leeds , 03-JAN-01 [Details]
2001
Joint Conference of the Hellenic and Roman Societies, Triennial Conference in Classics, Wadham College, Oxford.
Gordon Campbell (2001) Joint Conference of the Hellenic and Roman Societies, Triennial Conference in Classics, Wadham College, Oxford. [Oral Presentation], 'Lucretius 2.600-60: The Magna Mater and Didactic Poetry', Oxford [Details]
2001
Triennial Conference in Classics.
(2001) Triennial Conference in Classics. Wadham College, Oxford , 07-JAN-01 [Details]
2001
Leeds International Latin Seminar, University of Leeds.
Gordon Campbell (2001) Leeds International Latin Seminar, University of Leeds. [Oral Presentation], 'Lucretius and the Memes of Prehistory', Leeds [Details]
2000
Classical Constructions: a Conference in Honour of the Late Don Fowler, Jesus College Oxford.
Gordon Campbell (2000) Classical Constructions: a Conference in Honour of the Late Don Fowler, Jesus College Oxford. [Oral Presentation], 'Bicycles, Centaurs, and Man-Faced Ox-Creatures: Ontological Instability in Lucretius', Oxford [Details]
2000
Leeds International Latin Seminar, University of Leeds.
Gordon Campbell (2000) Leeds International Latin Seminar, University of Leeds. [Oral Presentation], 'Lucretius 5.1011-27: The Prisoner's Dilemma Revisited', Leeds [Details]
1999
Classics Graduate Work in Progress Seminar, Corpus Christi College, Oxford.
Gordon Campbell (1999) Classics Graduate Work in Progress Seminar, Corpus Christi College, Oxford. [Oral Presentation], 'The New Strasbourg Fragments of Empedocles and Cosmology', Oxford [Details]
1999
Conference on Plato's Timaeus, University of Wales, Lampeter.
Gordon Campbell (1999) Conference on Plato's Timaeus, University of Wales, Lampeter. [Oral Presentation], 'Zoogony and Evolution in Plato's Timaeus, The Presocratics, Lucretius and Darwin', Lampeter [Details]
Year
Publication
2010
'D. Marković, The Rhetoric of Explanation in Lucretius (Leiden, Brill, 2008)'.
Dr Gordon L Campbell (2010) 'D. Marković, The Rhetoric of Explanation in Lucretius (Leiden, Brill, 2008)'. Book Review [Details]
2009
D. N. Sedley, Creationism and its Critics in Antiquity ( Berkeley, 2007).
Campbell, G.L. (2009) D. N. Sedley, Creationism and its Critics in Antiquity ( Berkeley, 2007). Book Review [Details]
2009
M. R. Gale (ed.), Oxford Readings in Lucretius (Oxford, 2007).
Campbell, G.L. (2009) M. R. Gale (ed.), Oxford Readings in Lucretius (Oxford, 2007). Book Review [Details]
2009
S. Gillespie and P. Hardie (eds.), The Cambridge Companion to Lucretius (Cambridge, 2007).
Campbell, G.L. (2009) S. Gillespie and P. Hardie (eds.), The Cambridge Companion to Lucretius (Cambridge, 2007). Book Review [Details]
2009
'D. N. Sedley, Creationism and its Critics in Antiquity (Berkeley, 2007)'.
Dr Gordon L Campbell (2009) 'D. N. Sedley, Creationism and its Critics in Antiquity (Berkeley, 2007)'. Book Review [Details]
2009
'S. Gillespie and P. Hardie (eds.), The Cambridge Companion to Lucretius (Cambridge, 2007)'.
Dr Gordon L Campbell (2009) 'S. Gillespie and P. Hardie (eds.), The Cambridge Companion to Lucretius (Cambridge, 2007)'. Book Review [Details]
2009
'M. R. Gale (ed.), Oxford Readings in Lucretius (Oxford, 2007)'.
Dr Gordon L Campbell (2009) 'M. R. Gale (ed.), Oxford Readings in Lucretius (Oxford, 2007)'. Book Review [Details]
2008
'G. E. R. Lloyd, Principles and Practices in Ancient Greek and Chinese Science (Aldershot/Burlington, VT, 2006)'.
Dr Gordon L Campbell (2008) 'G. E. R. Lloyd, Principles and Practices in Ancient Greek and Chinese Science (Aldershot/Burlington, VT, 2006)'. Book Review [Details]
2005
'J. Bollack, Empédocle, Les purifications: un projet de paix universelle (Paris, 2003)'.
Gordon Campbell (2005) 'J. Bollack, Empédocle, Les purifications: un projet de paix universelle (Paris, 2003)'. Book Review [Details]
2005
'M. F. Smith, Lucretius On the Nature of Things (Indianapolis, 2001).
Gordon Campbell (2005) 'M. F. Smith, Lucretius On the Nature of Things (Indianapolis, 2001). Book Review [Details]
2005
'A. Cucchiarelli, La Veglia di Venere: Pervigilium Veneris (Milan, 2003)'.
Gordon Campbell (2005) 'A. Cucchiarelli, La Veglia di Venere: Pervigilium Veneris (Milan, 2003)'. Book Review [Details]
2004
'C. Schindler, Untersuchungen zu den Gleichnissen im romischen Lehrgedicht: Lucrez, Vergil, Manilius (Göttingen, 2000)'.
Gordon Campbell (2004) 'C. Schindler, Untersuchungen zu den Gleichnissen im romischen Lehrgedicht: Lucrez, Vergil, Manilius (Göttingen, 2000)'. Book Review [Details]
2004
'K. Volk, The Poetics of Latin Didactic (Oxford, 2002)'.
Gordon Campbell (2004) 'K. Volk, The Poetics of Latin Didactic (Oxford, 2002)'. Book Review [Details]
2003
'R. Janko, Philodemus On Poems Book One (Oxford, 2000)'.
Gordon Campbell (2003) 'R. Janko, Philodemus On Poems Book One (Oxford, 2000)'. Book Review [IR Link] [Details]
2003
'D. F. Kennedy, Rethinking Reality: Lucretius and the Textualization of Nature (Ann Arbor, 2002)'.
Gordon Campbell (2003) 'D. F. Kennedy, Rethinking Reality: Lucretius and the Textualization of Nature (Ann Arbor, 2002)'. Book Review [Details]
2002
'W. R. Johnson, Lucretius and the Modern World (London, 2000)'.
Gordon Campbell (2002) 'W. R. Johnson, Lucretius and the Modern World (London, 2000)'. Book Review [Details]
2000
'P. Schrijvers, Lucrèce et les sciences de la vie (Leiden, 1999)'.
Gordon Campbell (2000) 'P. Schrijvers, Lucrèce et les sciences de la vie (Leiden, 1999)'. Book Review [Details]
1999
'P. Michael Brown, Lucretius De Rerum Natura 3 (Warminster, 1997)'.
Gordon Campbell (1999) 'P. Michael Brown, Lucretius De Rerum Natura 3 (Warminster, 1997)'. Book Review [Details]