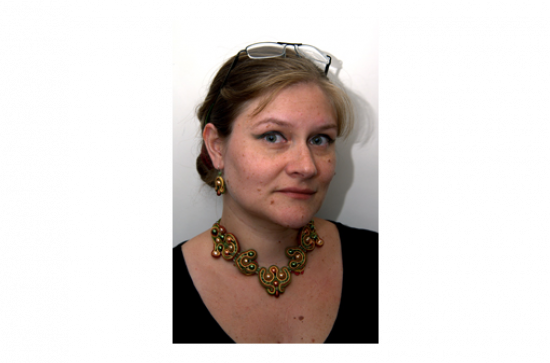 Lecturer
Rowan House
1st Floor
1.09
(01) 708 7590
Dr. Ana Ivasiuc is a social anthropologist with expertise in the anthropology of mobility, security, policing, development, social movements (including the far-right), and urban ethnography. Her focus in her doctoral research project (2011-2014, National University of Political Studies and Public Administration, Bucharest, Romania, under the supervision of Prof. Vintilă Mihăilescu) was the notion of empowering the Roma, with a focus on Roma autonomous projects of social mobility in the context of a World Bank funded development and 'empowerment' project in Romania.

Between 2014 and 2017, Dr. Ivasiuc joined the Collaborative Research Centre "Dynamics of Security: Forms of Securitization in Historical Perspective" (SFB/TRR 138) funded by the German Research Foundation at the Justus Liebig University in Giessen, Germany. Her postdoctoral research project entailed an ethnography of formal and informal policing of the Roma in the peripheries of Rome.

Dr. Ivasiuc is the recipient of a research grant from the Gerda Henkel Foundation's special programme Security, Society, State, for a project on civilian defense groups / neighbourhood patrols in Germany and The Netherlands. Her project analyzed the connection between transformations of the urban space, the rise of far-right civilian defense groups, and their effects on imaginaries and security practices of the state. She has published extensively on her research; among her publications are: Roma Activism: Reimagining Power and Knowledge (co-edited with Sam Beck, 2018/2020, Berghahn Books) and The Securitization of the Roma in Europe (co-edited with Huub van Baar and Regina Kreide, 2019, Palgrave Macmillan).

Prior to rejoining the academic world, Dr. Ivasiuc has coordinated the research department of an influential Roma NGO in Romania. In this quality, she has coordinated / carried out over twenty research and policy analysis reports in the field of Roma social inclusion in Europe, interethnic conflict, racism and discrimination, and migration. Dr. Ivasiuc is the co-convenor of the Anthropology of Security Network of the European Association of Social Anthropologists, an editorial board member of Conflict and Society, of the Anthropological Journal of European Cultures, and of the CEU Press series Conflict and Security in Central and Eastern Europe.
 
Year
Publication
2022
'"The State Cannot Protect Us": How Vigilance (Un)Makes the State in Western Europe'
Ana Ivasiuc (2022) '"The State Cannot Protect Us": How Vigilance (Un)Makes the State in Western Europe'. Conflict and Society: Advances in Research, 8 :106-124 [DOI] [Details]
2022
'Introduction: The Power and Productivity of Vigilance Regimes'
Ivasiuc, Ana, Eveline Dürr, and Catherine Whittaker (2022) 'Introduction: The Power and Productivity of Vigilance Regimes'. Conflict and Society: Advances in Research, 8 :57-72 [DOI] [Details]
2022
'Provincialising security: materiality and sensoriality'
Ana Ivasiuc (2022) 'Provincialising security: materiality and sensoriality'. Critical Studies on Security, :1-13 [DOI] [Details]
2020
'Race Matters: The Materiality of Domopolitics in the Peripheries of Rome'
Ana Ivasiuc (2020) 'Race Matters: The Materiality of Domopolitics in the Peripheries of Rome'. International Journal of Urban and Regional Research, 45 (6):1047-1055 [DOI] [Details]
2020
'`We'll Help Ourselves, but What's in It for Us?' Conflict, Development and Social Mobility among Roma in Romania'
Ana Ivasiuc (2020) '`We'll Help Ourselves, but What's in It for Us?' Conflict, Development and Social Mobility among Roma in Romania'. Slovensk\'y n\'arodopis / Slovak Ethnology, 68 (4):365-378 [DOI] [Details]
2020
'Threatening the Social Order'
Ana Ivasiuc (2020) 'Threatening the Social Order'. Journal of Extreme Anthropology, 4 (1):227-249 [DOI] [Details]
2019
'Emplacing Smells: Spatialities and Materialities of 'Gypsiness''
Andreea Racles and Ana Ivasiuc (2019) 'Emplacing Smells: Spatialities and Materialities of 'Gypsiness''. Anthropological Journal of European Cultures, 28 (1):25-44 [DOI] [Details]
2018
'Social Mobility and the Ambiguous Autonomy of Roma Migration'
Ana Nichita Ivasiuc (2018) 'Social Mobility and the Ambiguous Autonomy of Roma Migration'. Intersections, 4 (2) [DOI] [Details]
2015
'Watching over the Neighbourhood: Vigilante Discourses and Practices in the Suburbs of Rome'
Ana Ivasiuc (2015) 'Watching over the Neighbourhood: Vigilante Discourses and Practices in the Suburbs of Rome'. Etnofoor, [Details]
Year
Publication
2019
The Securitization of the Roma in Europe
Huub van Baar, Ana Ivasiuc, and Regina Kreide (Ed.). (2019) The Securitization of the Roma in Europe Cham: Palgrave Macmillan. [DOI] [Details]
2018
Roma Activism: Reimagining Power and Knowledge
Sam Beck and Ana Ivasiuc (Ed.). (2018) Roma Activism: Reimagining Power and Knowledge Oxford and New York: Berghahn Books. [Details]
 
Year
Publication
2022
'Spatial Mobility as a Threat to Social Mobility: Roma in the Peripheries of Rome and the NIMBY Politics of campi nomadi'
Ana Ivasiuc (2022) 'Spatial Mobility as a Threat to Social Mobility: Roma in the Peripheries of Rome and the NIMBY Politics of campi nomadi' In: Heidi Hein-Kircher; Werner Distler (eds). The Mobility-Security Nexus and the Making of Order. An Interdisciplinary and Historicizing Intervention. London: Routledge. [DOI] [Details]
2022
'Desires and Fears in the Eternal Invisible City: An Ethnography of All Urban Ethnographies'
Ana Ivasiuc (2022) 'Desires and Fears in the Eternal Invisible City: An Ethnography of All Urban Ethnographies' In: Benjamin Linder (eds). Invisible Cities and the Urban Imagination. Cham: Palgrave Macmillan. [DOI] [Details]
2021
'From Folk Devils to Modern State Devils: The Securitization and Racial Policing of the Roma in Italy'
Ana Ivasiuc (2021) 'From Folk Devils to Modern State Devils: The Securitization and Racial Policing of the Roma in Italy' In: Martin Demant Fredriksen; Ida Harboe Knudsen (eds). Modern Folk Devils: The Construction of Evil in Contemporary Europe. Helsinki: Helsinki University Press. [Details]
2019
'Reassembling Insecurity: The Power of Materiality'
Ana Ivasiuc (2019) 'Reassembling Insecurity: The Power of Materiality' In: Andreas Langenohl and Regina Kreide (eds). Conceptualizing Power in Dynamics of Securitization. Baden Baden: Nomos Verlagsgesellschaft mbH \& Co. KG. [Details]
2019
'Sharing the Insecure Sensible: The Circulation of Images of Roma on Social Media'
Ana Ivasiuc (2019) 'Sharing the Insecure Sensible: The Circulation of Images of Roma on Social Media' In: Huub van Baar, Ana Ivasiuc, and Regina Kreide (eds). The Securitization of the Roma in Europe. Cham: Palgrave Macmillan. [DOI] [Details]
2019
'The European Roma and Their Securitization: Contexts, Junctures, Challenges'
Huub van Baar, Ana Ivasiuc and Regina Kreide (2019) 'The European Roma and Their Securitization: Contexts, Junctures, Challenges' In: The Securitization of the Roma in Europe. Cham: Palgrave Macmillan. [Details]
2018
'Introduction: Renewing Research and Roma Activism'
Ana Ivasiuc (2018) 'Introduction: Renewing Research and Roma Activism' In: Roma Activism: Reimagining Power and Knowledge. Oxford and New York: Berghahn Books. [Details]
2018
'Alter-Narratives: Seeing Ordinary Agency'
Ana Ivasiuc (2018) 'Alter-Narratives: Seeing Ordinary Agency' In: Sam Beck and Ana Ivasiuc (eds). Roma Activism: Reimagining Power and Knowledge. Oxford and New York: Berghahn Books. [Details]
Year
Publication
2020
'The Gypsy Police: The Social Division of Police Labor in Rome'
Ana Ivasiuc (2020) 'The Gypsy Police: The Social Division of Police Labor in Rome' Society for the Anthropology of Work, . [DOI] [Details]
2020
''This is Not the Bronx': The Ambivalent Contestation of Urban Imaginaries of Fear'
Ana Ivasiuc (2020) ''This is Not the Bronx': The Ambivalent Contestation of Urban Imaginaries of Fear' LoSquaderno, (57) . [Details]
2018
'The Order of Things and People: Vertical Non-State Surveillance'
Ana Ivasiuc (2018) 'The Order of Things and People: Vertical Non-State Surveillance' On_Culture, (6) . [DOI] [Details]
2017
'Securitizations of Identities and Racial Eastern-Europeanization'
Ana Ivasiuc (2017) 'Securitizations of Identities and Racial Eastern-Europeanization' EuropeNow, (13) . [Details]
Year
Publication
2014
Politici de incluziune a romilor in statele membre ale Uniunii Europene.
Cace, Sorin, Neagu, Gabriela Raț, Cristina and Ivasiuc, Ana (2014) Politici de incluziune a romilor in statele membre ale Uniunii Europene. European Institute of Romania, Bucharest. [Details]
Year
Publication
2021
William C. Olsen and Thomas Csordas (eds.). 2019. Engaging Evil: A Moral Anthropology. New York and Oxford: Berghahn Books, 322 pages. Hb. US$ 135. ISBN 978-1-78920-213-7.
Ana Ivasiuc (2021) William C. Olsen and Thomas Csordas (eds.). 2019. Engaging Evil: A Moral Anthropology. New York and Oxford: Berghahn Books, 322 pages. Hb. US$ 135. ISBN 978-1-78920-213-7. Book Review [DOI] [Details]
2020
Rice, Stephen K. & Michael D. Maltz, eds. 2018. Doing Ethnography in Criminology: Discovery through Fieldwork, Cham: Springer.
Ana Ivasiuc (2020) Rice, Stephen K. & Michael D. Maltz, eds. 2018. Doing Ethnography in Criminology: Discovery through Fieldwork, Cham: Springer. Book Review [DOI] [Details]